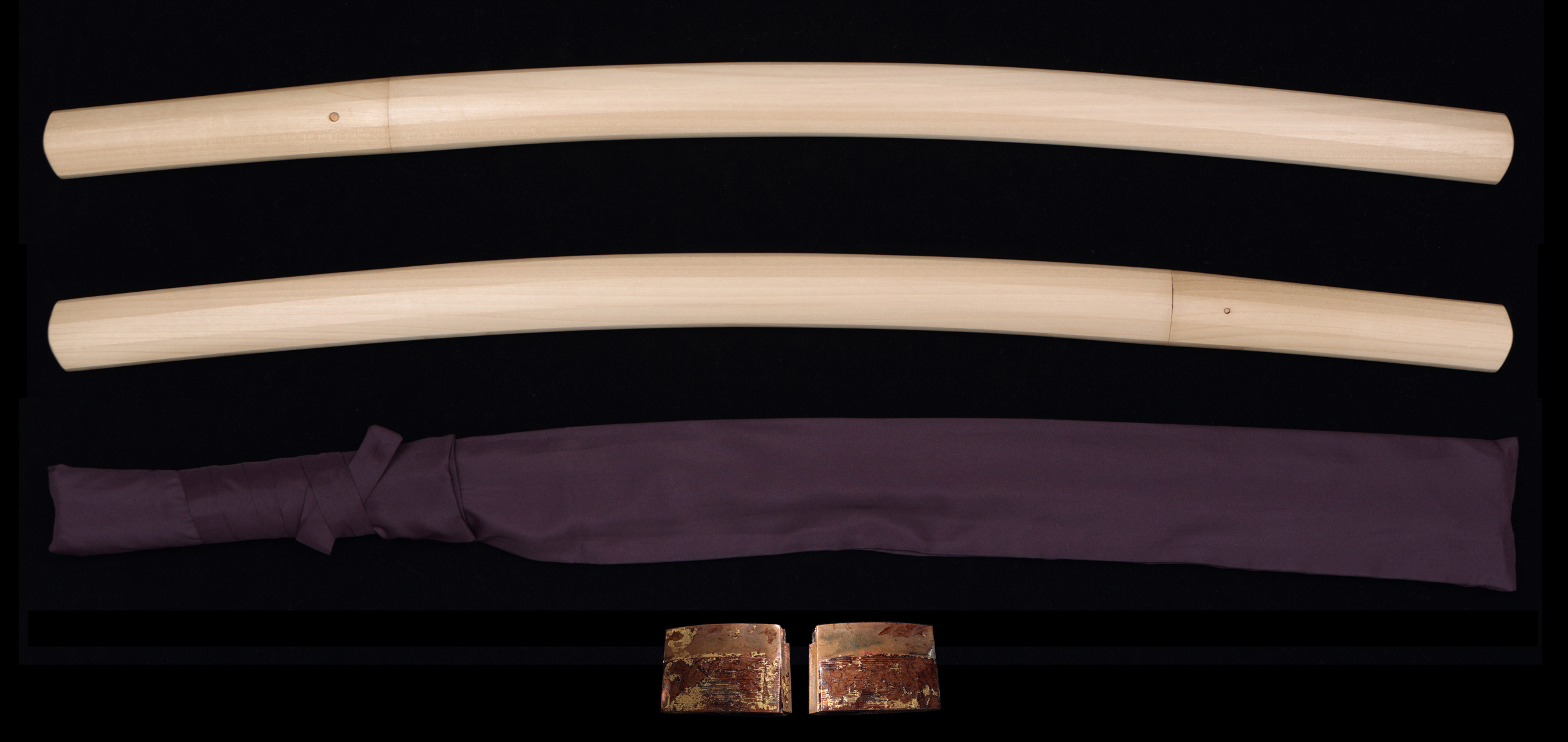 Wakizashi, Shirasaya

Yamato-no-kami Yoshimichi
[ Signature ] omote : "大和守吉道"(Yamato-no-kami Yoshimichi) ura : -

[
Size
]
Blade length 54,4cm (1 shaku 7 sun 9 bu 5 rin), sori 1,3cm (4bu 2 rin), moto-haba 3,13cm, moto-kasane 0,76cm, saki-haba 2,15cm, saki-kasane 0,56cm, mekugi-ana(hole) 1, blade weight 564g
, shirasaya length 79,5cm
[ Period ] Edo, first half of

[ Province ] Settsu
[ Feature ]
Form : Shinogi-zukuri. Iori-mune. Mihaba is relatively wide. Kasane is a little thick. Sori attached. Chukissaki form.
Nakago : Ubu. Yasurimes are suji-kai. Saki is ili-yama-gata. One hole.
Jigane : Ko-itame-hada well grained. Jinie attached well. Chikei appeared.
Hamon : Yakidashi begins in sugu a longer. Chô-ji-midares and gunomes mixed. Ashi appeared frequently. Nioi is in deep . Nie attached well. Sunagashi and kin-sujis are appeared.
Boushi : It runs in sugu and ko-maru. Saki has a little hakikake.

First generation Yamato-no-kami Yoshimichi was second son of first generation Ô-saka Tanba-no-kami Yoshimichi (other study showed that he was the son of first generation Kyô first generation Yoshimichi). He was called as Mishina U-zaemon. He was good at creating chû-sugu-ha and kobushi(fist) shape hamon.

"年紀"(nenki):"承応元", "寛文三", "万治元, 二, 三", "延宝二, 三", etc.

Second generation Yamato-no-kami Yoshimichi was called Mishina Shirô-bei initially, then Den-emon later. He created the swords at Harima, Himeji province as well. He created chô-ji-midare of Naka-kawachi style. He created swords also in his family traditional style sudare-bas mixed or chô-ji-ba mixed in dô-ran-ba style. He worked actively around "万治"(Manji) or "寛文"(Kanbun) era.

Referenced material : "日本刀銘鑑"(Nihon-tô meikan) written and edited by Masakuni ISHI supervised by Kunzan HONMA Yû-zan-kaku publishing Heisei 12(2000)

[ Conditions ] Already polished recently. Excellent condtions.

[ Attachments ] Habaki (suaka-ji, gold colored, double), shirasaya, bag of shirasaya and NBTHK Tokubetsu Hozon paper (issued on 26th March Heisei 27(2015))

[
Item number
] A020117 [
Price
]
JPY 750.000
(shipping and insurance fee are not included)