[ Feature ]
Form : Shinogi-zukuri. Iori-mune. Mihaba and kasane are both ordinal. High sori attached. Chû-kissaki form. There are bô-hi on omote and ura. They have stops in maru-dome.
Nakago : Ubu. Yasurimes are suji-kais. Saki is ha-agari, kuri-jiri. Three holes.
Jigane : Itame-hada. A little hada-tatsu. Jinie attached.
Hamon : Gunome-midare. Ashis and yôs appeared. Kinsen and suangashira appeared frequently. Ara-nie attached.
Boushi : It runs in midare-komi. Saki turns in ko-maru.

MIYAGAWA Munetsugu learned under YAMAURA Masao. He created the swords actively around Genji or Keiô, last period of Edo.
Swords with nen-ki "元治二" : signature "信濃国宗次", "山浦真雄鍛之信濃国宗次"
Swords with nen-ki "慶応二", "慶応四" or "明治三" : signature "筑前守宗継", "西都五条辺信濃国宗継造之", "於洛陽三原辺松代臣宗継造之" or "宮川筑前守源宗継造之"

In Genji 1, feudal lord of Matsushiro clan, SANADA Yukinori dispatched his samurais including himself to Miyako to guard imperial court. He made Bukkô-ji temple as a honjin (an officially appointed hotel with accommodations for a daimyo and his train) and Hongaku-ji temple as a billet. When "禁門の変"(Kinmon incident) occurred, the samurais of Matsushiro clan also participated in the incident, then defended the Imperial Court.
It was known fact by his long signature "宗継", MIYAGAWA Munetsugu created his swords in Kyoto as well. At the time of of great social upheaval, Miyako in the end of the Tokugawa period, he created the swords for samurais who at the duty of imperial court guard.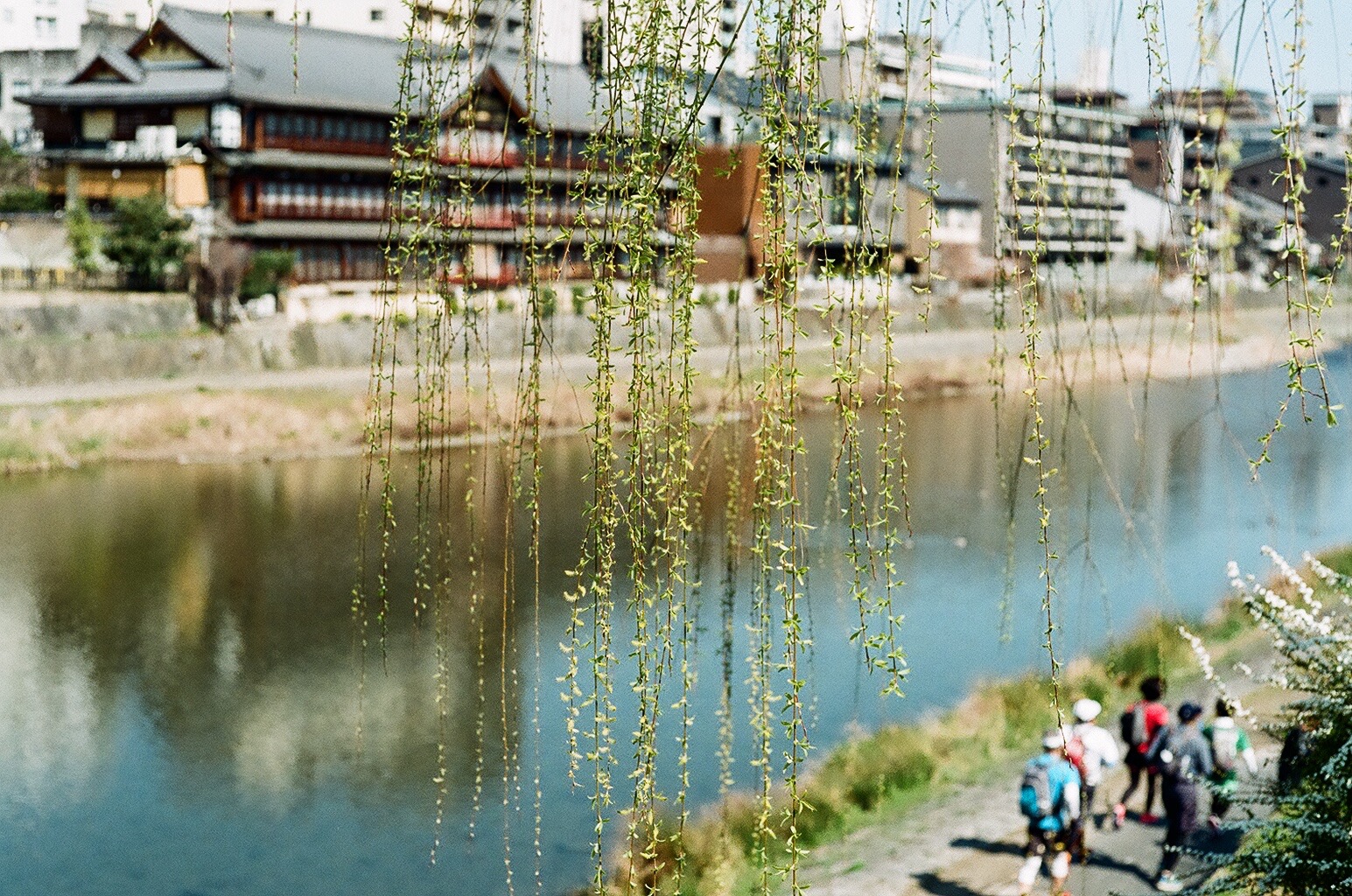 Photo : view toward north-west, seeing from "Kyoto Gojô Ô-hashi east end of north side" over Kamogawa river (taken beginning of April Heisei 29(2017))

Referenced materials : "日本刀銘鑑" ISHII Masakuni, supervised HONMA Kunzan (Yuzankaku publishing), "歴史読本" (SAKUMA Syôzan "京都日誌(Kyoto diary)" by KIKUCHI Akira)( Shin-jinbutsu-ô-rai publishing) May 2006, "日本の近世18 近代国家への志向(The early modern period of Japan 18 Toward Modernized state)" edited by TANAKA Akira( Chu-ô Kôron publishing) 1994

[ Conditions ] There are some scratches. There are kitae-wares, two on ura side, some points in hi-s.