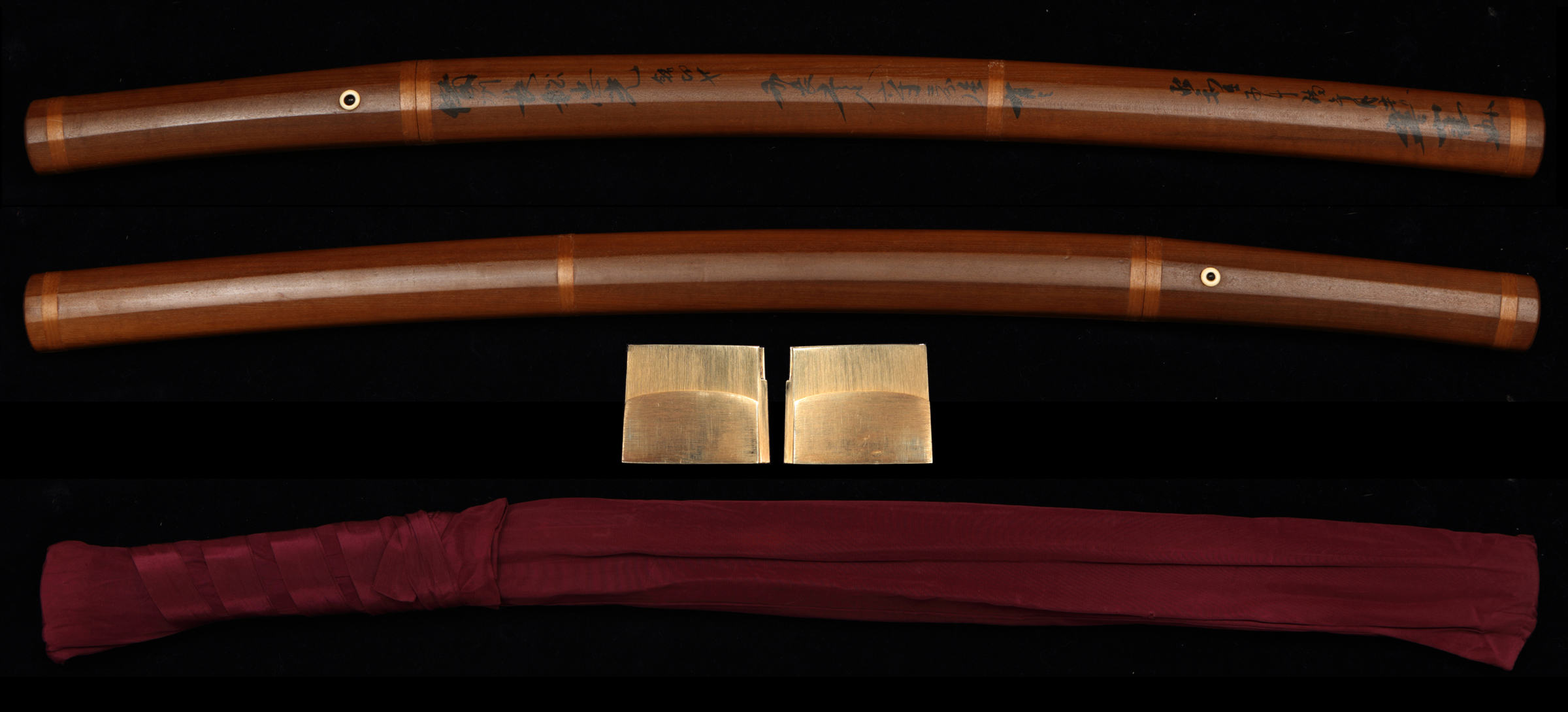 Wakizashi, Shirasaya
Bishu- (the following signature was lost by Suriage), attributed to Osafune Norimitsu

[
Signature
] omote :
"備州
" (the following signature was lost by suriage), ura : -
[
Size
]
Blade length 49,6cm (1 shaku 6 sun 3 bu 6 rin), sori 1,2cm (3 bu 9 rin), moto-haba 2,89cm, moto-kasane 0,69cm, saki-haba 1,98cm, saki-kasane 0,47cm, mekugi-ana(hole) 1, blade weight 440g
, shirasaya length 74cm
[ Period ] Muromachi, second half of
[ Province ] Bizen
[ Feature ]
Form : Shinogi-zukuri. Iori-mune. Mihaba and kasane are both ordinal. Saki-zori attached. Cuû-kissaki form. There are bo-hîs on omote and ura. They have by kaku-dome stops a little below machi.
Nakago : Suri-age. Yasurimes are (new) shallow katte-sagari, (old) katte-sagari. Saki is kuri-jiri. Two holes.
Jigane : Itame-hada well grained. Mokume mixed. Clear jinie attached.
Hamon : In sugu-tone. Ko-gunomes and ko-notares mixed. Ko-ashis appeared. A little konie attached. Nioi-kuchi is noticeable and bright.
Boushi : It turns in round with shallow midare-komi(fructuation). Saki runs in fine hakikake.

Norimitsu continued ten and several generation from Kamakura to end of Muromachi, Tenshô or Bunroku specifically. The sword made by first generation Norimitsu, who was considered as a pupil of Nagamitsu, it remained a tanto created in Kabun 3(1305), however, later swords observed very few. It comebacked around Ô-ei, beginning of Muromachi period. There was a name for good Bizen sword, " 応永備前(Ô-ei Bizen, 寛正則光(Kanshô Norimitsu), 永正祐定(Eishô Sukesada)". Following Ô-ei Bizen, Norimitsu's swords which created around Kanshô were known as mater pieces. This sword was considered created by Norimitsu, in second half of Muromachi period.

Referenced materials : "新版日本刀講座4 古刀鑑定編(下)", audited by HONMA Kunzan, SATO Kanzam, Yû-zan-kaku publishing, Heisei 9(1997), "第二十六回 重要刀剣図譜"("太刀 銘 則光"), Shô-wa 54(1979), Nihon Bijyu Token Hozon Kyokai, "第四十三回 重要刀剣図譜" ("太刀 銘 備州長船則光 享徳二年八月日"), Heisei 9(1997), Nihon Bijyu Token Hozon Kyokai,

[ Conditions ] There are tiny rust, around monouchi of blade, ha-saki, ha-chû and mune.

[
Attachments
] Habaki (suaka-ji, gold foiled, double), shirasaya, bag of shirasaya,
NBTHK Hozon paper (issued on 13th January Heisei18(2006)
and NBTHK Tokubetsu Kichô paper (issued on 19th September Showa46(1971), attributed to Tadamitsu).

[
Item number
] A050517 [
Price
]
JPY 380.000
(shipping and insurance fee are not included)