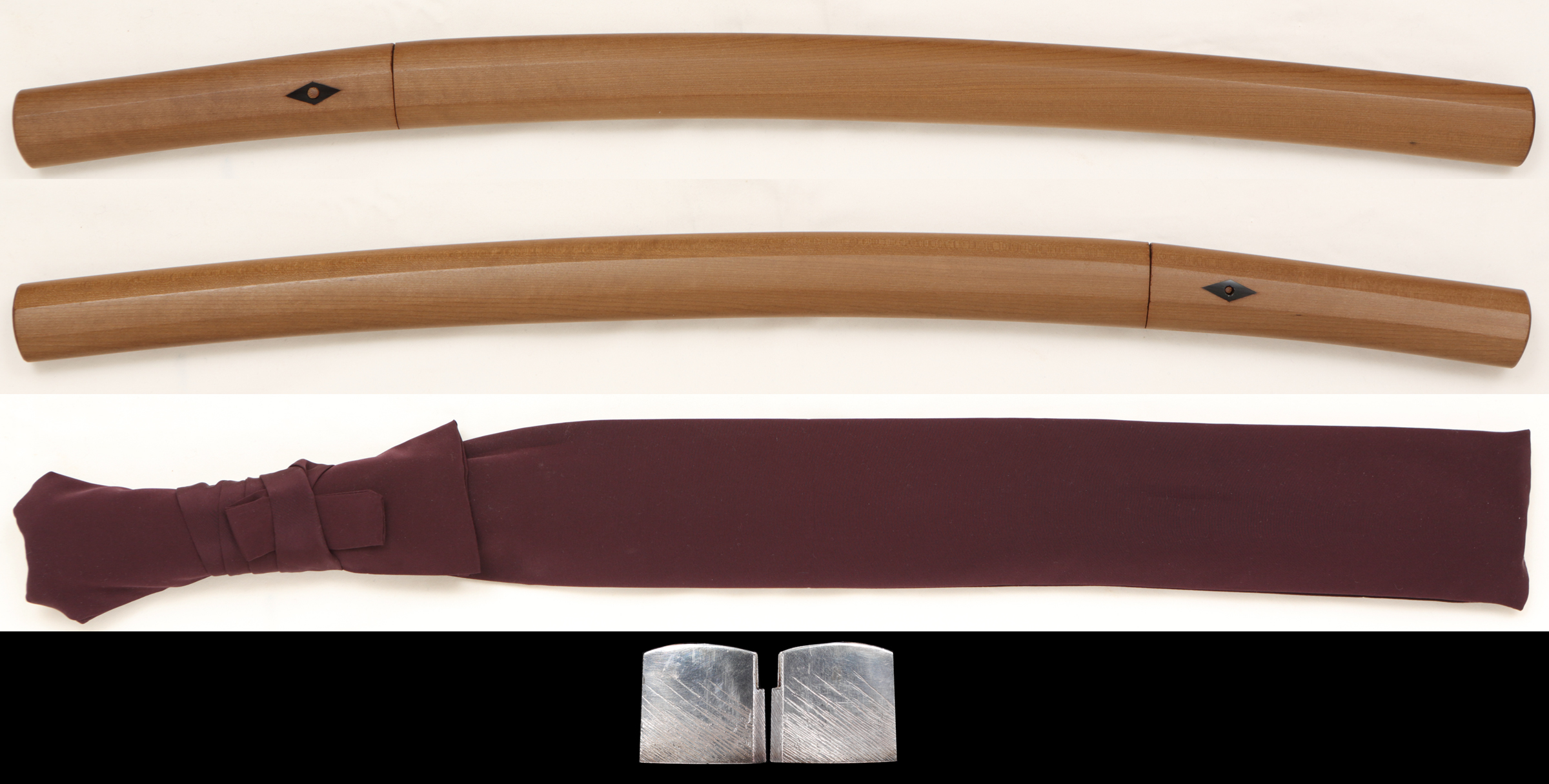 Katana, Shirasaya

[ Signature ] omote : "因刕住" (rest part cut) ura : -

[
Size
]
Blade length 46,8cm (1 shaku 5 sun 4 bu 4 rin), sori 0,8cm (2 bu 6 rin), moto-haba 2,64cm, moto-kasane 0,58cm, saki-haba 1,89 cm, saki-kasane 0,34 cm, mekugi-ana(holes) 3, blade weight 370,5g
, shirasaya length 67cm
[ Period ] Muromachi, end of
[ Province ] Inaba
[ Feature ]
Form : Shinogi-zukuri. Iori-mune. Mihaba and kasane are both ordinal. Naka-sori attached. Chu-kissaki extended form.
Nakago : Suriage. Old yasurimes are higaki. New yasurimes are kiri. Saki is kiri. Three holes.
Jigane : Itame-hada which is in nagare mode. Jinie attached.
Hamon : Nioi-kuchi is in shimari-gokoro. Sugu-ha.
Boushi : It runs in sugu. Saki is hakikake.

Swordsmith Kanesaki school whose ancestor moved from Seki, Mino province to Inaba province at end of Muromachi period. They continued till shin-tô era.


Referenced material : Nihontô kouza vol. 3 "日本刀講座 第三巻 古刀鑑定編 中" by HONMA Kunzan, SATÔ Kanzan, Yûzankaku publishing, Heisei 9(1997)
[ Highlight ] Black and strong hada, where itame-hada run. Ko-nie attached sugu-ha which nioi-kuchi is in shimarigokoro. The width of tempering yaki-haba becomes wider, above mono-uchi, close to yokote. Sword form has about 1 sun 5 bu long suriage.

[ Conditions ] There are some small dents, rusts and scratches. Holding strings tsuka-ito have some worn out. On laquer of nuri-zaya, there are miniscule scratches and detach of urushi.
[ Attachments ] Habaki (suaka-ji, single), shirasaya, bag of shirasaya and a NBTHK Kichô paper (issued on 18th November Shôwa 47(1973)).


[
Item number
] A051217 [
Price
]
JPY 90.000
(shipping and insurance fee are not included)