Katana, Koshirae
Signed as "Goshu ju Sukenaga"

[
Signature
] omote :
"江州住助長"
 ura : -
[
Size
]
Blade length 67,2cm (2 shaku 2 sun 1 bu 7 rin), sori 1,90cm (6 bu 3 rin), moto-haba 2,79cm, moto-kasane 0,59cm, saki-haba 1,83cm, saki-kasane 0,38cm, mekugi-ana(hole) 1, blade weight 570,5g
, koshirae length 95cm
[ Period ] Muromachi, second half of
[ Province ] Unknown
[ Feature ]
Form : Shinogi-zukuri. Iori-mune. Mihaba and kasane are both ordinal. Relatively deep sori and saki-zori attached. Chû-kissaki extended form.
Nakago : Ubu. Yasurimes are not known. Saki is kuri-jiri. Two holes.
Jigane : Ko-itame-hada well grained. Shirake-utsuri appear.
Hamon : Ko-gunome-midare in sugu tone. Nioi-kuchi is calm. Ko-nie attached. Ko-ashi appeared frequently.
Boushi : It runs in sugu, point is in komaru. It turns deeply.

Kuro-ro-iro-nuri-zaya uchigatana-koshirae ; Menuki : Ama-ryu-zu (shaku-dô kin-iroe), Tsuba : Nanban-tsuba(tetsu-ji sukashi), Fuchi-gashira : Hai-ryû-zu (shaku-dô nanako-ji) signed as "HITOTSU YANAGI Tomoyoshi(Kaô))

[ Conditions ] Blade : there is very tiny chip at kissaki. Hike observed. At mune around monouchi, there are a few small dents like caused by attack of sword. Koshirae : part by part, there are detachments of painting and scratches.
[ Attachments ] Habaki (suaka-ji, silver foiled, single), koshirae and bag of koshirae.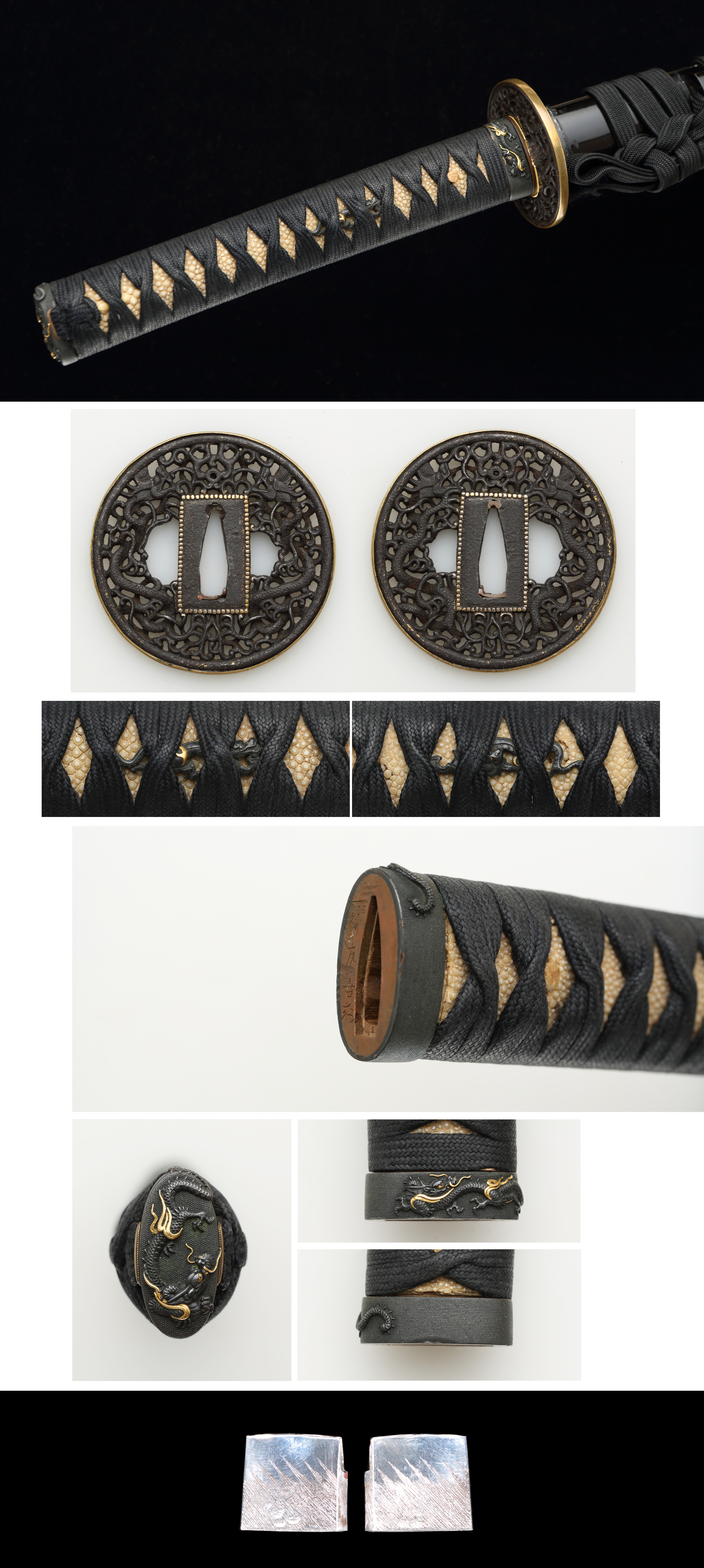 [
Item number
] A060417 [
Price
]
JPY 290.000
(shipping and insurance fee are not included)
HOLD