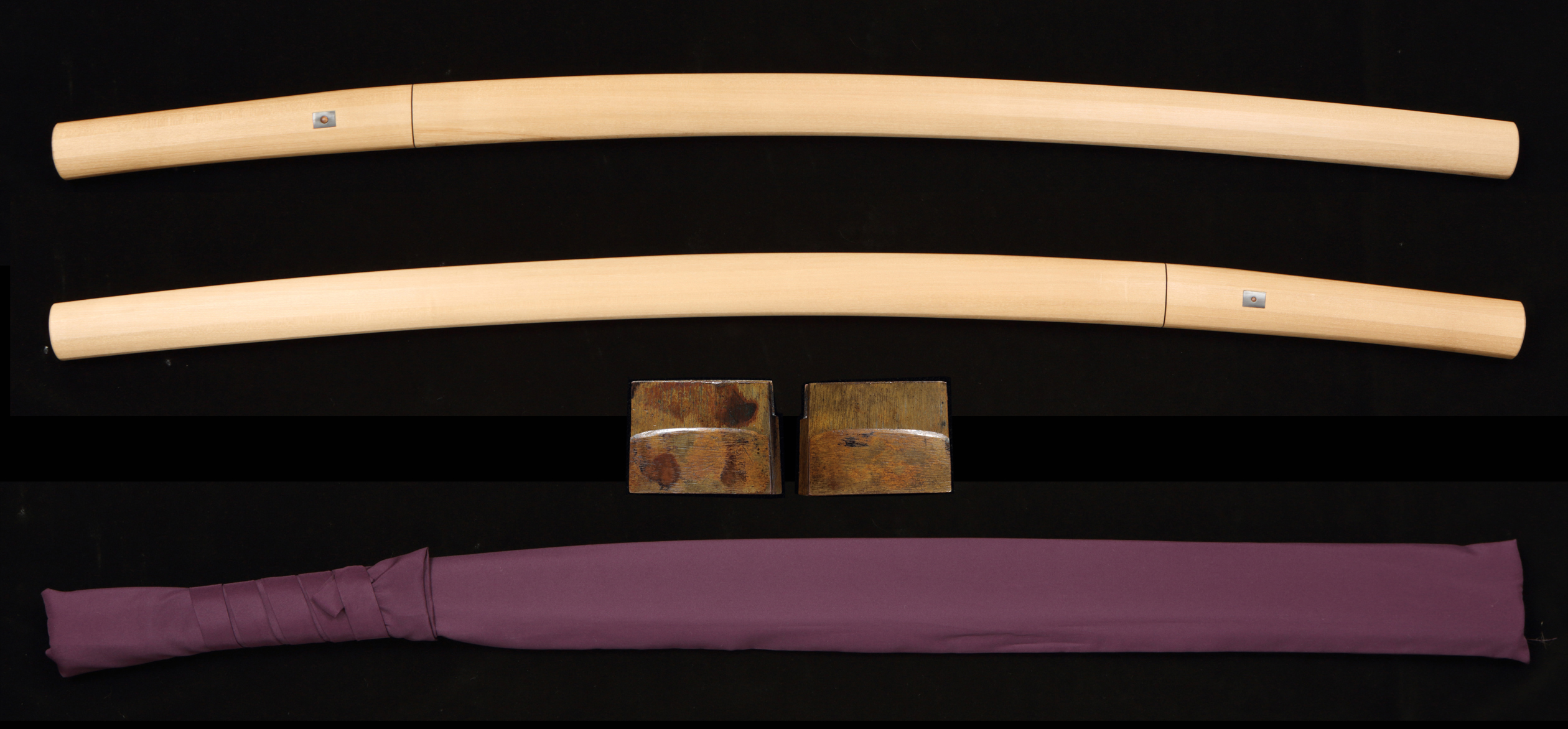 Katana, Shirasaya

[ Signature ] omote : Buzen-jû KÔNO Sadamitsu tsukuru "豊前住河野貞光作" ura : Kanoto-mi (shin-shi) nen jyû-ni-gatsu kisshô-jitsu "辛巳年十二月吉祥日"

[
Size
]
Blade length 73,1cm (2 shaku 4 sun 1 bu 2 rin), sori 1,7cm (5 bu 6 rin), moto-haba 3,26cm, moto-kasane 0,60cm, saki-haba 2,48 cm, saki-kasane 0,51 cm, mekugi-ana(holes) 2, blade weight 775g
, shirasaya length 102cm
[ Period ] Heisei 13(2001)
[ Province ] Fukuoka prefecture
[ Feature ]
Form : Shinogi-zukuri. Iori-mune. Mihaba is wide. Kasane is ordinal. Saki does not become so narrow. Moderate sori attached. Chû-kissaki extended form. Fukura becomes more or less straight.
Nakago : Ubu. Yasurimes are ô-suji-kais and keshô. Saki is iri-yama-gata. Two holes.
Jigane : Well grained ko-itame-hada.
Hamon : Ko-nie base. Notare mixed. Ashis and yôs appeared. There is a little mune-yaki(tempered part in mune).
Boushi : It runs in sugu, then turns in komaru.

Sword smith KONO Sadamitsu, his real name is KONO Hiroshi. He was born in Showa 25(1950). He started to study of swords creation under his father, first generation Kunimitsu. Then, he learned under Gassan Tei-ichi, who was living national treasure. After becoming independent, he started to create the swords in his local province Fukuoka. He was appreciated by his beauty of kitae-hada, at same time, he was popular by budo-kas since he was seeking the real performance of Japanese sword, excellent cutting.


[ Highlight ] Mihaba is wide. Kasane is ordinal. 2 shaku 4 sun plus long, moderate sori attached supple form. Nakago finish is relatively long. THere is a hikae-mekuji-ana hole. Well balance in hand. Ko-mokume-hada jigane is highly grained. Yakiha is so wide. Fine and rich ko-nie attached notare-midare hamon is so magnifique and show high skill.

[ Conditions ] Excellent.

[ Attachments ] Habaki (suaka-ji, double), shirasaya and bag of shirasaya.

[
Item number
] A070418 [
Price
]
JPY 650.000
(shipping and insurance fee are not included)