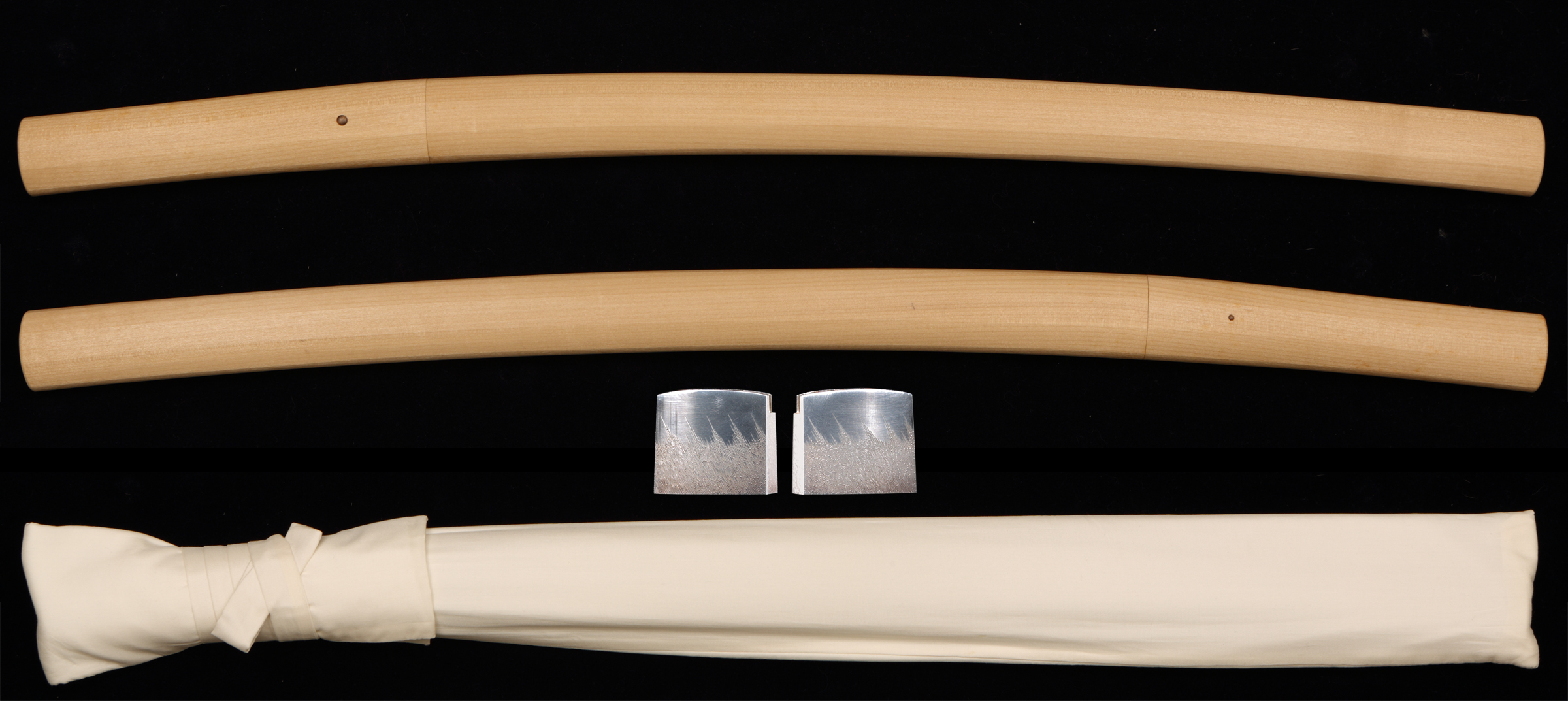 Wakizashi, Shirasaya

[ Signature ] omote : Sans signature ura : -
[
Taille
]
Longuer de lame 46,2cm (1 shaku 5 sun 2 bu 4 rin), sori 1,0cm (3 bu 3 rin), moto-haba 3,28cm, moto-shinogi-kasane 0,76cm, saki-haba 2,23cm, saki-kasane 0,51cm, mekugi-ana(trou) 1, poids de lame 501g
, longueur de shirasaya 69cm
[ Période ] Edo, in the middle of, around Enpô
[ Province ] Yamashiro
[ Caractéristiques ]
Form : Shinogi-zukuri, iori-mune. Mihaba is wide. Kasane is ordinal. Shallow sori attached. Chukissaki form. There are bô-his, which have round stops both ends, on omote and ura with so-his.
Nakago : Ubu. Yasurimes are suji-kais. Saki is ha-agari and kuri-jiri. One hole.
Jigane : Well grained ko-itame-hada. Fine and rich jinies attached. Chikei appeared.
Hamon : Yakaidashi starts in sugu and short. It mixed shallow notare and ô-gunomes. Nioi is deep. Ashis appeared. Konies attached. Sunagashis and kin-sujis appeared in "ha"s.
Boushi : Both on omote and ura, it shows a little notare-gokoro. It turns in komaru with rich nies attached.

The swordsmith of this sword was third generation of Kinchi, who was second son of Kanemichi, among other brothers, such as Iga-no-kami Kinmichi, Rai Kinmichi, Tanba-no-kami Yoshimichi and Ecchu-no-kami Masatoshi. Kanemichi was ancestor of Mishina-school who moved from native Mino province to Miyako during Eiroku period. Third generation Kinmichi worked actively in Miyako during Enpô. It looked that they frequently communicated each other with the swordsmiths who lived in Ô-saka, so their styles reflected each other.
[ Conditions ] It has already polished. Shirasaya is brand-new. It maintains excellent condtions. You can preserve and appreciate in extraordinaly state.

[
Attachements
] Habaki (double, suaka-ji, kin-kise(over coveredby gold) uwa-gai, sa-aya-mon-gata), shirasaya, bag of shirasaya and
NBTHK Tokubetsu Hozon paper ( issuned on 23rd March Heisei 28(2016))
[
Numéro d'objet
] A070916 [
Prix
]
JPY 680.000
(
l'assurance du transport n'est pas incluse et reste à la charge du client ).