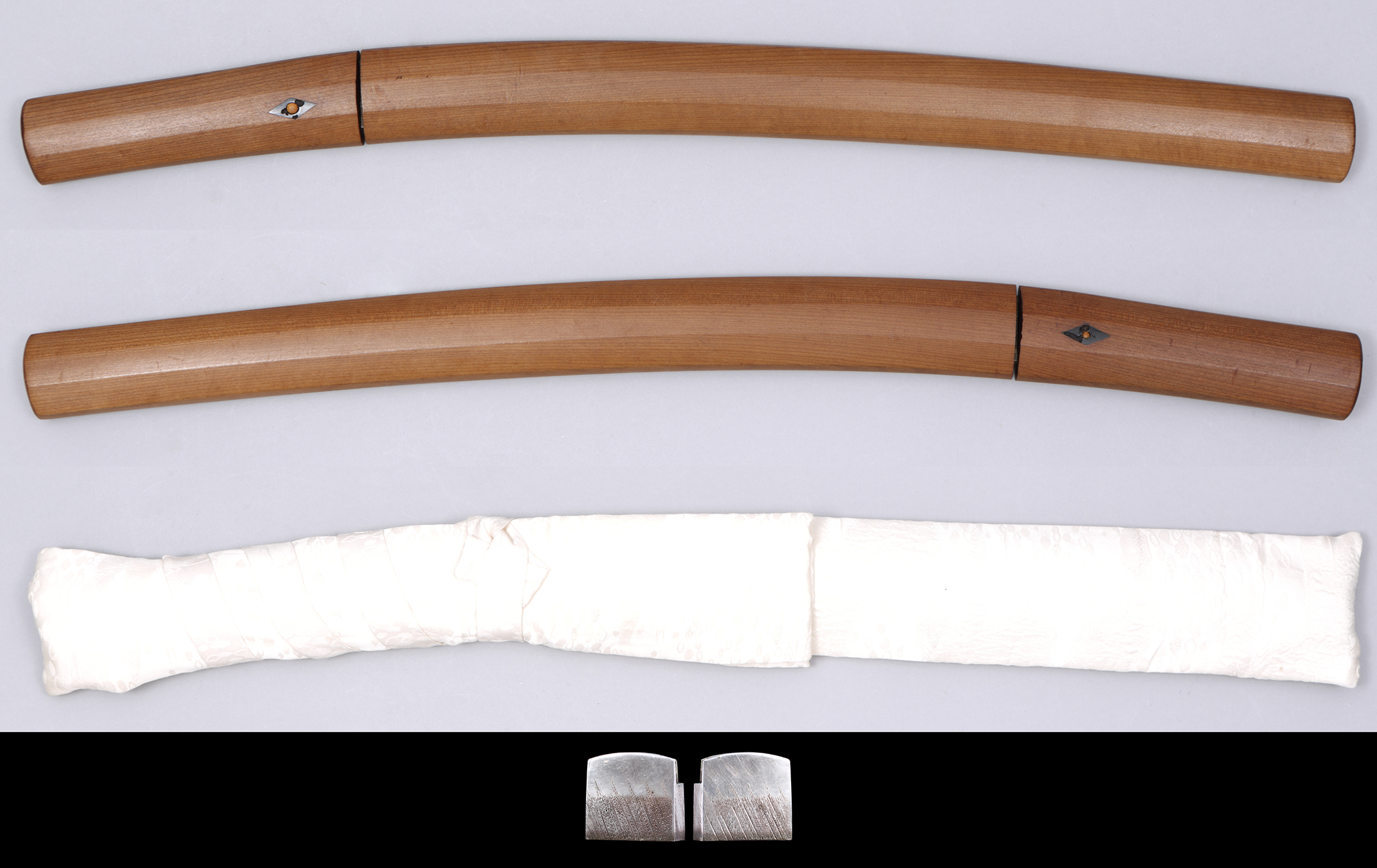 Wakizashi, Shirasaya, Koshirae

[ Signature ] omote : "慶幾 翁鈴木治国造" ura : "嘉永四年二月日"

[
Size
]
Blade length 41.0cm (1 shaku 3 sun 5 bu 3 rin), sori 1.0cm (8 bu 9 rin), moto-haba 3.19cm, moto-kasane 0.85cm, mekugi-ana(hole) 1, blade weight 457g
, shirasaya length 61cm, koshirae length 64cm
[ Period ] Edo, end of. Kaei"嘉永"4(1851)
[ Province ] Settsu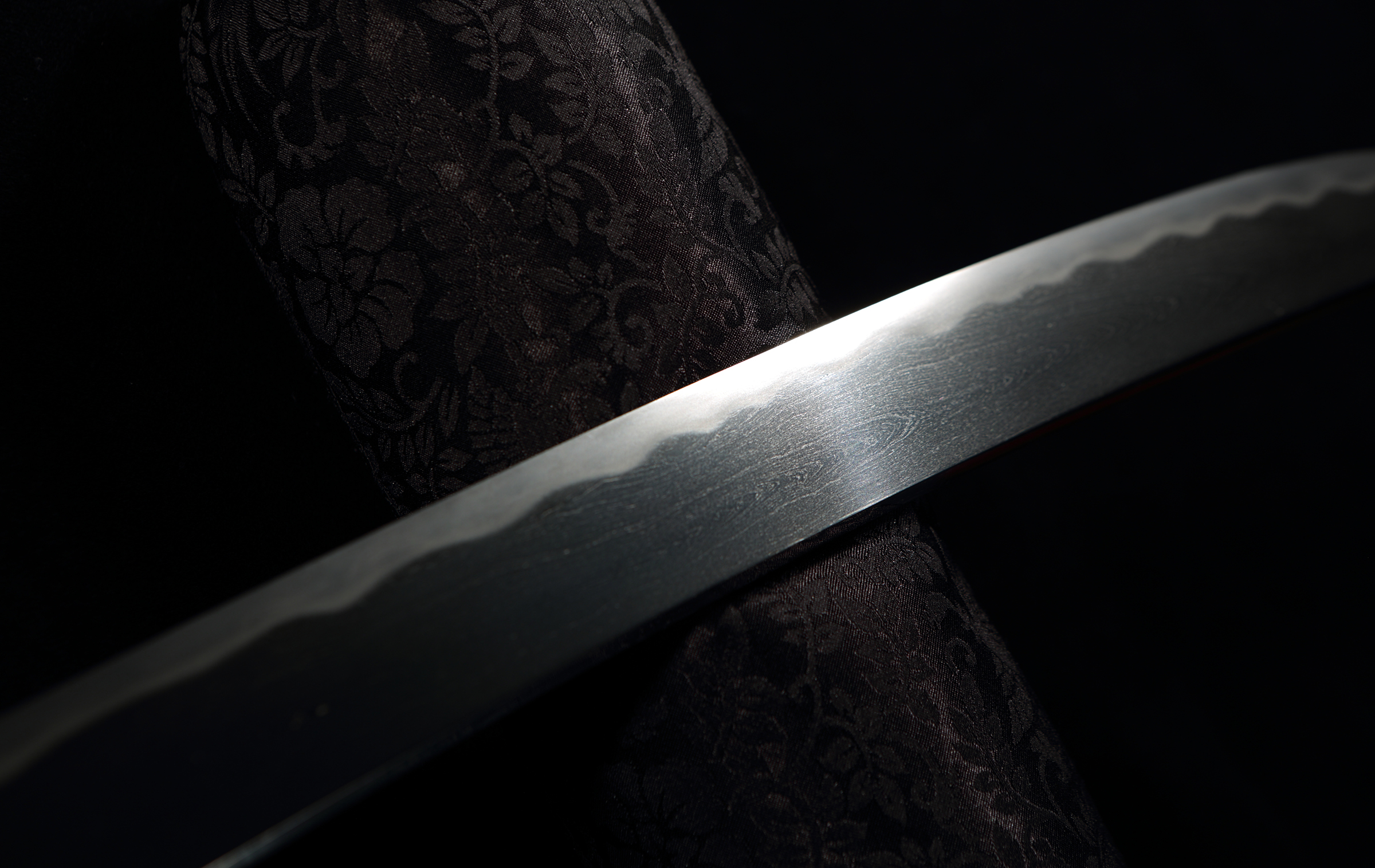 [ Feature ]
Form : Hira-zukuri. Mihaba is wide. Kasane is a little thick. Saki-zori attached. There are few differences between moto-haba and saki-haba. Fukura shows it kare-gokoro.
Nakago : Ubu. Yasurimes are suji-kais and kesho. Saki is kuri-jiri. One hole.
Jigane : O-itame-hada, well grained. Jinie attached.
Hamon : Gunome-midare. Ko-nie attached so much. Sunagashis appeared frequently.
Boushi : It runs in sugu. Then, it turns in ko-maru form.

"丸に井桁文石目地塗鞘脇差拵 : 菊唐草文真鍮象嵌鉄地鐔、琵琶図赤銅魚々子地小柄、吹寄図真鍮象嵌鉄地鐺、雨鑢文赤銅地縁頭、植物図赤銅地高彫金色絵目貫"
Koshirae make: Wakizashi with a round and well-detailed design in an Ishimeji lacquered scabbard
Sword guard: iron sword with brass inlay with chrysanthemum arabesque design.
Kozuka: red copper with biwa design
Bottom: Brass inlaid iron base with fukiyose design.
Head: Bronze rim with rain rasp design.
Menuki: Highly engraved gilt coloured metalwork on red copper with botanical design.

[ Hgihlight ] : It is a long, flat-sectioned hira-zukuri wakizashi with well-grained and fine, large itame-hada. Suzuki Harukuni was also inscribed as 'Suzuki Ouma Hachiro Harukuni'. He was a student of Takanobu Kuroda, a Settsu swordsmith of the late Edo period. The date of his death is dated 1813 (Bunka 10), which means that 38 years had passed between 1813 and 1851 (the date of this work) alone, suggesting that he was a swordsmith who made swords for a relatively long period of time. The inscription "Keiiku Ou" (慶幾 翁) is also a valuable and careful work. Kuroda Takanori's pupil was Ozaki Gengoemon Suketaka of Harima, and Suketaka's works are dated from Tenmei to around the beginning of Bunka era (1789), while his master Kuroda Takanori died in 1789. The jigane and blade are brilliant.
[ Conditions ] The sword blade has a few hike-scratches, but is rust-free and can be preserved and appreciated in its current state. The handle threads are worn, and there is partial peeling of the urushi lacquer around the kurigata joint and kozukahitsu, as well as on the lacquered scabbard koi-kuchi. We can also provide repair services for the handle wrapping and lacquering.
[ Attachments ] Habaki (suaka-ji, silver foiled, single), shirasaya, bag of shirasaya, koshirae, bag of koshirae and NBTHK Tokobetsu hozon paper "特別保存刀剣鑑定書"(issued on 23rd May Reiwa 1(2018))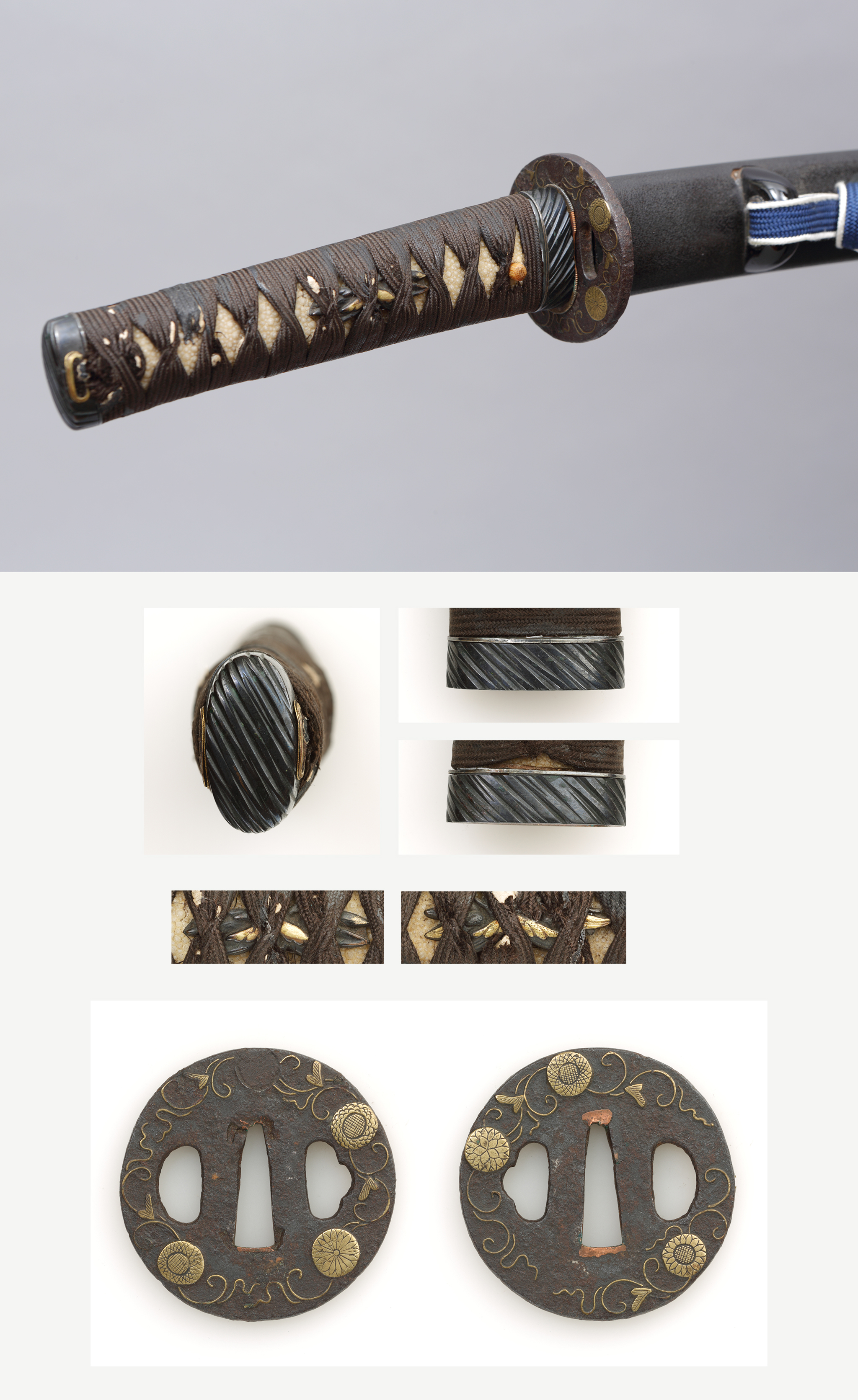 [
Item number
] A010322 [
Price
]
JPY 550,000-
(shipping and insurance fee are not included)