Tanto, Shirasaya, Tomobako

[ Signature ] omote : "吉野人國平"  ura : "平成元年八月日" mune : "為浅田真吾君重代"

[
Size
]
Blade length 22.7cm (7 sun 4 bu 9 rin), sori 0cm (n/a), moto-haba 2.30cm, moto-kasane 0.64cm, mekugi-ana(hole) 1, blade weight 142g
, shirasaya length 40cm
[ Period ] 1989(Heisei "平成"1)
[ Province ] Yamato, Nara prefecture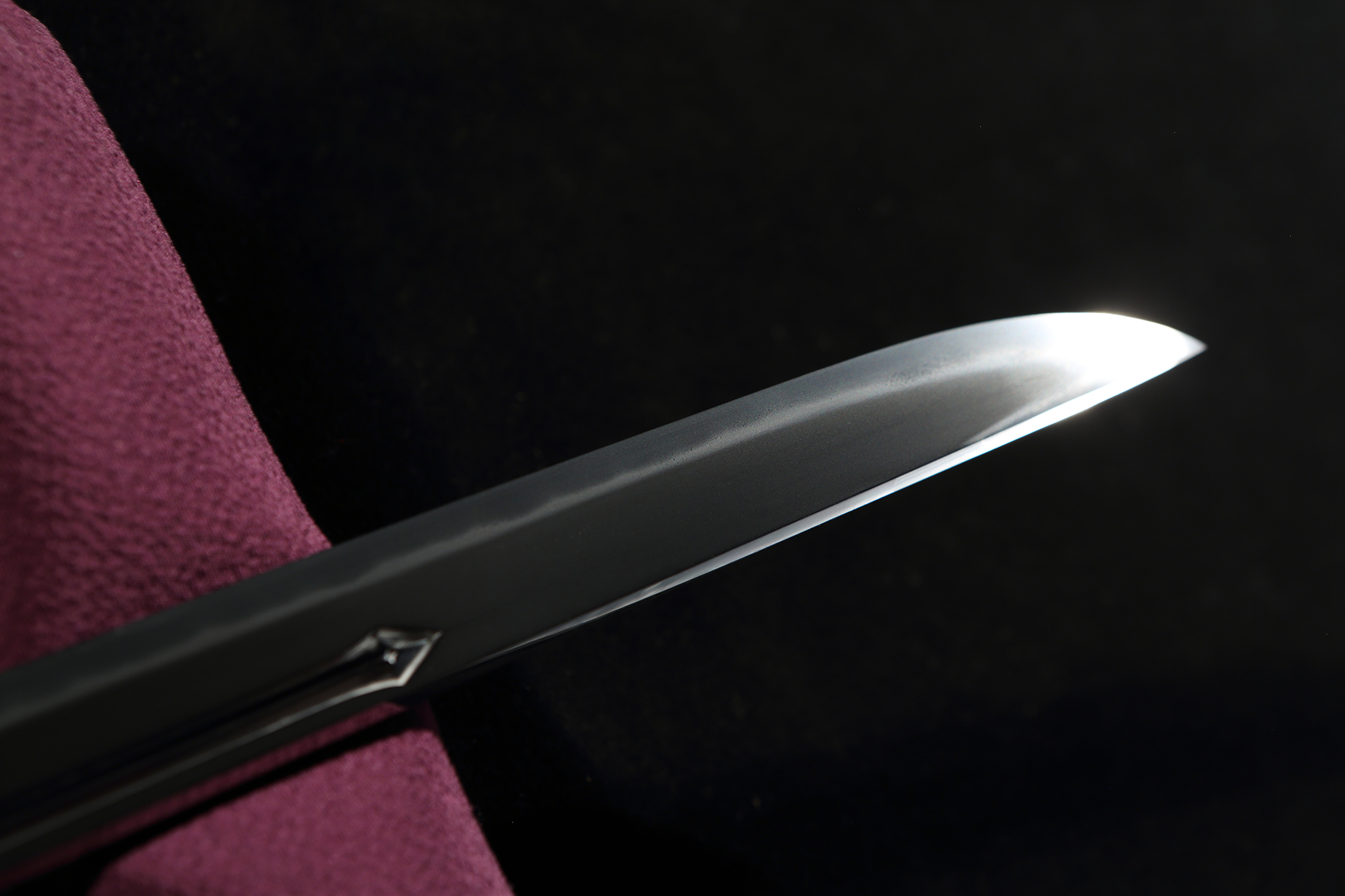 [ Feature ]
Form : Hira-zukuri. Mitsu-mune. Both mihaba and kasane are ordinal. Clean form tanto.
Engraving : (omote) su-ken. (ura) goma-bashi.
Nakago : Yasurimes are suji-kais. Saki is kuri-jiri. One hole.
Jigane : Ko-itame-hada well grained. Jinie attached.
Hamon : Sugu-ha tone with shallow notare. Ko-gunomes mixed. Ashis appeared. Nioikuchi is clear and bright. Part by part, nie attached. Nie-yaki appeared.
Boushi : It runs in ko-maru. It turns long.

[ Highlight ] Kawachi Kunihei "河内國平" was born in Osaka in 1941, the second son of the 14th Kawachi-no-kami Kunisuke. He studied under the archaeologist Masao Suenaga while still a student at the Faculty of Law at Kansai University. He studied Soshu-den under the living national treasure Miyairi Akihira "宮入昭平"(later renamed to Yukihira "行平") and Bizen-den under the living national treasure Sumitani Masamine "隅谷正峯". In Showa 47(1972), he established a workshop in Hirano, Higashi-Yoshino-mura, and was certified as a top-class modern swordsmith in Showa 63(1988). In Heisei 17 (2005), he became the holder of Nara Prefecture's intangible cultural property, and in Heisei 26(2014), he was awarded the Medal with Yellow Ribbon and in Reiwa 1(2019), the Order of the Rising Sun, Gold and Silver Star. This work has noble characters, specifically, a nashiji style with small itame texture, a shallowly curved straight blade sugu-ha, and a blade pattern with ko-guno-mes, ko-ashis, and nie-gori.

[ Conditions ] Excellent.
[ Attachments ] Habaki (upper part uwagai suaka-ji, gold foiled, lower part shita-gai shakudo-ji ; double) ,shirasaya, bag of shirasaya and ensemble storing box tomo-bako.

[
Item number
] A010621 [
Price
]
JPY 700,000-
(shipping and insurance fee are not included)