Tanto, Shirasaya

[ Signature ] omote : "越中住貞秀造之" ura : "昭和五十三年八月"

[
Size
]
Blade length 26.8cm ( 8 sun 9 bu 9 rin), sori 0cm, moto-haba 2.89cm, moto-kasane 0.63cm, mekugi-ana(hole) 1, blade weight 217g
, shirasaya length 43cm
[ Period ] Showa "昭和" 53(1978)
[ Province ] Toyama "富山" prefecture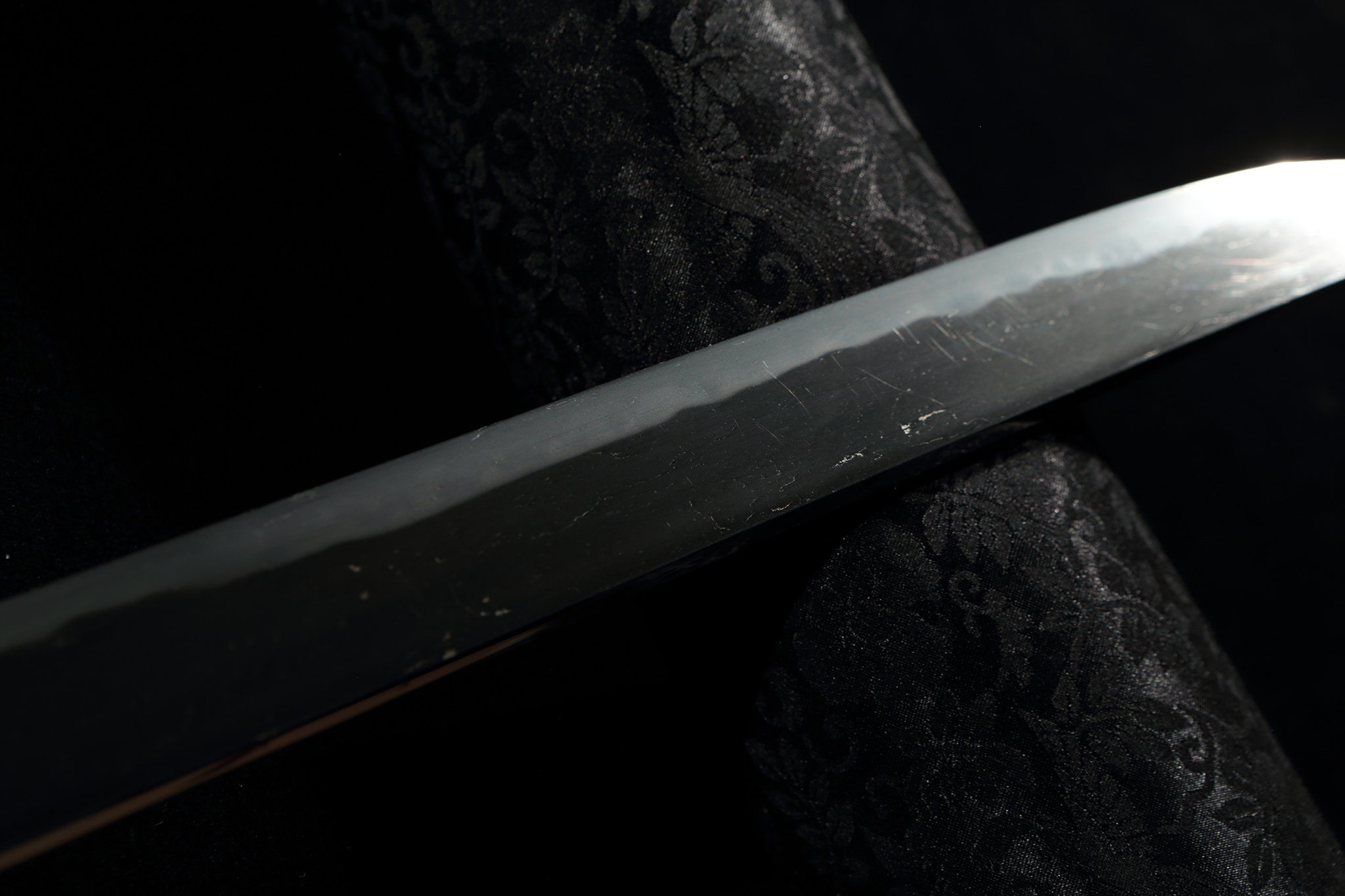 [ Feature ]
Form : Hira-zukuri. Iori-mune. Both mihaba and kasane are sturdy. No sori attached tantô form.
Nakago : Yasurimes are suji-kais. Saki is kuri-jiri. One hole.
Jigane : Itame-hada. Jinie attached.
Hamon : Gunomes, ko-chôji-bas mixed. Ashis and yôs appeared.
Boushi : It becomes yakitsume pattern.

[ Highlight ]

Current age swordsmith Sadahide, who lives Ô-yama town Shinkawa county, Toyama prefecture, has his family name Miyamoto Teruhiro. He learned his swords creation skills from Amata Sadayoshi "天田貞吉" (father of Amata Akitsugu"天田昭次", national living treasure (Meiji 33(1900) - Shôwa 12(1937)). After WW2, he resumed his swords creation taking autorization on 17th August Showa 48(1973). He actively contributed to Shinsaku Meitô ten exhibitions. Taking it account the sword creation year, this sword was created in his last years.
[ Conditions ]
There are horizontal scratches and small rusts.

[ Attachments ]
Habaki (silver, single), shirasaya and bag of shirasaya.


[
Item number
] A020320 [
Price
]
JPY 120,000
(shipping and insurance fee are not included)