Wakizashi, shirasaya

Omi no kami Hojoji Tachibana Masahiro, 2nd generation

[ Signature ] omote : "近江守法城寺橘正弘"

[
Size
]
Blade length 54.54cm (1 shaku 8 sun 0 bu 0 rin), sori 0.9cm (3 bu 3 rin), moto-haba 3.12cm, moto-kasane 0.62cm, saki-haba 2.16 cm, saki-kasane 0.48 cm, mekugi-ana(holes) 2, blade weight 559.5g
, shirasaya length 78cm
[ Period ] Edo, first half of.
[ Province ] Musashi "武蔵"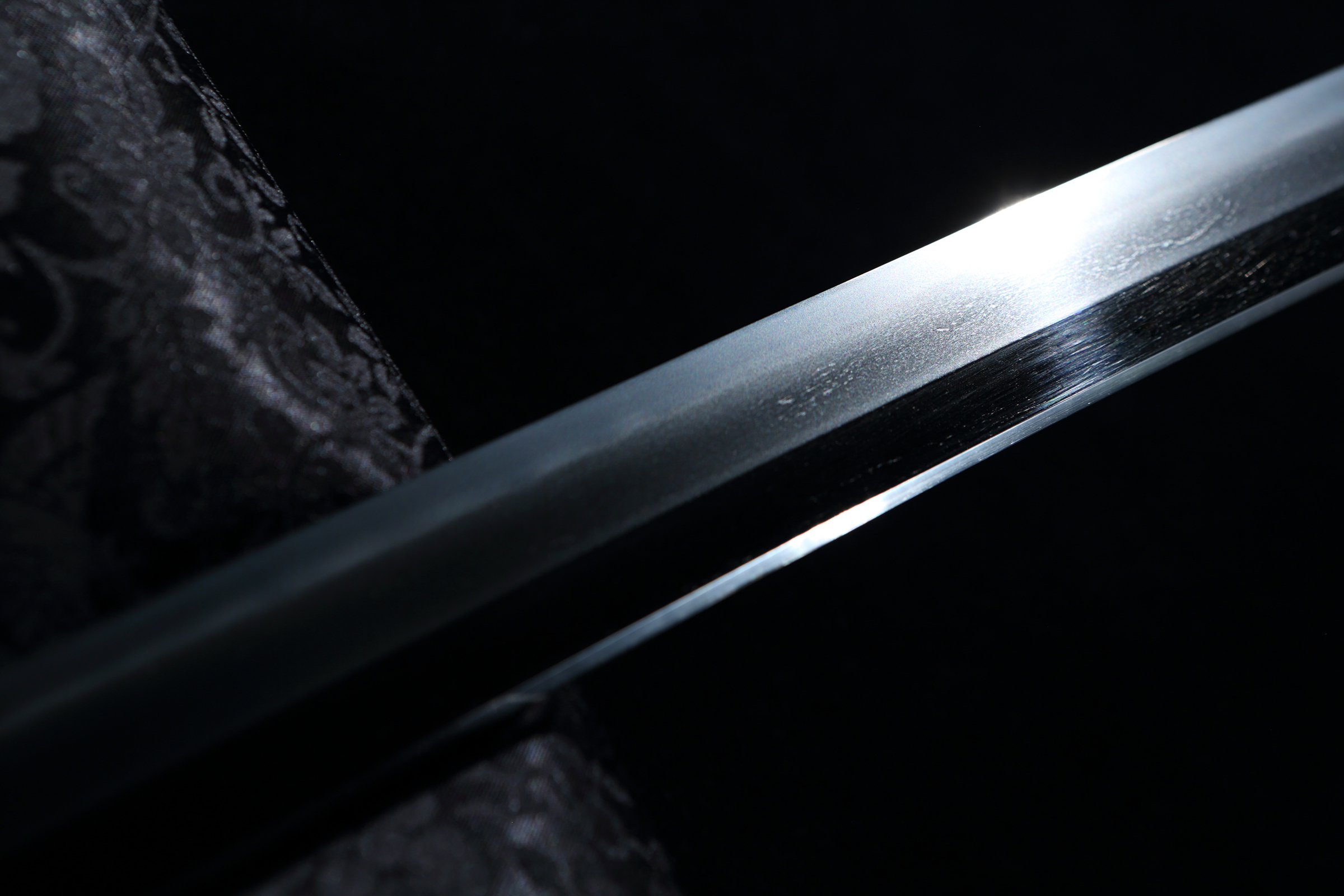 [ Feature ]
Form : Shinogi-zukuri. Iori-mune. Mihaba is relatively wide. Kasane is ordinal. Shallow sori attached. Chû-kissaki form.
Nakago : Suri-age. Machi has been advanced. Yasurimes are suji-kais. Two holes.
Jigane : Ko-itame-hada, part by part, changing surfaces and mokumes mixed. Jinie attached.
Hamon : Wide suguha tone. Sequenced gunomes mixed. Ashis appeared. Rich ko-nie attached. Sunagashis appeared.
Boushi : It runs in sugu. Form is ko-maru. It turns relatively deep.


[ Highlight ] Masahiro Tachibana, the first Omi no Kami Hojoji, is renowned as the head of the Edo Hojoji School. は、He is said to be a descendant of Hojoji Kunimitsu of the koto period.、Home country is Tajima. 、It's called Takigawa Saburotayu.、He was a swordsmith active in the early Edo period. During the Houei period, it is known that swords were also made in Satsuma and Mito.It was inscribed "Hojoji Tachibana Masahiro, Omi-no-kami 近江守法城寺橘正弘" and "Hojoji Masahiro, resident in Edo 江戸住法城寺正弘".Chronological works from the Meireki to the Houei period can be seen. The chiselling of the inscription suggests that this is an early example of a sword made by the second generation around the Enpo and Genroku periods. This is an interesting example of the early style of the second generation.

[ Conditions ] There is one rust spot on the mune.
[ Attachments ] Habaki(suaka-ji, gold colored, single), shirasaya, bag of shirasaya and NBTHK tokubetsu hozon paper "特別保存刀剣鑑定書"(issued on 18th August Reiwa 2 (2020))

[
Item number
] A030321 [
Price
]
JPY 380,000-
(shipping and insurance fee are not included)