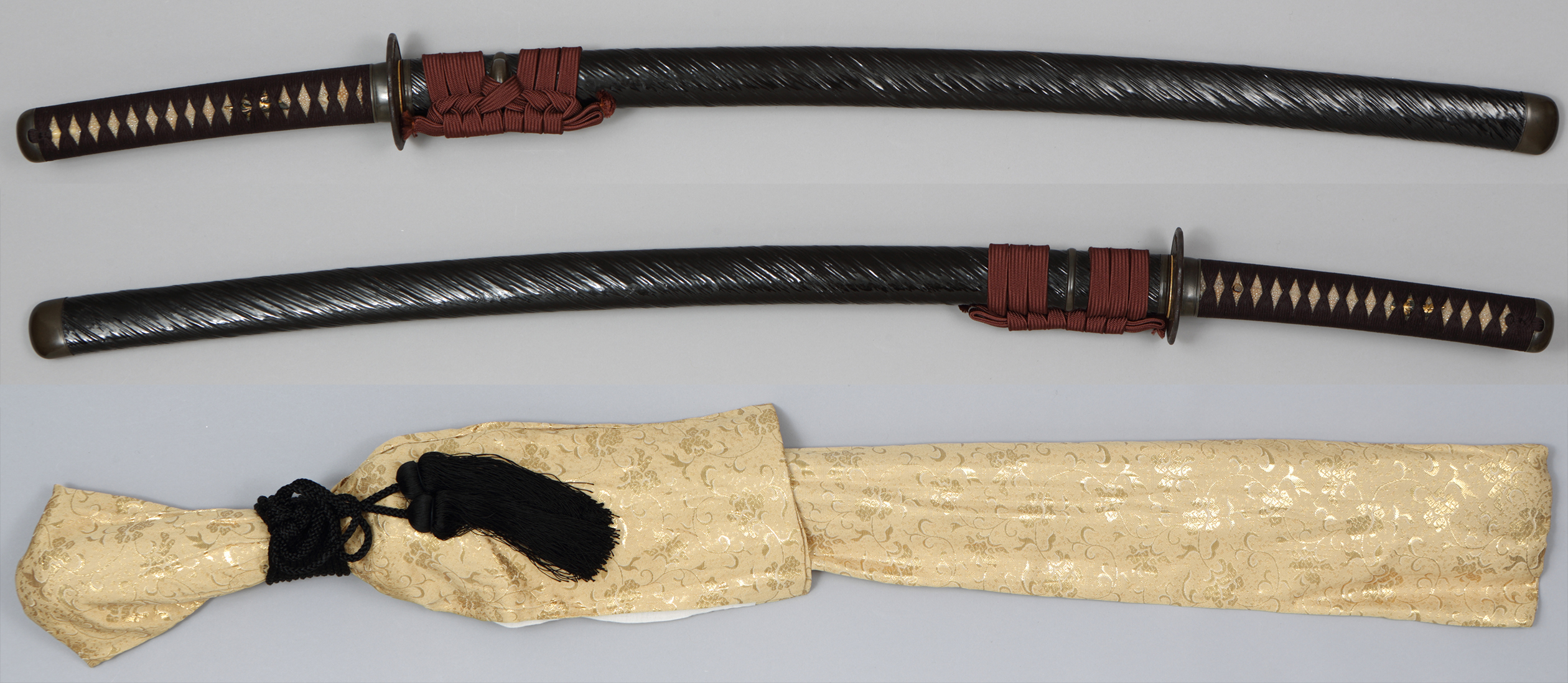 Katana, Shirasaya, Koshirae

[ Signature ] omote : "肥前國河内守藤原正廣" ura : -

[
Size
]
Blade length 71.5cm (2 shaku 3 sun 6 bu 0 rin), sori 1.5cm (5 bu 0 rin), moto-haba 3.12cm, moto-kasane 0.67cm, saki-haba 1.99 cm, saki-kasane 0.45 cm, mekugi-ana(hole) 1, blade weight 764g
, shirasaya length 96cm, koshirae 98cm
[ Period ] Edo "江戸"
[ Province ] Hizen "肥前"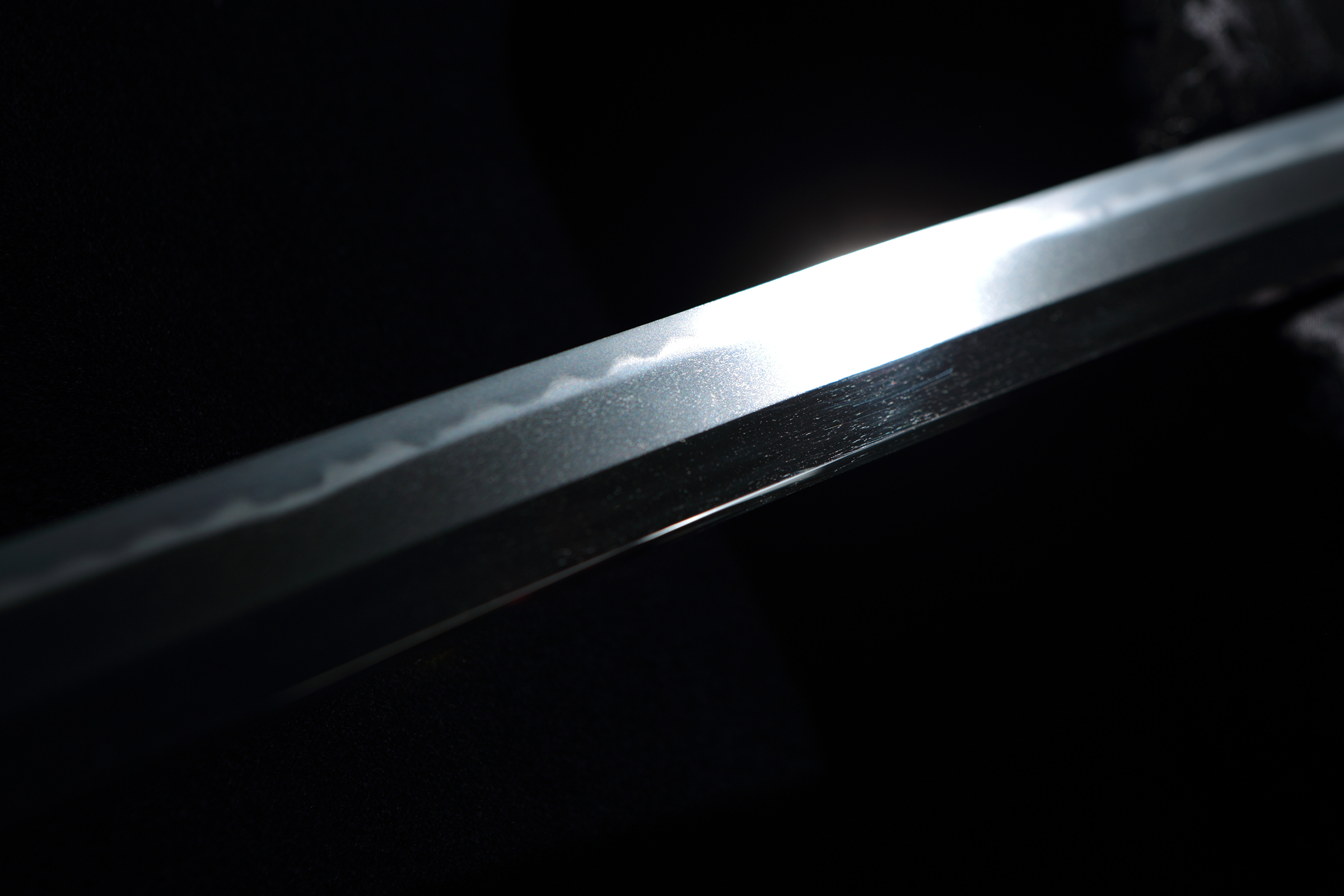 [ Feature ]
Form : Shinogi-zukuri. Iori-mune. Mihaba is wide. Kasane is ordinal. There are some differences between moto-haba and saki-haba. Moderate sori attached. Chû-kissaki form.
Nakago : Ubu. Yasurimes are suji-kais. Saki is iri-yama-gata. one hole.
Jigane : Ko-itame-hada well grained. Rich jinie attached. Fine chikei appeared.
Hamon : A sequence of gunomes. Ashis appeared. Nie attached well. Sunagashis appeared.
Boushi : It runs in sugu. It turns in round. Saki form is haki-kake.

"黒変り塗鞘打刀拵 : 松透鐔(鉄地金象嵌)、鳳凰図目貫(赤銅容彫金色絵)、縁頭・鯉口・栗形・鐺 素文揃金具(四分一磨地)"

[ Highlight ] Hizen 2nd Masahiro was the son of Hizen Kawachi Daijo Masahiro I.で、His name is Sadenjiro "佐伝次郎". Initially, it is inscribed Masanaga "正永". Awarded the title of "武蔵大掾 Musashi Daijo" in the 3rd year of the Manji Era and "Musashi-no kami 武蔵守" in the 1st year of the Kanbun Era. After the death of his father in Kanbun 5, he changed his name to "Masahiro 正広", at the age of 39. He became Kawachi no kami "河内守". He died in Genroku 12 at the age of 73. A well-balanced form. A fine example of a ko-nuka-hada surface with well grained ko-itame. The blade has a gunome-hamon with bright nioi-kuchi and variation.

[ Conditions ]  Both the blade and the outfit are in good condition.
[ Attachments ] Habaki (suaka-ji, gold foiled, single), shirasaya, bag of shirasaya, koshirae, bag of koshirae and NBTHK tokubetsu hozon paper "特別保存刀剣鑑定書"(issued on 11th May Heisei 12(2000))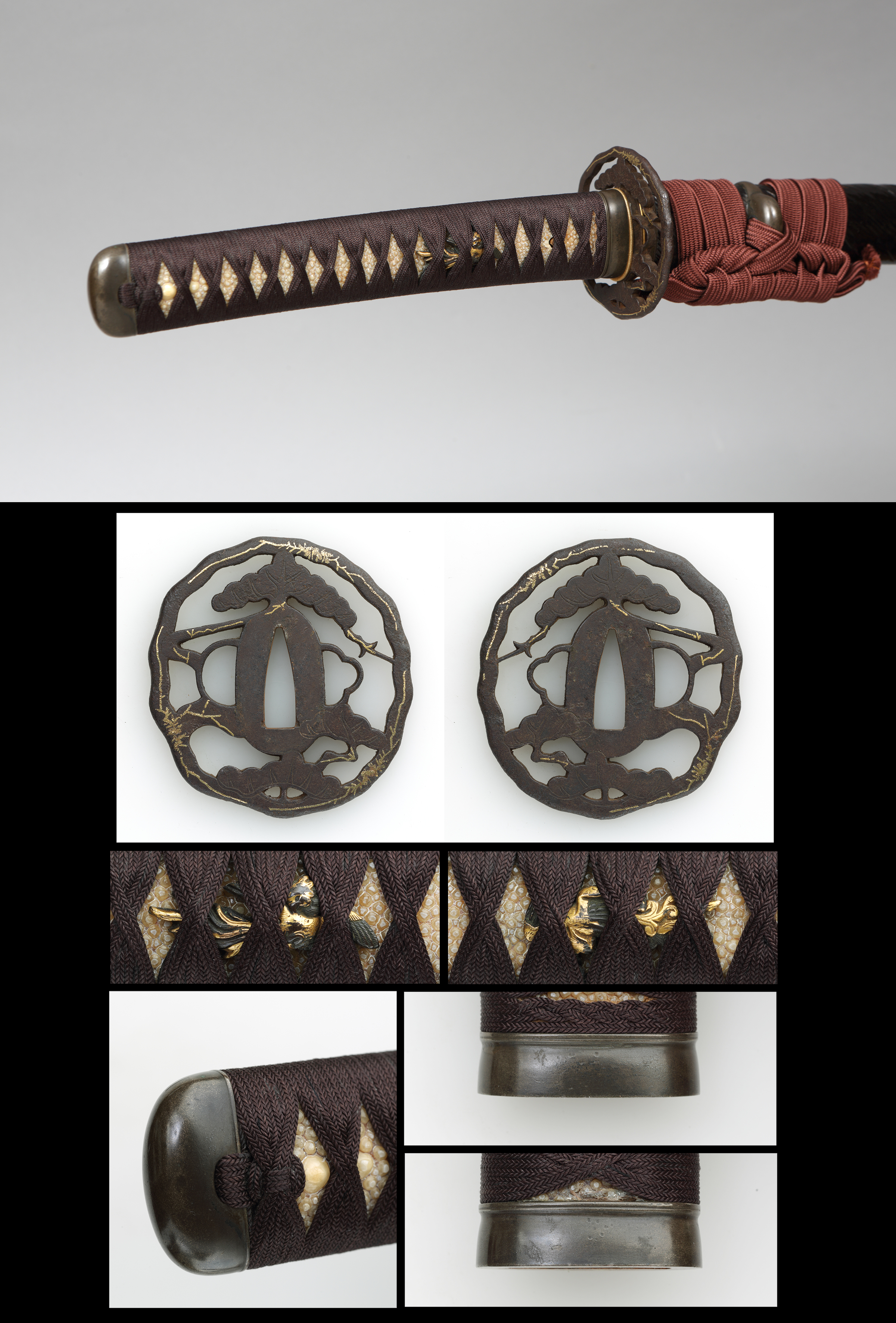 [
Item number
] A110221 [
Price
]
JPY 1,110,000
(shipping and insurance fee are not included in the price)