Wakizashi, Koshirae

Mumei, no signature, attributed to Inshu Kanesaki

[ Signature ] omote : no signature ura : -

[
Size
]
Blade length 43.8cm (1 shaku 4 sun 4 bu 5 rin), sori 1.0cm (3 bu 3 rin), moto-haba 2.97cm, moto-kasane 0.60cm, saki-haba 1.96 cm, saki-kasane 0.42 cm, mekugi-ana(hole) 1, blade weight 396g
, shirasaya length 67cm
[ Period ] Edo, first half of
[ Province ] "因幡" Inaba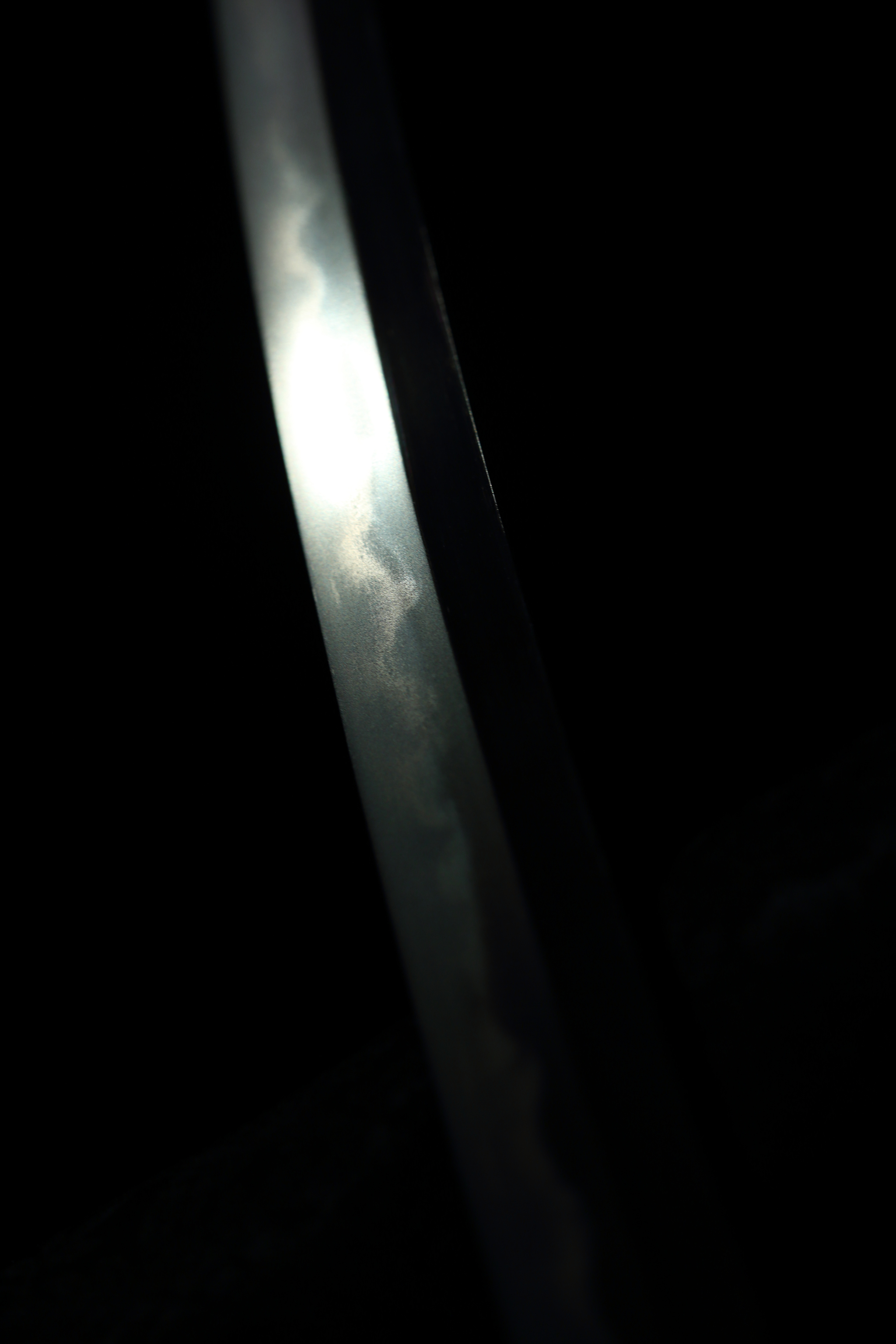 [ Feature ]
Form : Shinogi-zukuri. Iori-mune. Both mihaba and kasane are ordinal. There are some differences between moto-haba and saki-haba. Relatively high sori attached. Chû-kissaki form.
Nakago : ubu. Ko-itame-hada well grained. Jinie attached.
Jigane : Ko-itame-hada well grained. Jinie attached.
Hamon : Gunome-midare. Ashis and yôs appeared. Nie attached well. Sunagashis, yubashiris and tobi-yakis appeared.
Boushi : It runs in shallow midare-komi. Komaru, saki is haki-kake. It turns deep.

Koshirae : kuro-ro-iro-nuri-zaya wakizashi koshirae, tsuba : desing of items of tea ceremony "茶道具"(brass), kashira : design of leaves (signature "保次")(shaku-dô, etc.), menuki : design of butterfly (shakudô-ji, katachi-bori, inlay and iroe)
黒蝋色塗鞘脇差拵 : 茶道具図鐔(真鍮地)、葉図縁頭(銘 保次 赤銅地)、蝶図目貫(赤銅地容彫象嵌色絵)

[ Highlight ]
With nie-deki gunome-midare hamon, vigor nice form wakizashi.
First generation Inshû Kanesaki "因州兼先" was called Hioki Sôemon. He was said that a child of Isuke Kanesaki. His native place was Bizen. Around Keichô "慶長"(1596-1615) he created the swords in Inaba "因幡". His name Kanesaki "兼先" was succeeded during Edo period. There were many Kanesakis "兼先". He created swords at Iwami "石見", Mimasaka "美作" and Tsuyama "津山" as well. Specifically, till 8th generation "日置仁平" Hioki Jinpei, who became an adopted child of 7th generation, worked actively in Meiji period.

[ Conditions ]
In the middle of ura side, there is a part which could be observed ume-gane. Some detachments of tsuka string, which can be repaired. No kozuka attached.

[ Attachments ]
Habaki (suaka-ji, silver foiled, single), shirasaya, bag of shirasaya, koshirae, bag of koshirae and NBTHK Hozon paper ( 20th August Heisei 30(2018))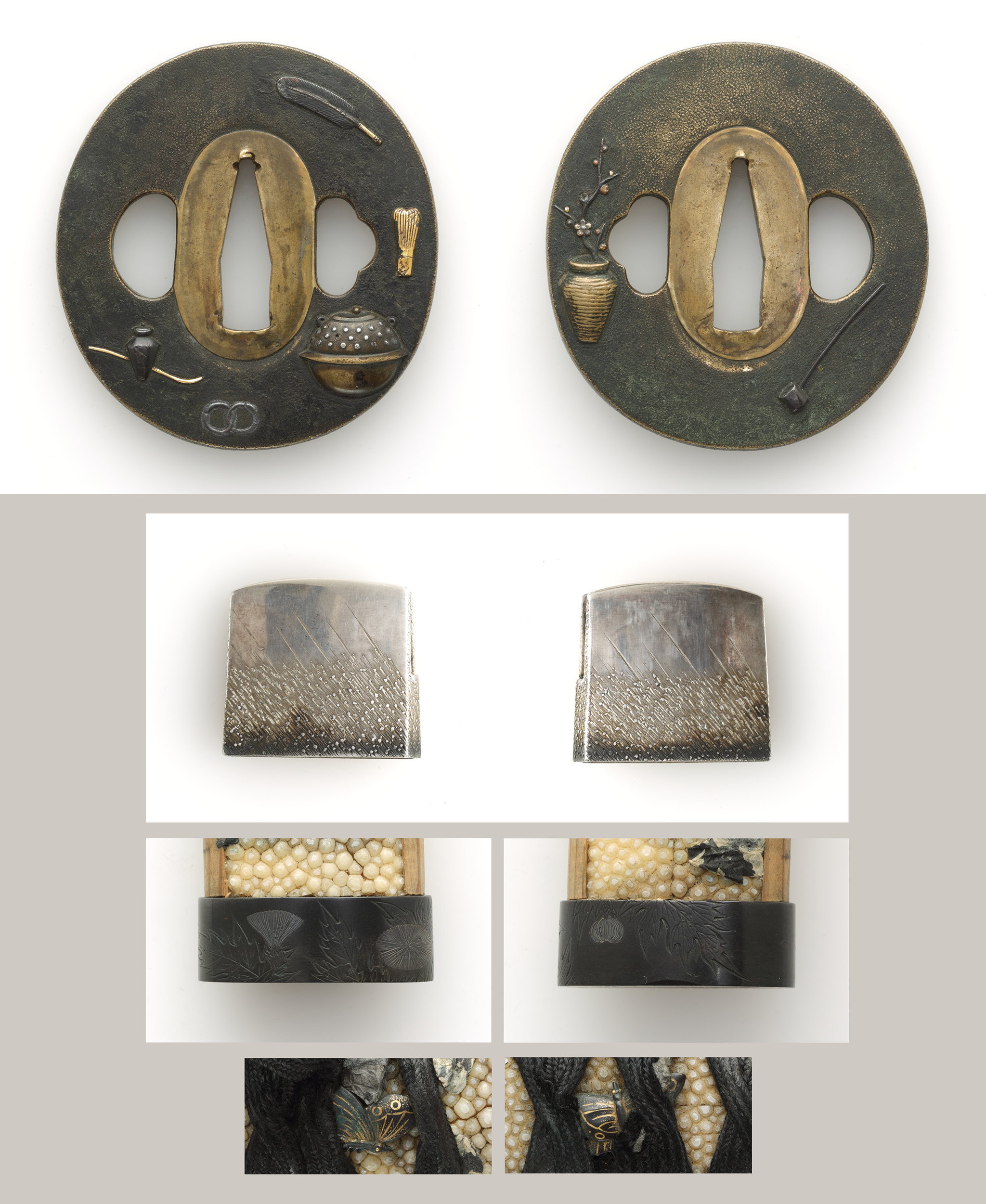 [
Item number
] A131219 [
Price
]
JPY 230,000
(shipping and insurance fee are not included)