Wakizashi, Shirasaya

[ Signature ] omote : "備前国住長船祐定" ura : "永禄三年八月日"
[
Size
]
Blade length 44.8cm (1 shaku 4 sun 8 bu 0 rin), sori 1.36cm (4 bu 5 rin), moto-haba 2.94cm, moto-kasane 0.65cm, saki-haba 2.24 cm, saki-kasane 0.38 cm, mekugi-ana(hole) 1, blade weight 379g
, shirasaya length 66.5cm
[ Period ] Muromachi, second half of. Eiroku "永禄" 3 (1560)
[ Province ] Bizen "備前"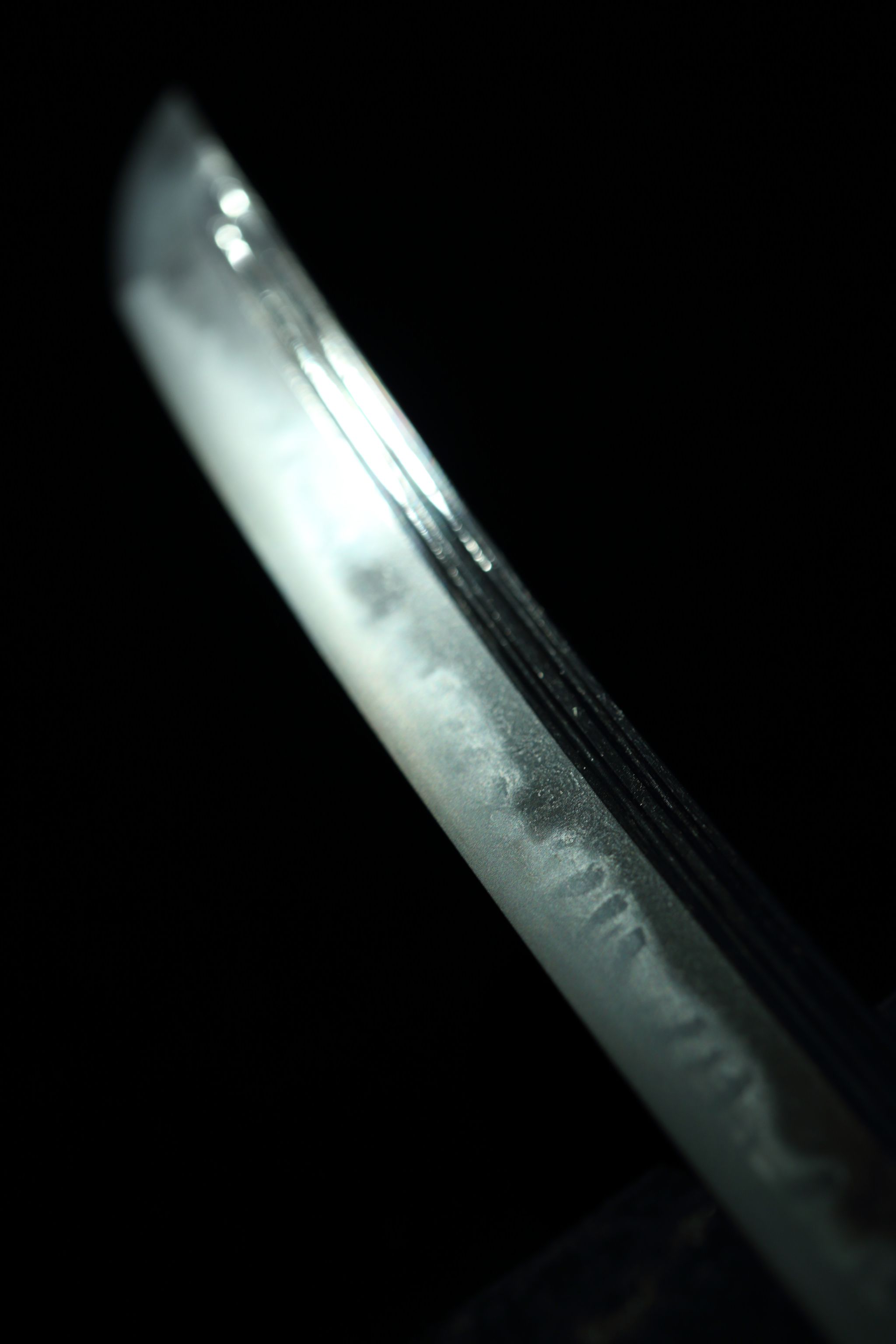 [ Feature ]
Form : Shinogi-zukuri. Iori-mune. Both mihaba and kasane are ordinal. There are few differences between moto-haba and saki-haba. Saki-zori attached. Chû-kissaki form.
Nakago : Ubu. Yasurimes are katte-sagari. Saki is kuri-jiri. One hole.
Engraving : BOth on omote and ura sides, there are koshi-"hi"s, which stop in round shape maru-dome. Upper halfs have futa-suji-"hi"s.
Jigane : Ko-itame-hada well grained. Ko-mukmes mixed. Rich jinie attached.
Hamon : In gunome, chô-ji-ashis appeared. Ko-nies attached. Sunagashi appeared.
Boushi : It runs in midare-komi. It turns in komaru shape.

[ Highlight ]
Wakizashi which showing well the characteristics of representing swordsmith group Sukesada "祐定" school in Bizen Osafune. Mokume forging well grained. In gunomes hamon, ko-nie attached well and mixed chô-ji-bas. Flurry of movement in single hand, short length of nakago shows the demand to meet such movement in Sengoku era.

[ Conditions ]
It is difficult to read the part of signature "祐定" due to shallow corrosion. There is small rust on mune around kissaki. There are very shallow scratches at kissaki of omote side and on hiraji, 10cm above machi of ura side.

[ Attachments ]
Habaki (suaka-ji, silver foiled, single), shirasaya, bag of shirasaya and Kurashiki Art Sword Museum paper (24th Sep. Heisei 30(2018))
[
Item number
] A141219 [
Price
]
JPY 250,000
(shipping and insurance fee are not included)