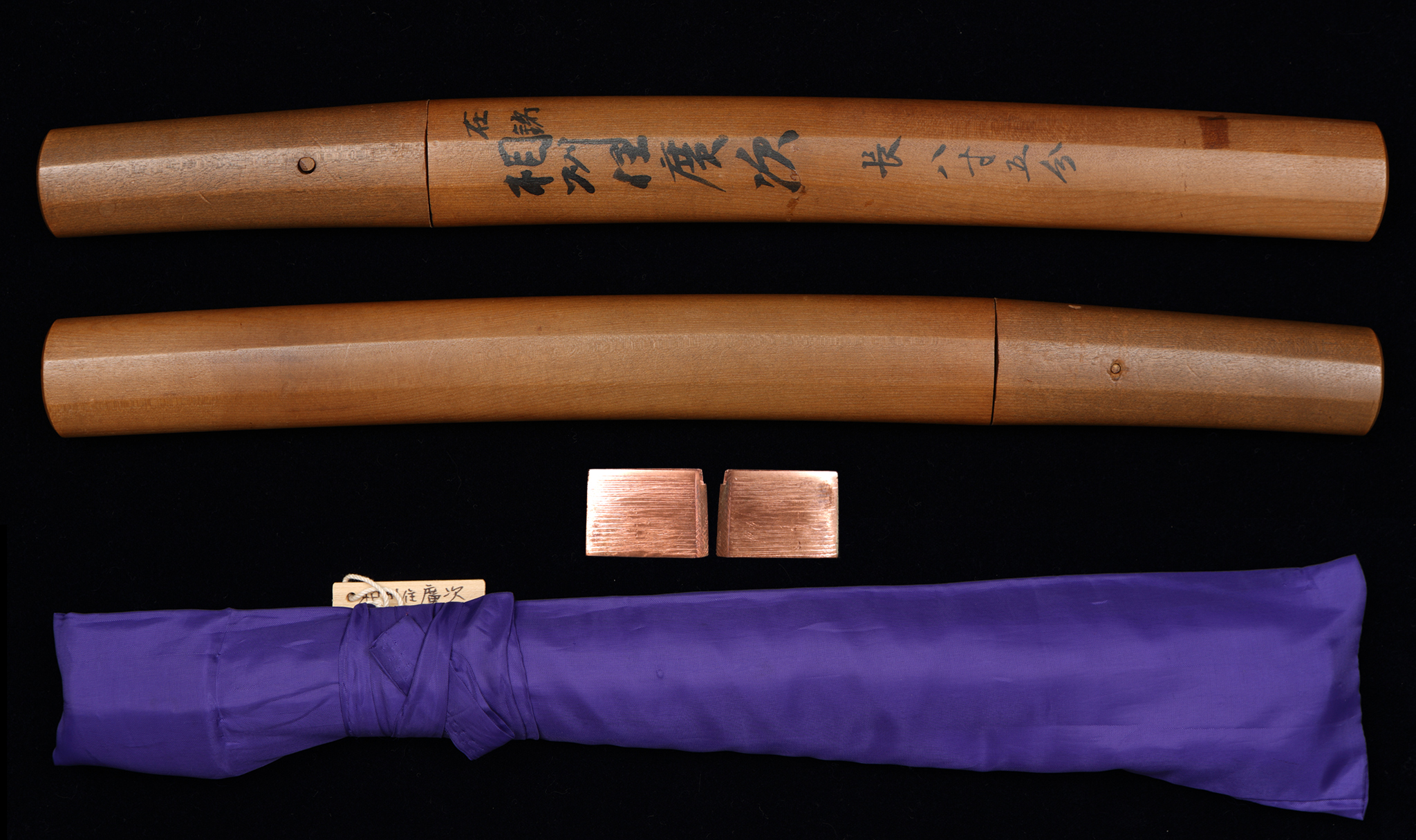 Tanto, Shirasaya
Signed as Sôshû jû Hirotsugu

[ Signature ] omote : "相州住廣次" ura : -

[
Size
]
Blade length 24,7cm ( 8 sun 1 bu 5 rin), sori 0,1cm (3 rin), moto-haba 2,40cm, moto-kasane 0,68cm, mekugi-ana(hole) 1, blade weight 169,5g
, shirasaya length 41cm
[ Period ] Muromachi
[ Province ] Unknown
[ Feature ]
Form : HIra-zukuri. Iori-mune. Both mihaba and kasane are ordinal. A little sori attached. Fukura shows sharp kareru shape.
Nakago : Ubu. (old):ô-suji-kais. (new):kiri. Saki is ha-agari kuri-jiri. One hole.
Engravings horimono : There is a straight groove bô-hi on ura side.
Jigane : Ko-itame-hada well grained.
Hamon : In sugu-tone, ko-gunomes mixed. At edge of tempered area of blade ha-buchi, ko-nie attached.
Boushi : It runs in sugu, then turns in komaru. Saki is hakikake.

[ Highlight ]
Nakago has long length. Clean form tantô. Nioi-kuchi is clear and distinctive.

[ Conditions ] The old polishment so that there is a few small rusts and scratches "hike".

[ Attachments ] Habaki (suaka-ji, single), shirasaya and bag of shirasaya.


[
Item number
] A191018 [
Price
]
JPY 70.000
(shipping and insurance fee are not included)