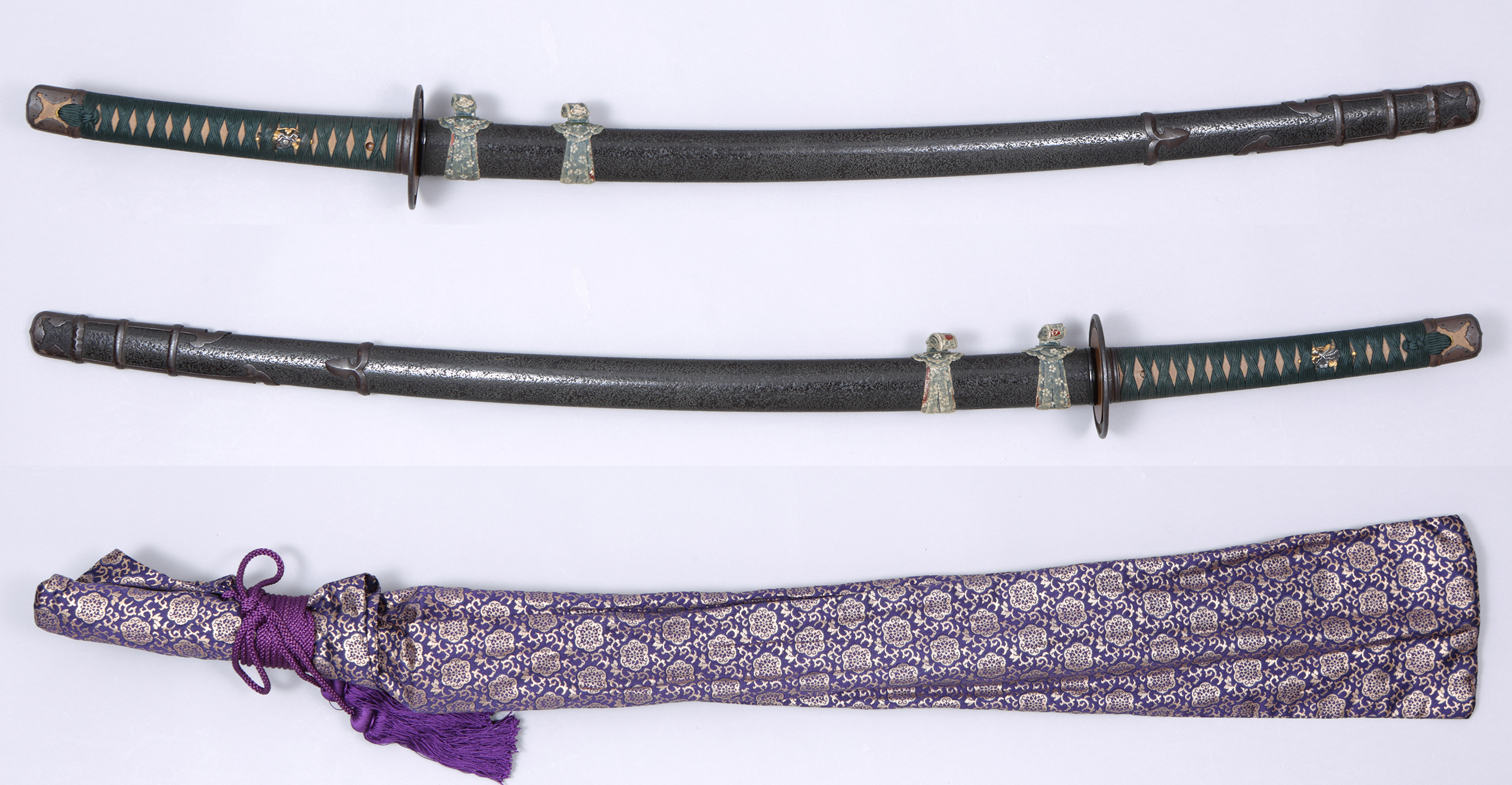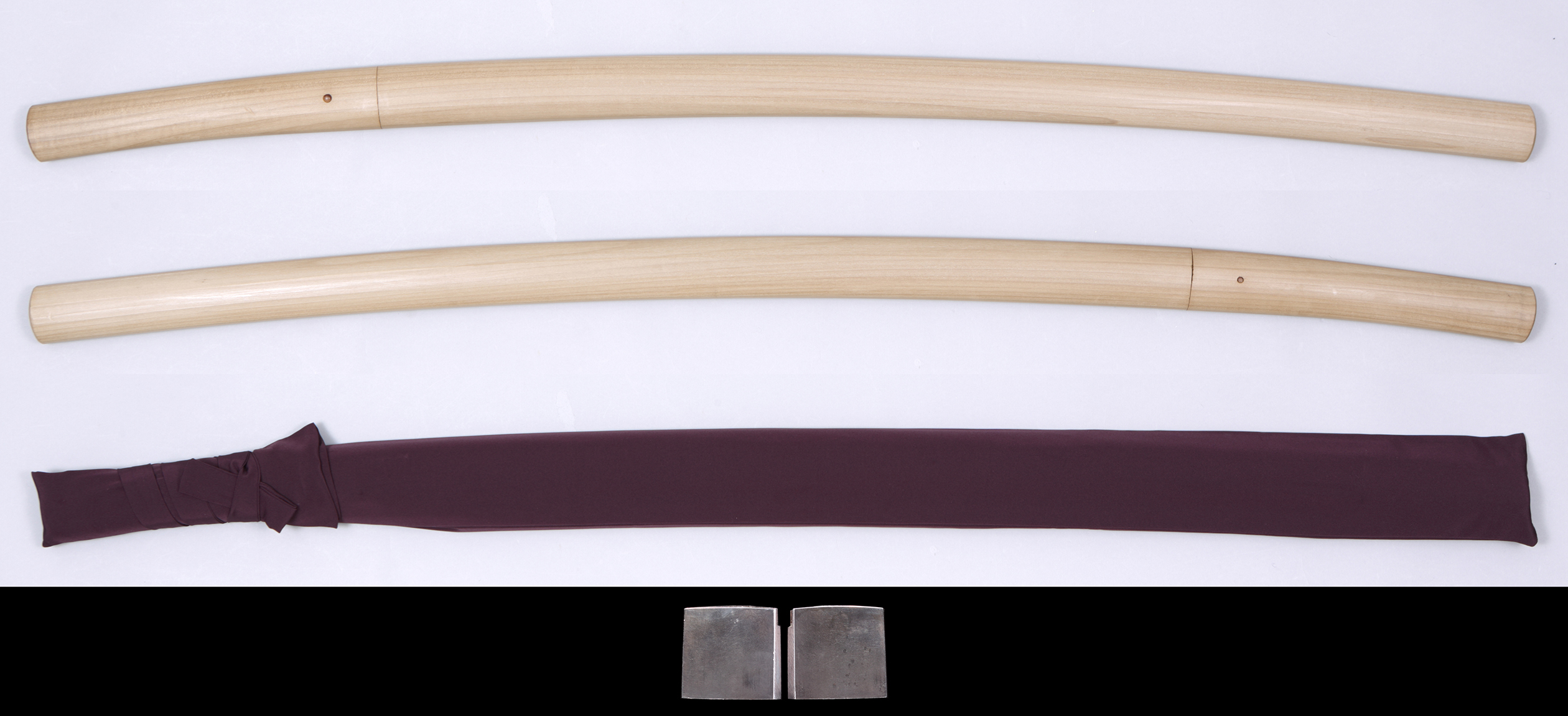 Katana, Shirasaya, Koshirae

[ Signature ] omote : "兼房作"  ura : -

[ Size ] Blade length 76,2cm (2 shaku 5 sun 1 bu 4 rin), sori 1,6cm (5 bu 2 rin), moto-haba 3,22cm, moto-kasane 0,64cm, saki-haba 2,30cm, saki-kasane 0,39cm, mekugi-ana(hole) 3, blade weight 923g, length of shirasaya 105,5cm, length of koshirae 108cm
[ Period ] Muromachi, second half of.
[ Province ] Mino, Seki.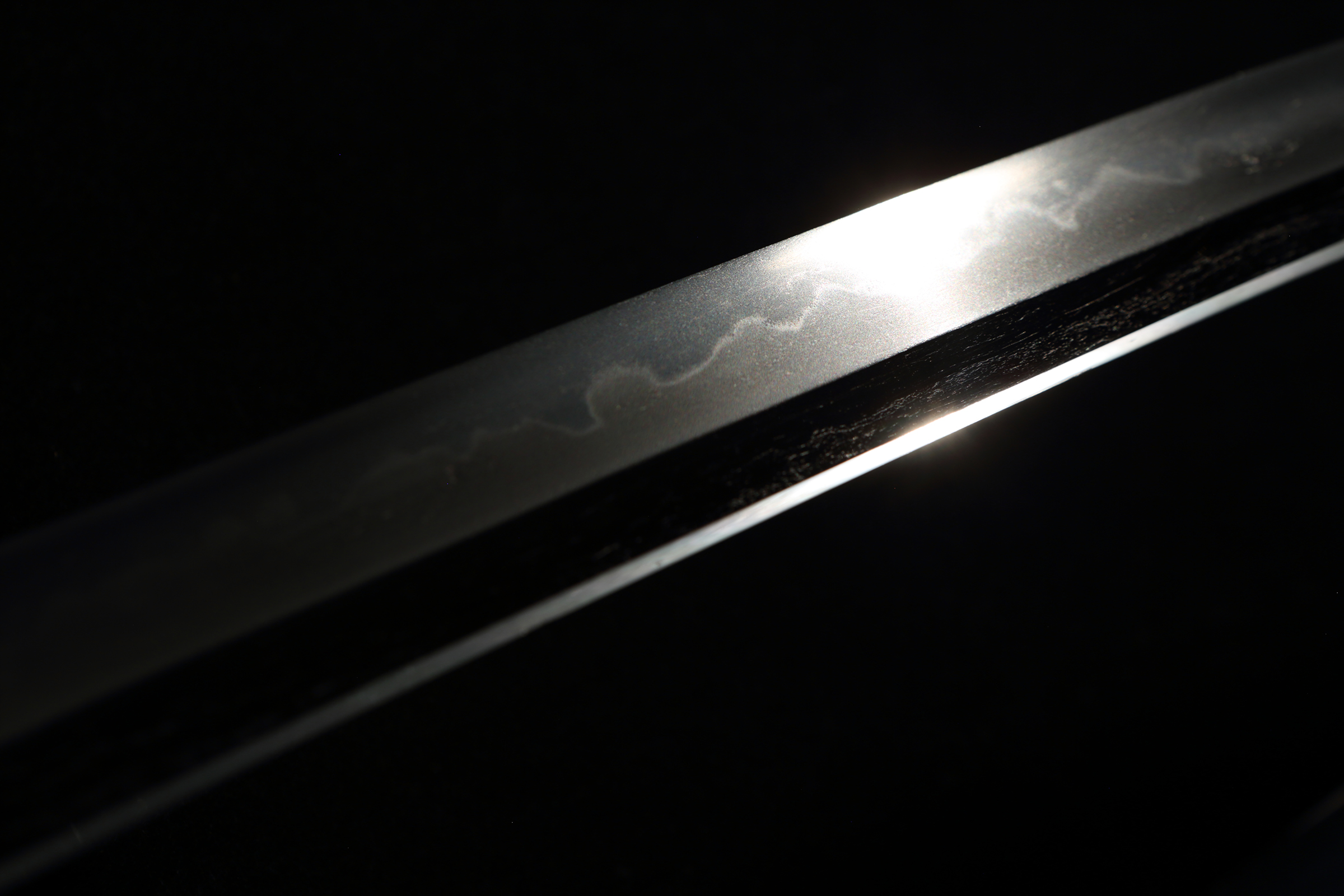 [ Feature ]
Form : Shinogi-zukuri. Iori-mune. Mihaba is large. Kasane is ordinal. A little high shino-gi-suji attached. Saki-zori attached. Chu-kissaki form extended.
Nakago : Suri-age. Saki is shallow kuri-jiri. Yasurimes are katte-sagari except ura-nakago-shinogi-ji which have sujikai. Three holes.
Jigane : Itame-hada, with some changes mixed. Jinie attached. Shirake-utsuri comes to be appeared.
Hamon : Gunome, togari-bas and choji-bas mixed. Habuchi shows not so distiction between jigane. Ko-ashis and yos appeared well. Nie attached. Tobi-yakis appeared.
Boushi : (omote) it runs in shallow notare. It turns in ko-maru form. Saki is haki-kake. (ura) it runs in midare-komi. Its saki turns in ko-maru form.

"黒石目地塗鞘半太刀拵 : 総金具 無銘、鐔 石目文鐔 無銘、目貫 秋草蟷螂図、柄 枯色綾織着 納戸色平巻"

[ Highlight ] : The Sue-seki swordsmith Kanefusa continued to have the same name from the mid-Muromachi to the Shintō period. According to the inscription book, the swordsmith who cut the inscription "by Kanefusa" was the grandson of Kaneyoshi I, the eldest son of Kanefusa (Seizaemon) from the Eikyo period. His name was Shiro and he made his sword in the late 15th century, around the time of Bunmei. There is a work that carves a chronological inscription for the tenth and sixteenth years of Bunmei 10 and 16. The body is stately, with an extended tip and a well-distributed iron body. The alternating choji blade pattern, with frequent ko-ashis and yô, is gorgeous, showing a variety of changes.

[ Conditions ] There are areas of slightly hada-tasu state on the shinogi-ji and around the front monochiuchi. The condition of the polishing and the condition of the koshirae is good.
[
Attachments
] Habaki(silver, single), shirasaya, bag of shirasaya, koshirae, bag of koshirae,
NBTHK tokubetsu hozon paper "特別保存刀剣鑑定書"(issued on 27th Augst Reiwa 3(2021)),
and
NBTHK hozon paper "保存刀装具鑑定書"(issued on 2nd April Reiwa3(2021))

[ Item number ] A010122 [ Price ] JPY 1,450,000 (shipping and insurance fee are not included)