Touken Komachi
Katana in shirasaya
Mumei, attributed to Kanenaga
[

Signature

]
:(omote) no signature (ura) : -
[

Size

]
: Blade length 66.5 cm (2 syaku 1 sun 9 bu 4 rin), sori(curve) : 0.9cm (2 bu 9 rin),
moto-haba
"元幅" : 3.08cm,
moto-kasane
"元重ね" : 0.65cmm
saki-haba
"先幅" 1.83cm,
saki-kasane
"先重ね" : 0.40cm, hole(s) : 3, weight : 715.5g, shirasaya length 94cm
[

Period

]
: Kamakura, second half of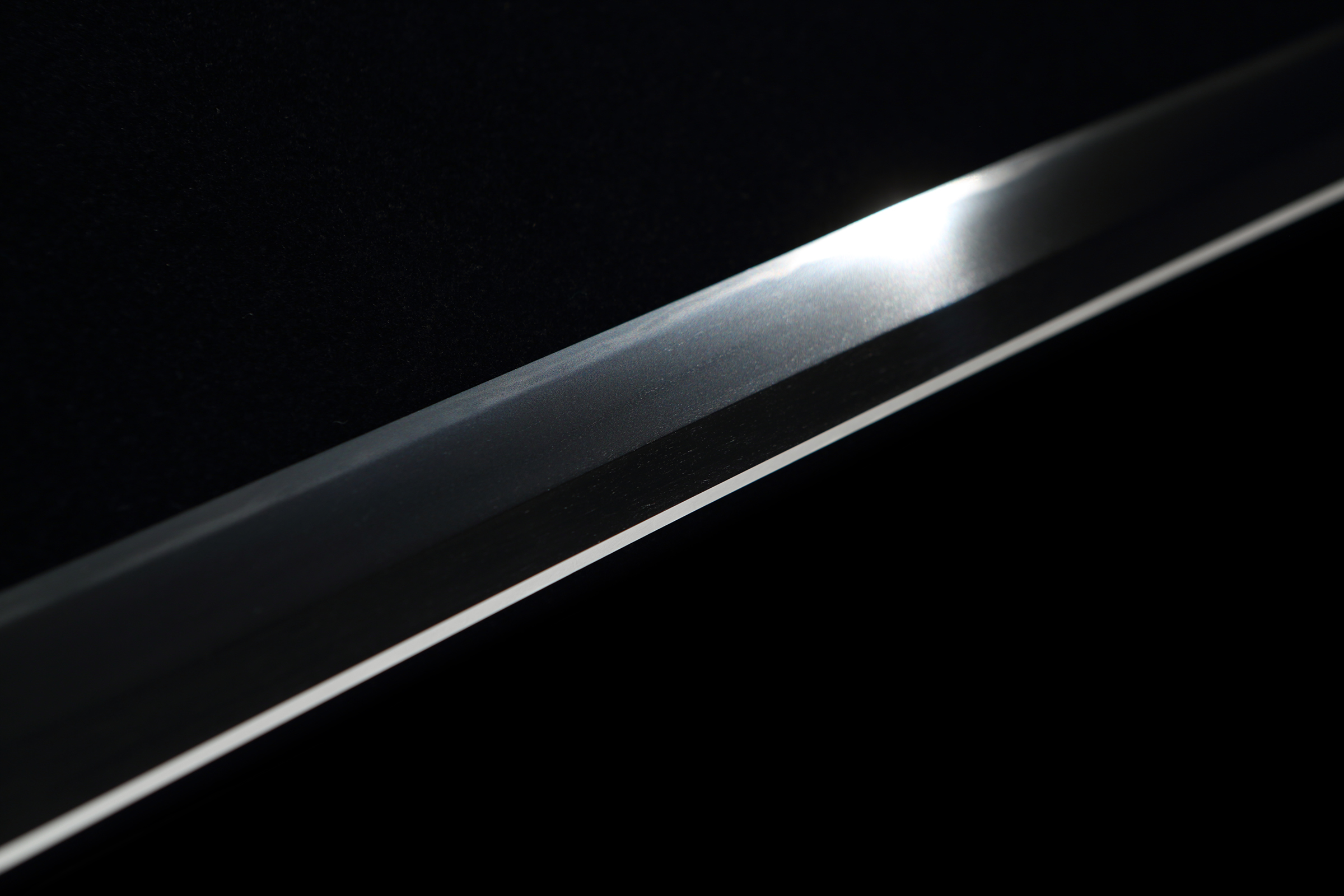 [ Feature] :
Form : Shinogi-tsukuri, iori-mune. Mihaba is relatively wide. Shinogi-haba is wide. Shinogi is high. There is a difference between moto-haba and saki-haba. Chû-kissaki form.
Nakago : Ô-suriage. Saki is kiri. Yasurime are katte-sagari. Three holes.
Jitetsu : Ko-itame-hada well grained with some changes. Fine and rich ji-nie attached. Fine chi-kei appeared.
Hamon : Sugu-ha with shallow notare. Ko-gunomes mixed. Habuchi mixed into jigane. Nijyû-ha and kui-chigai-ha mixed. Yyubashiri and sunagashi appeared. Clear noi-kuchi.
Boushi :It runs in hakikake, nie attached. (omote) it becomes yaki-tsume. (ura) it turns komaru.

[ Highlight ] : Kanenaga was the swordsmith who worked from the middle through the end of Kamakura period. He was considered as ancestor of Yamato Tegaimon school, who lived out side of Tegai-mon(gate), west main gate of Toudaiji-temple in Yamato. This sword has typical characteristics of Yamato style, wide shinogi-haba and high shinogi height specifically. On well grained jigane, nie based shinning beautiful hamon show several changes. One of noble and elegant sword which you surely feel the pleasure to see.

[ Highlight ] : Excellent.
[

Accessories

]
: Habaki (gold colored, suaka-ji, single), shirasaya, shirasaya bag and
NBTHK Tokubetsu Hozon paper (13th August Heisei 24(2012))

[

Item Code

]
: A010219  [
Price
] :
JPY 3,000,
000- (shipping and other related cost not included in the price)
Please order by
E-mail
.

About TOUKEN KOMACHI

BACK
TEL&FAX +81-(0)3-5284-9014
____
E-mail :
s_tsukada@toukenkomachi.com

Copyright © 2009 Touken komachi All rights reserved.