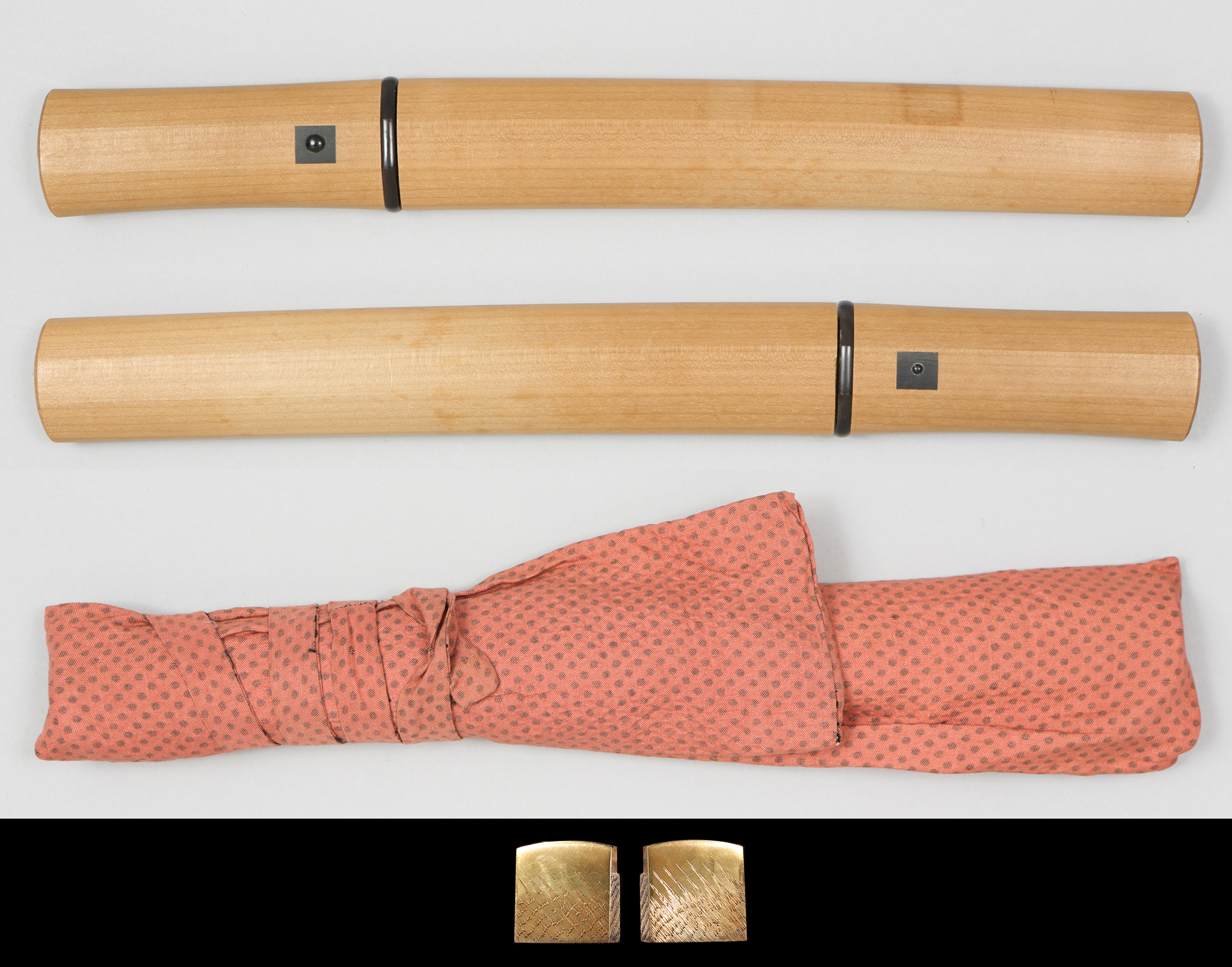 Tanto, Shirasaya

[ Signature ] omote : "井上正國" ura : -

[ Size ] Blade length 18.8cm ( 6 sun 2 bu 0 rin), sori 0cm (n/a), moto-haba 2.80cm, moto-kasane 0.83cm, mekugi-ana(hole) 1, blade weight 190g , shirasaya length 32.5cm
[ Period ] Edo, end of.
[ Province ] Awaji "淡路"
[ Feature ]
Form : Hira-zukuri. Iori-mune. Mihaba is relatively wide considering its blade length. Kasane is extremely thick. Fukura shows kareru state.
Engraving : (omote) there is a thin line in the middle (ura) there are koshi-hi and soe-hi.
Nakago : Ubu. Yasurimes are kiri and kesho yasuri. Saki is iri-yama-gata. Boat vessel shape.
Jigane : Ko-itame-hada well grained. Some changes mixed. Jinie attached. Chikei appeared.
Hamon : Notare, gunomes mixed. Nie attached well. Sunagashi appeared.
Boushi : It runs in sugu. Form is komoaru. With shallow notare, it turns long.

[ Highlight ]
The shape of the blade is very thick and sturdy, but it is also very sharp. The front and back of the nakago, there are two types of chieseled lines. This is a rare example of an unusual form. Inoue Masakuni was a swordsmith who lived in Sumoto, Awaji and created swords around the end of the Edo period (1603-1868). The inscriptions are "井上正国" Inoue Masakuni" and "阿州藩井上正国" Ashu-han Inoue Masakuni, etc.

[ Conditions ] Old polish, slight cloudiness, minute spillages on the edge of the blade, rubbing under the habaki.
[ Attachments ]
Habaki (single), shirasaya, bag of shirasaya and NBTHK Hozon paper "保存刀剣鑑定書"( issued on 13th Jan, Heisei 18(2006))
[
Item number
] A010221 [
Price
]
JPY 180,000-
(shipping and insurance fee are not included)