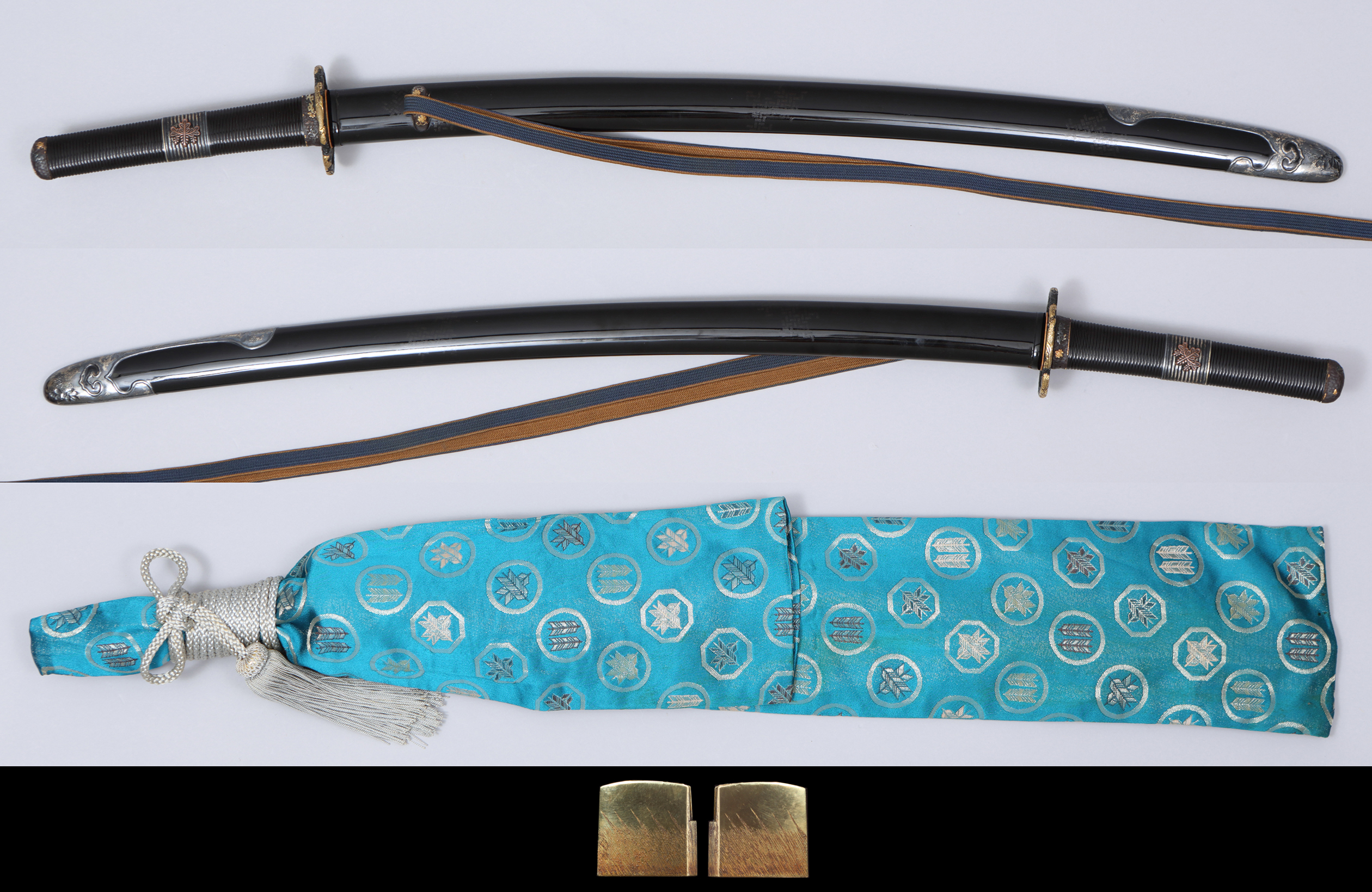 Katana, Koshirae

Mumei, attributed to Kanekiyo

[ Signature ] omote : no signature ura : -

[
Size
]
Blade length 63.17cm (2 shaku 0 sun 8 bu 5 rin), sori 1.87cm (6 bu 2 rin), moto-haba 2.74cm, moto-kasane 0.71cm, saki-haba 2.74 cm, saki-kasane 0.45 cm, mekugi-ana(holes) 2, blade weight 541.5g
, koshirae length 87cm
[ Period ] Muromachi, begininng of.
[ Province ] Yamato "大和"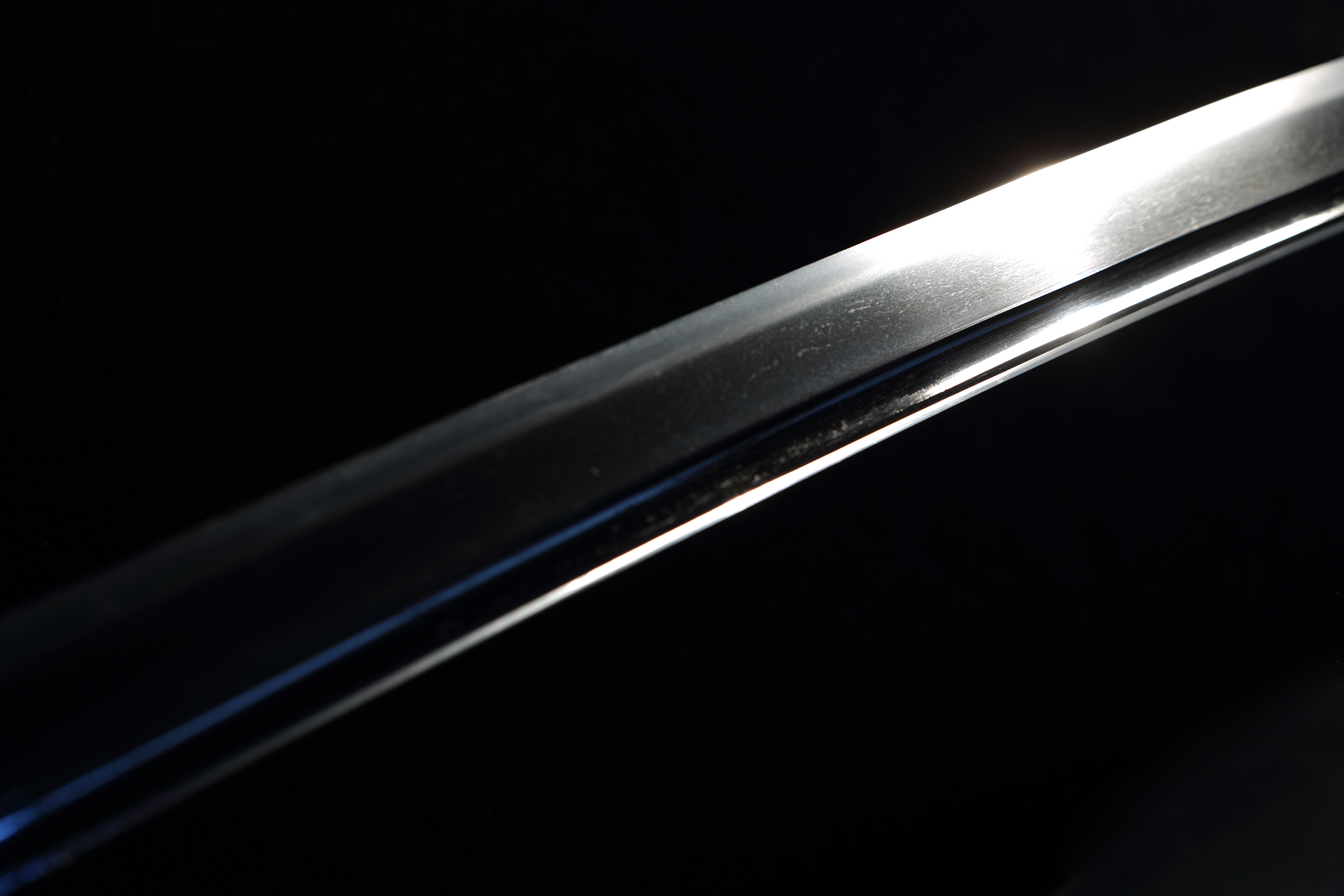 [ Feature ]
Form : Shinogi-zukuri. Iori-mune. Both mihaba and kasane are ordinal. Relatively kasane is thick taking it into account the mi-haba. High sori and saki-zori attached. Chu-kissaki extended form.
Nakago : O-suri-age. Yasurimes are kiris. Saki is kiri. Two holes. The nakago finish is more or less short.
Engraving : (omote) (ura) there is a bo-hi on each side.
Jigane : Itame-hada well grained. Partly some changes, with masa tone. Mokume mixed. Jinie attached. Chikei appeared. Shirake-utsuri comes to be appeared.
Hamon : Sugu-ha. Ko-nie attached. Part by part, there are double blade ni-ju-bas appeared. Kui-chigai-bas mixed. Kin-sens and sunagashis appeared.
Boushi : It runs in sugu. Saki turns in ko-maru form.

Black lacquered toppei (sword) case ; fuchi-gashira and kojiri : with scattered pattern of paulownia wood (made of iron) ; makugi-kashira : pattern of paulownia wood (suaka-ji) ; tsuba : design of dragon-clouds, arabesque (shaku-do)
"黒塗鞘刀拵 : 縁頭鐺 桐紋散図(鉄地)、目釘頭 桐紋図(素銅地)、鐔 雲龍桐唐草図(赤銅地)"

[ Highlight ] Kanekiyo "包清" was a swordsmith of the Yamato Tegaii school "大和手掻派". From the late Kamakura period (1185-1333) to the end of the Muromachi period (1333-1573), the same inscription has been handed down through seven generations. This sword has following characteristics. such as :saki-zori attached, chu-kissaki extended form, itame jigane with some changes with masa tone, nie attached sugu-ha hamon with dobule blade. Nioi-kuchi is so clear and bright. Magnific sword. It is housed in an elegant black lacquered toppei (sword) case with an engraved pattern of paulownia wood.

[ Conditions ]  Overall cloudiness, light rust, slight blade spill but can be removed cleanly by polishing. If you would like to have a new polishing, white sheath shirasaya or tunagi, please ask us and we will be happy to help you.

[ Attachments ] Habaki (suaka-ji, gold foiled, single), koshirae, bag of koshirae NBTHK papers (e.g. "甲種特別貴重刀剣"(issued on 25th Sep. Showa 52(1977)), "甲種特別貴重小道具"(issued on 25th Sep. Showa 52(1977))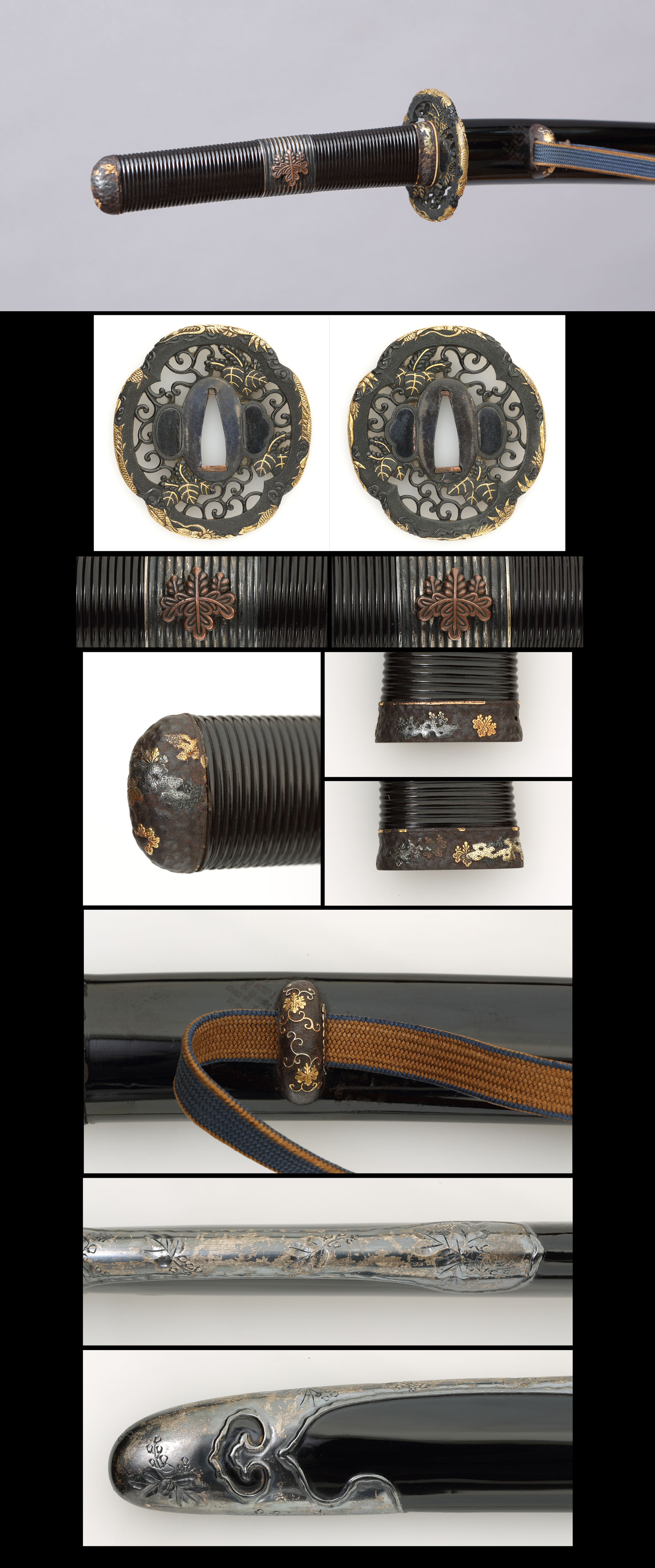 [
Item number
] A020821 [
Price
]
JPY 580,000
(shipping and insurance fee are not included)