Katana, Shirasaya

[ Signature ] omote : "備州長船清光作" ura : "天文十年二月日"

[
Size
]
Blade length 69.7cm (2 shaku 3 sun 0 bu 0 rin), sori 2,7cm (8 bu 9 rin), moto-haba 3,00cm, moto-kasane 1,80cm, saki-haba 0,28 cm, saki-kasane 0,28 cm, mekugi-ana(holes) 2, blade weight 655g
, shirasaya length 99cm
[ Period ] Muromachi, second half of. Tenbun 10(1541)
[ Province ] Bizen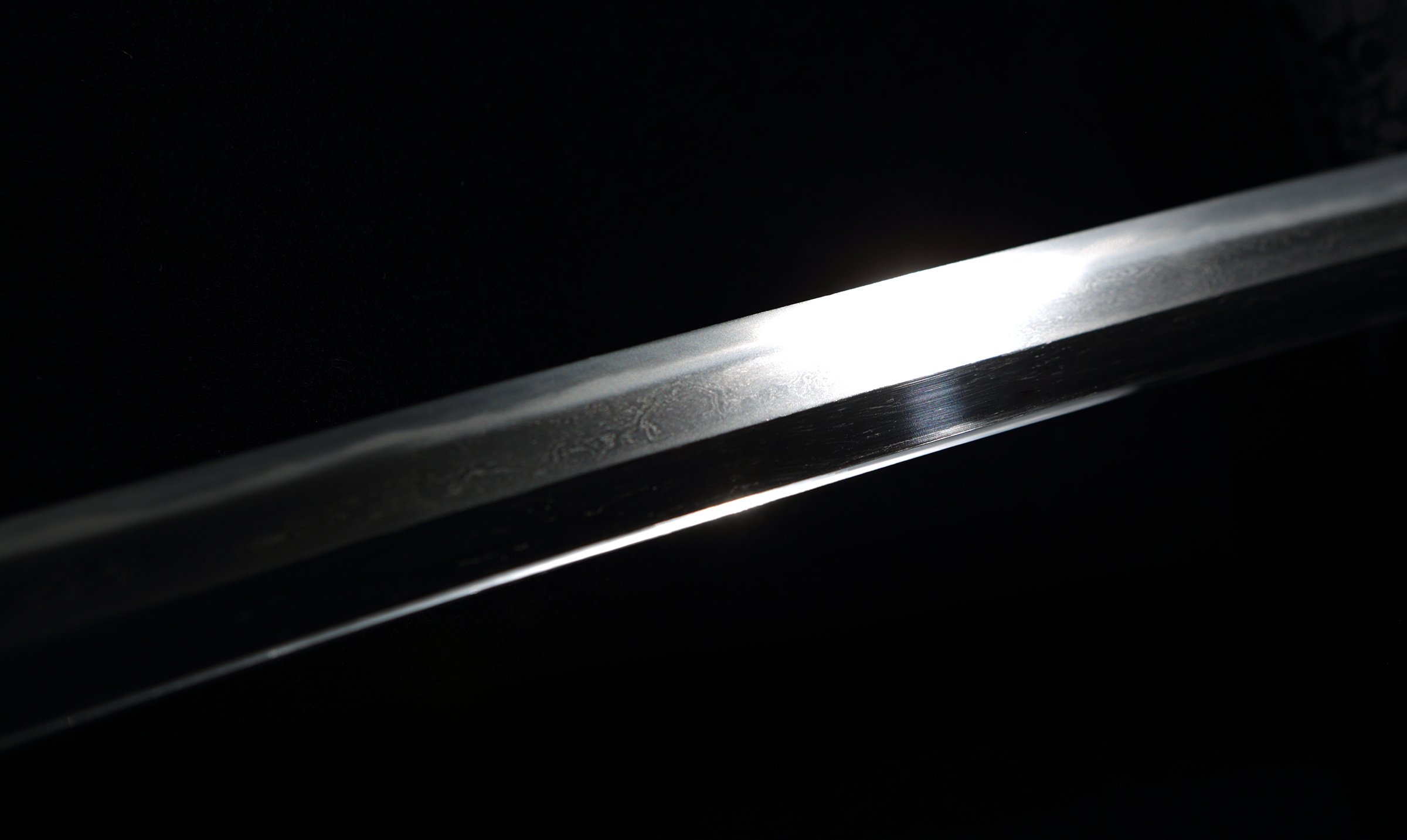 [ Feature ]
Form : Shinogi-zukuri. Both mihaba and kasane are ordinal. High shonogi-suji attached. There are some differences between moto-haba and saki-haba. Shallow sori attached. Chu-kissaki extended form.
Nakago : Ubu, which machi has been advanced. Yasurimes are (old) katte-sagari, (new) kiris. Saki is ha-agari, kuri-jiri. Two holes. Nakago-jiri expanded.
Jigane : Itame-hada. Grained pattens more or less come to be surface. Mokumes mixed. Jinie attached. Pale utsuri appeared.
Hamon : Suguha tone. Nioi-kuchi is so distinctive against jigane. Ko-midares mixed. Ko-nie attached. Kin-sens and sunagashis appeared.
Boushi :It runs in sugu. Saki turns in ko-maru form.

[ Highlight ] In the middle of the front of the blade, yô appears to be continuously stained in the same direction and hangs down into the blade, which is known in this world as Kiyomitsu yodare (drooling). The blade length is set to the so-called regular length by moving the blade forward about 1 cm and not cutting the stem end, and the short stem characteristic of Sue-bizen was lengthened, indicating that the blade was used until later years. It was probably a piece that was used from the time it was first made in the late Muromachi period through to the Edo period, and was used over and over again, and although there is some fatigue, the pale reflections and the brightness of the nioi-kuchi are still present and enjoyable.

[ Conditions ] Slight minor rusting, scratches and scabbard rubbing, but can be preserved and appreciated in its current state.
[ Attachments ] Habaki (shaku-do polished base, single), shirasaya, bag of shirasaya and NBTHK hozon paper (issued on 29th June Heisei 19(2007))

[ Item number ] A020822 [ Price ] SOLD