Tanto, Aikuchi Koshirae

[ Signature ] omote : Mori * (mitsu) "守□(光)" ura : -

[
Size
]
Blade length 20,5cm ( 6 sun 7 bu 6 rin), sori 0,05cm (a little more than 1 rin), moto-haba 1,85cm, moto-kasane 0,87cm, mekugi-ana(holes) 2, blade weight 131,2g
, koshirae length 34,5cm
[ Period ] Muromachi, second half of, around Tenbun "天文"
[ Province ] Bungo
[ Feature ]
Form : Hira-zukuri. Iori-mune. Mihaba is narrow. Kasane is thick. A little sori attached. Blade near to point kissaki, fukura shows more or less small curvature line kareru state form.
Nakago : Ubu. Yasurimes are kiri. Saki is kuri-jiri. Two holes.
Horimono engraving : On omote and ura side, there are bô-his grooves.
Jigane : Ko-itame-hada well grained. Jinie attached.
Hamon : In sugu-tone. Shallow notare attached. Habuchi shows a little foggy state. Nie attached. Sunagashis appeared.
Boushi : It runs in sugu. It shows komaru form. Saki becomes haki-kake. It turns in long.

Kuro-ro-iro-nuri aikuchi-koshirae "黒呂色塗合口拵" : Crab kani-zu menuki "蟹図目貫" shaku-dô-ji gold kin-iroe ("赤銅地金色絵")

[ Highlight ]
Fukura shows more or less small curveture kareru line. Mihaba is narrow. Kasane is so thick. Its cross section looks triangular shape Yoroi-dôshi. Nakago length is longer than usual, considering the balance in total length. Morimitsu was a swordmith who worked at Bungo province around Tenbun era. As signature, he had "豊後国高田住平守光" or just two characters "守光" like this sword.

[ Conditions ] It maintains excellent conditions. Koshirae is old one. There are some scratches and small flaws but it shows calme appearance of coulor. It has been preserved so well.
[
Attachments
] Habaki (suaka-ji, gold foiled, saya-gata-mon, single), koshirae, bag of koshirae and
NBTHK Hozon paper (issued on 2nd February Heisei 29(2017))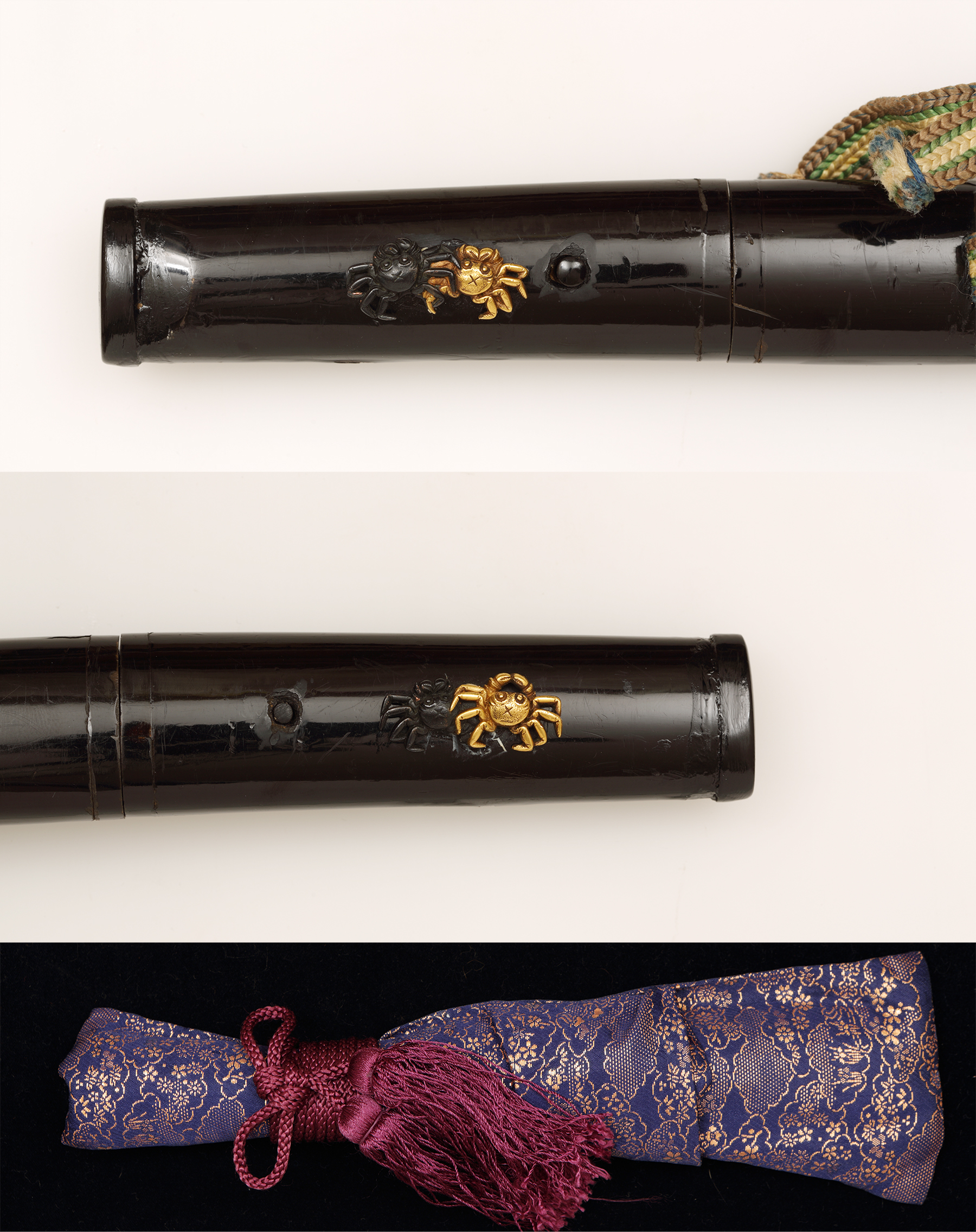 [
Item number
] A021018 [
Price
]
JPY 380,000
(shipping and insurance fee are not included)