Wakizashi, Shirasaya

Harima no kami Tadakuni, the 2nd generation

[ Signature ] omote : "播磨守藤原忠國" ura : -

[
Size
]
Blade length 56.8cm (1 shaku 8 sun 7 bu 4 rin), sori 1.5cm (4 bu 9 rin), moto-haba 3.07cm, moto-kasane 0.69cm, saki-haba 2.06 cm, saki-kasane 0.47 cm, mekugi-ana(hole) 1, blade weight 591.5g
, shirasaya length 82.5cm
[ Period ] Edo, middle of
[ Province ] Hizen"肥前"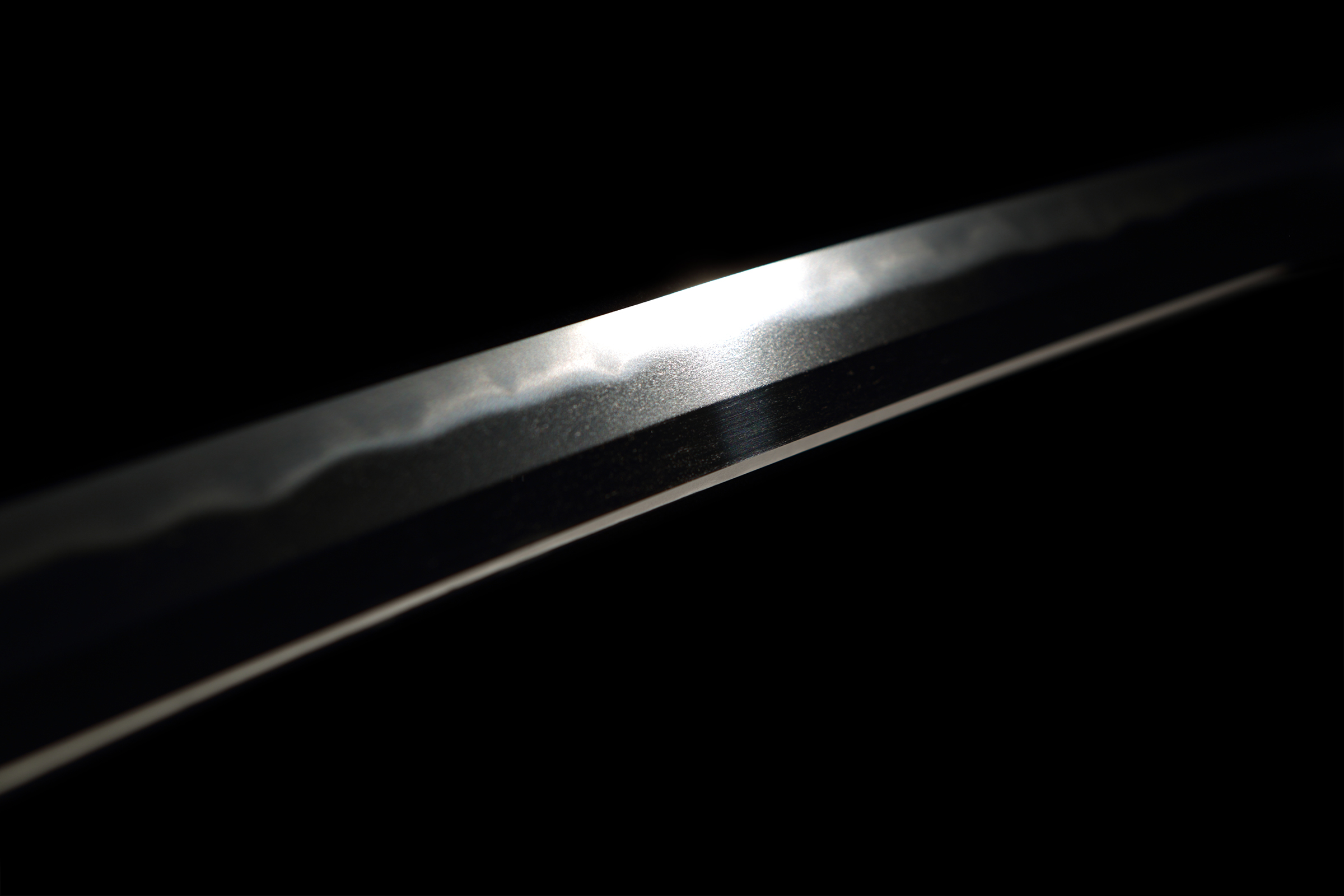 [ Feature ]
Form : Shinogi-zukuri. Iori-mune. Both mihaba and kasane are ordinal. There are differences between moto-haba and saki-haba. Moderate sori attached. Chû-kissaki extended form.
Nakago : Ubu. Saki is iri-yama-gata. Yasurimes are ô-suji-kais. One hole.
Jigane : Itame-hada well grained. Ji-fu like hada mixed. Jinie attached. Fine chikei appeared.
Hamon : Gunome, chô-ji-midare. Deep nioi appeared. Rich ko-nies attached. Bold ashis appeared. Fine kin-sens and sunagashi appeared. Mune-yaki tempered.
Boushi : Ko-maru. Saki is haki-kake. It turns deeply.

[ Highlight ]
Second generation Harima-no-kami Tadakuni was a child of first generation. He was called Dan-zae-mon. Initially, he had his signature harukuni "治国". When first generation became a monk, he succeeded the name Tadakuni, and appointed honorable name Harima-no-kami. As remaining swords with year signagure, from "延宝五年八月日" to "貞享二年二月日". There are some swords with chrysanthemum / crab-peony seals. This sword has nice form. Well grained strong jinage has been tempered gorgeous midare-bas at which he was so good. Nioi-kuchi is so clear. At moto part, its yakidashi shows sugu shape. This is sometims observed at collateral Hizen school's swods.

[ Conditions ]
Excellent.

[ Attachments ] Habaki (silver, double), shirasaya, bag of shirasaya and NBTHK Hozon paper ( issued on 29th January Heisei 21(2009))

[
Item number
] A030319 [
Price
]
JPY 530,000- -> JPY 430,000-
(shipping and insurance fee are not included)
PRICE DOWN!