Katana, Shirasaya

[ Signature ] omote : "奥州仙台住國包" ura : -

[
Size
]
Blade length 70.59cm (2 shaku 3 sun 3 bu 0 rin), sori 1.30cm (4 bu 3 rin), moto-haba 3.03cm, moto-kasane 0.71cm, saki-haba 2.06 cm, saki-kasane 0.49 cm, mekugi-ana(hole) 1, blade weight 792g
, shirasaya length 99cm
[ Period ] Edo, first half of.
[ Province ] Mutsu-no-kuni, Sendai clan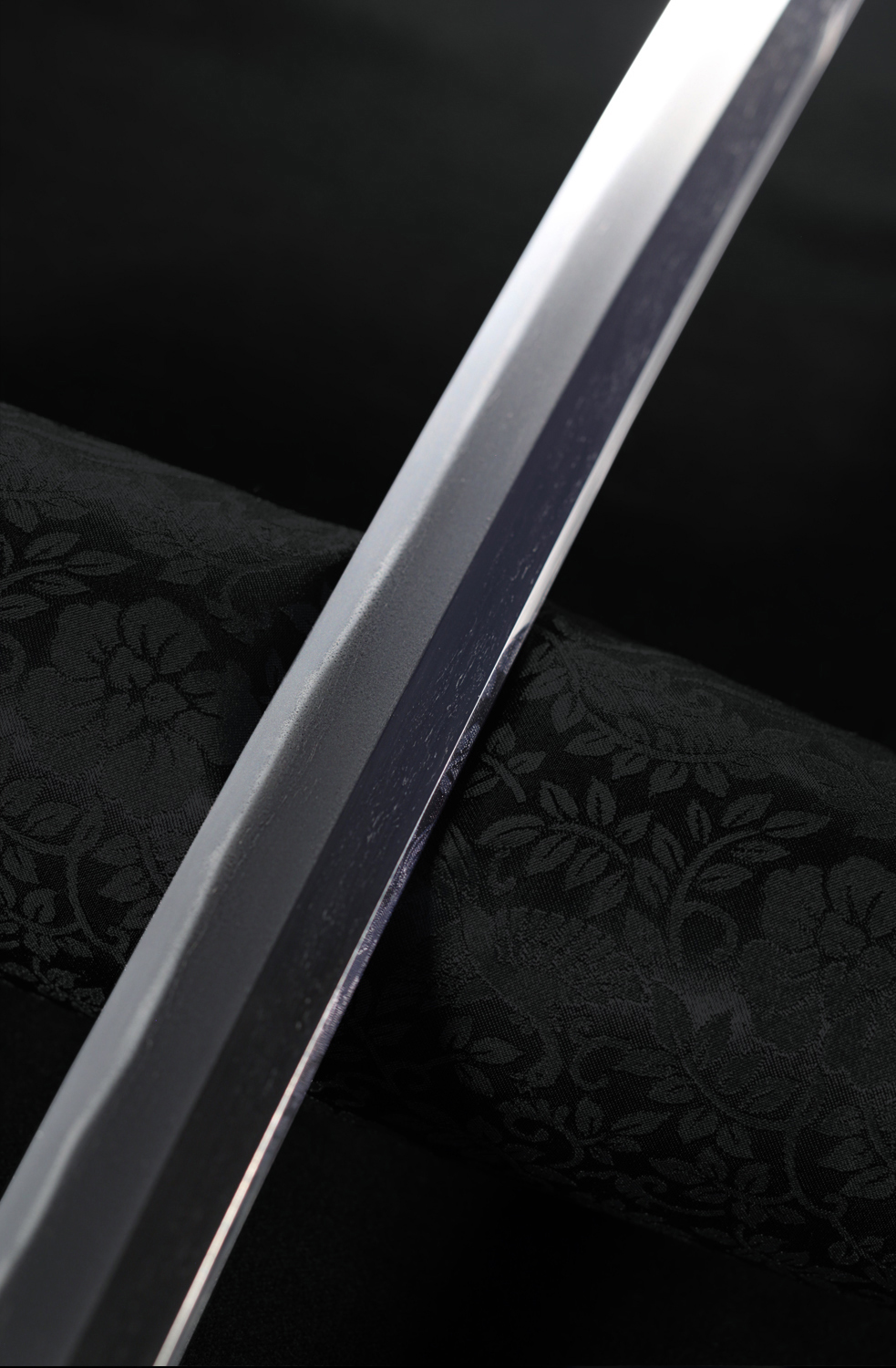 [ Feature ]
Form : Shinogi-zukuri. Iori-mune. Both mihaba and kasane are ordinal. Shallow sori attached. Chu-kissaki form.
Nakago : Ubu. Yasurimes are suji-kais. Saki is kuri-jiri. One hole.
Jigane : Masame-hada well grained. Rich jinie attached.
Hamon : It has sugu-tone. Shallow notare attached. Kui-chigai-bas mixed. Nie attached well. Ko-gunomes, ko-ashis and yu-bashiri mixed.
Boushi : It runs in sugu. It turns in ko-maru form. Saki has a lot of haki-kakes.

[ Highlight ] Kunikane I was born in 1592 in Wakabayashi, Kokubu, Oshu Miyagi County (now Sendai City). He was named the successor of Yamato Kuni Hosho Goro Sadamune and became a swordsmith for the feudal lord Date Masamune. It is said that in 1614 he went to Kyoto on the orders of his lord and studied under the master of the Etchu-no-kami Masatoshi. In 1626, he received the title of Yamashiro Daisho, but when Masamune died in 1636, he entered the priesthood and assumed the name 'Nizawa Youkei'. The second Kichiemon Kunikane succeeded his father, the first Kunikane, as governor in 1645. He received the title of Yamashiro-no-kami in the 7th year of the Kanbun era (1667). The blade pattern (e.g. well grained masame-pattern suface, in sugu-tone, nie attached well with shallow notare attached) of this piece shows a gentle harmony and has a clean, elegant appearance. This piece is reminiscent of the borderline period between the first and second generations.

[ Conditions ] Polishing, shiarasa and habaki, all of them maitains excellent conditions.

[ Attachments ] Habaki ( suaka-ji, gold foiled, single), shirasaya, bag of shirasaya and a NTHK Shoshin-kantei paper "正真鑑定書" (issued on 2nd June Heisei 8(1996))

[
Item number
] A030522 [
Price
]
JPY 1,200,000-
(shipping and insurance fee are not included)