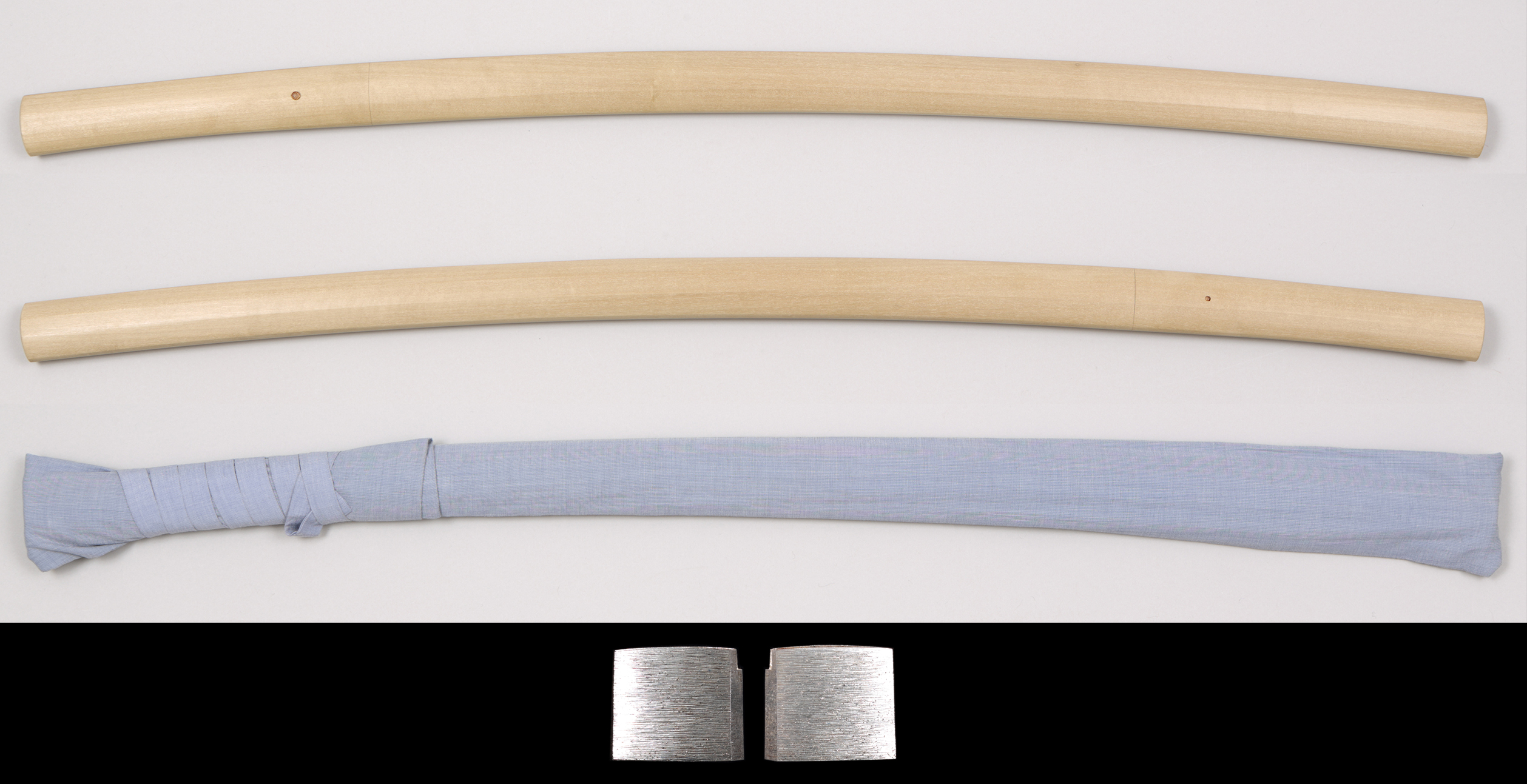 Katana, Shirasaya

No signature mumei, attributed to Chiyoduru

[ Signature ] omote : no signature ura : -

[
Size
]
Blade length 67.8cm (2 shaku 2 sun 3 bu 7 rin), sori 1.0cm (3 bu 3 rin), moto-haba 2.68cm, moto-kasane 0.52cm, saki-haba 2.02 cm, saki-kasane 0.35 cm, mekugi-ana(holes) 3, blade weight 620g
, shirasaya length 98.5cm
[ Period ] From Nan-boku-chô through first half of Muromachi
[ Province ] Echizen
[ Feature ]
Form : Shinogi-zukuri. Iori-mune. Both mihaba and kasane are ordinal. Shallow sori attached. Chû-kissaki extended form.
Nakago : Suri-age. Yasurimes are katte-sagari. Saki is kiri. Three holes.
Jigane : Itame-hada. Ko-mokumes mixed. Jinie attached.
Hamon : Ko-midare in suguha-tone. Shallow notare mixed. Gunomes and ko-gunomes mixed. Ko-nie attached. Ko-ashis and yô appeared. Sunagashis appeared.
Boushi : It runs in sugu. Komaru form. Saki is haki-kake.

[ Highlight ]
Chiyoduru was a group of swordsmiths of Echizen province who origned from Rai school in Yamashiro province. In Tokugawa era, their name associate good fortune so that it was said their swords were prefered so much as gift. It was considered that original tachi sword had 2 shaku 7 sun long. Now it is ô-suriage but it still maintains clear wazori form. Black coloured jigane. Suguha tone ko-midare hamon shows fine changes. It has strong reflection. It is one of appreciation point something like wavering tip boushi.


[ Conditions ]
There is a part rough surface of jigane. Both shirasaya and habaki are brand-new.

[ Attachments ]
Habaki( silver, single), shirasaya, bag of shirasaya and NBTHK Hozon paper ( issued on 15th March Heisei 30(2018))
[
Item number
] A030719 [
Price
]
JPY 400,000-
(shipping and insurance fee are not included)