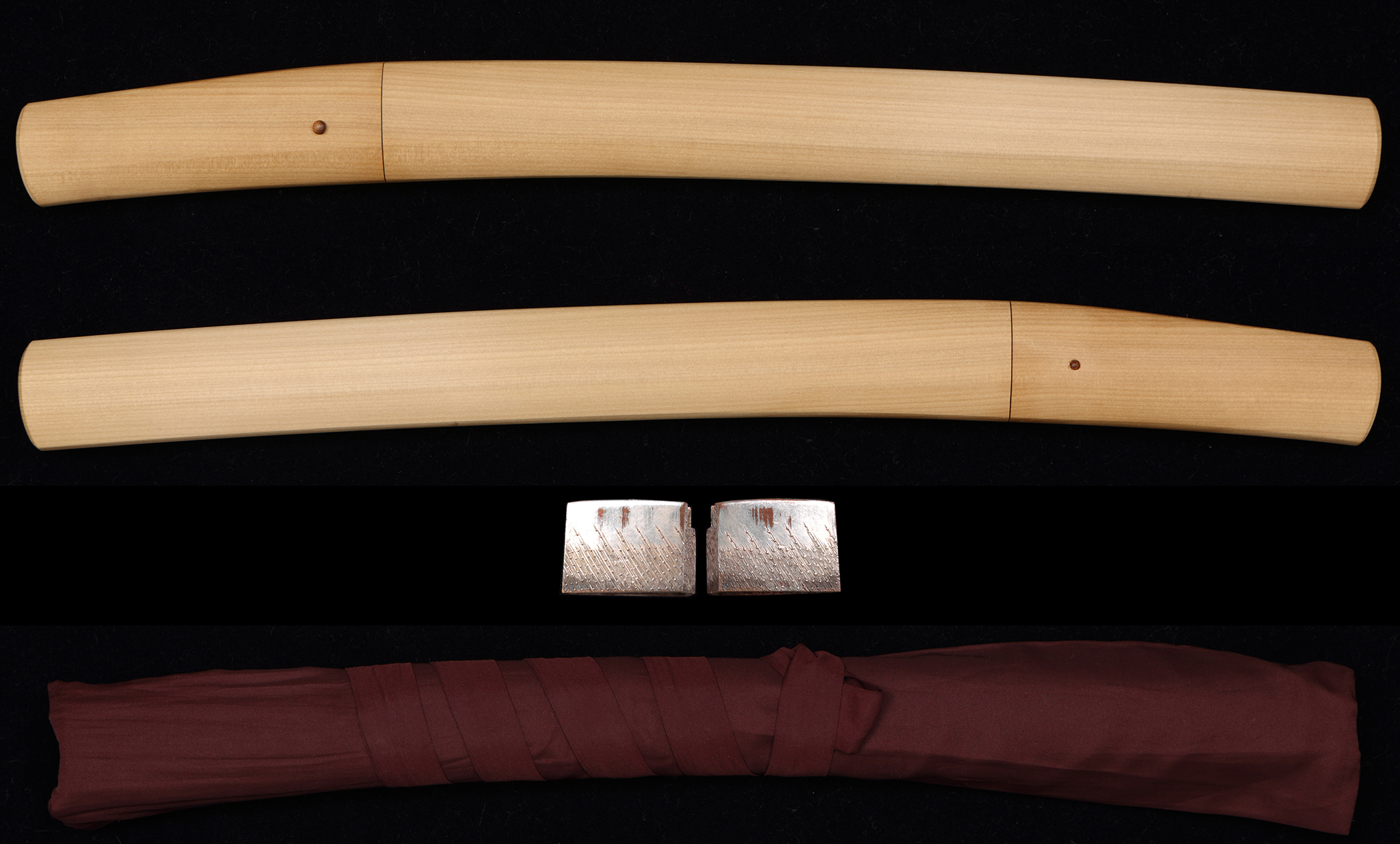 Wakizashi, Shirasaya

Mumei, attrbuted to Shin-shin-tô Kaifu
[ Signature ] omote : no signature ura : -

[
Size
]
Blade length 31,7cm (1 shaku 0 sun 4 bu 6 rin), sori 0,2cm (a little more than 6 rin), moto-haba 2,75cm, moto-kasane 0,68cm, saki-haba 2,30 cm, saki-kasane 0,42 cm, mekugi-ana(holes) 2, blade weight 317g
, shirasaya length 47,5cm
[ Period ] Edo, second half of
[ Province ] Awa
[ Feature ]
Form : Kata-kiri-ha zukuri. (omote) : hira. (ura) : kata-kiri-ha. Iorimune. Mihaba is relatively wide. Kasane is ordinal. Sori a little attached. Relatively remakable sori attached on nakago. Fukura shows more or less small curvature kareru form.
Nakago : Ubu. Yasurimes are unknown. Saki is shallow kuri-jiri. Ohe hole.
Jigane : Ko-itame-hada well grained. Jinie attached. Chikei appeared.
Hamon : In sugu-tone. Nioi-kuchi is clear. Shallow notare attached. In ko-midare, ko-gunome-bas mixed. Ko-ashis and yô appeared.
Boushi : (omote) it runs in shallow midare-komi. Saki turns in pointy togari-gokoro. (ura) it runs in sugu. Saki turns in komaru with haki-kake.

[ Highlight ]
Sturdy form in kata-kiri-ha is so specific. Extended length sun-nobi -tantô, with well grained ko-itame-hada, sugu tone hamon in clear nioi-kuchi. On domestic registeration paper, this sword is classified as wakizashi. Kaifu school was a name of swordsmith group who worked around Kaifu gô, Kaifu county, in Awa province (current Kainan-chô town, or Kaifu-chô town or Shishikui-chô town, Kaifu county, Tokushima prefecture). It was defence line place for Tosa county, very south end of Awa province. They confronted against Tosa province. The occurrence of Kaifu school was very end of Yoshino-chô dynasty (late Nan-boku-chô dynasty), then they flourished. Later on, during Shintô era, the number of swordsmith decreased, however, they continued till Shin-shin-tô era. The representing swordsmith of kaifuschool, Ujiyoshi and his later generations, they created the swords even in Tosa province as well around Keiô era. This swords was seemed to be created during Shin-shin-tô era. Such kata-kiri-ha tsukuri was their expertise as well.

[ Conditions ] Excellent.

[
Attachments
] Habaki (suaka-ji, silver foiled, single), shirasaya, bag of shirasaya and
NBTHK Hozon paper (issued on 29th May Heisei 27(2016))

[
Item number
] A031018 [
Price
]
JPY 160.000
-> JPY 150,000- (shipping and insurance fee are not included) PRICE DOWN!