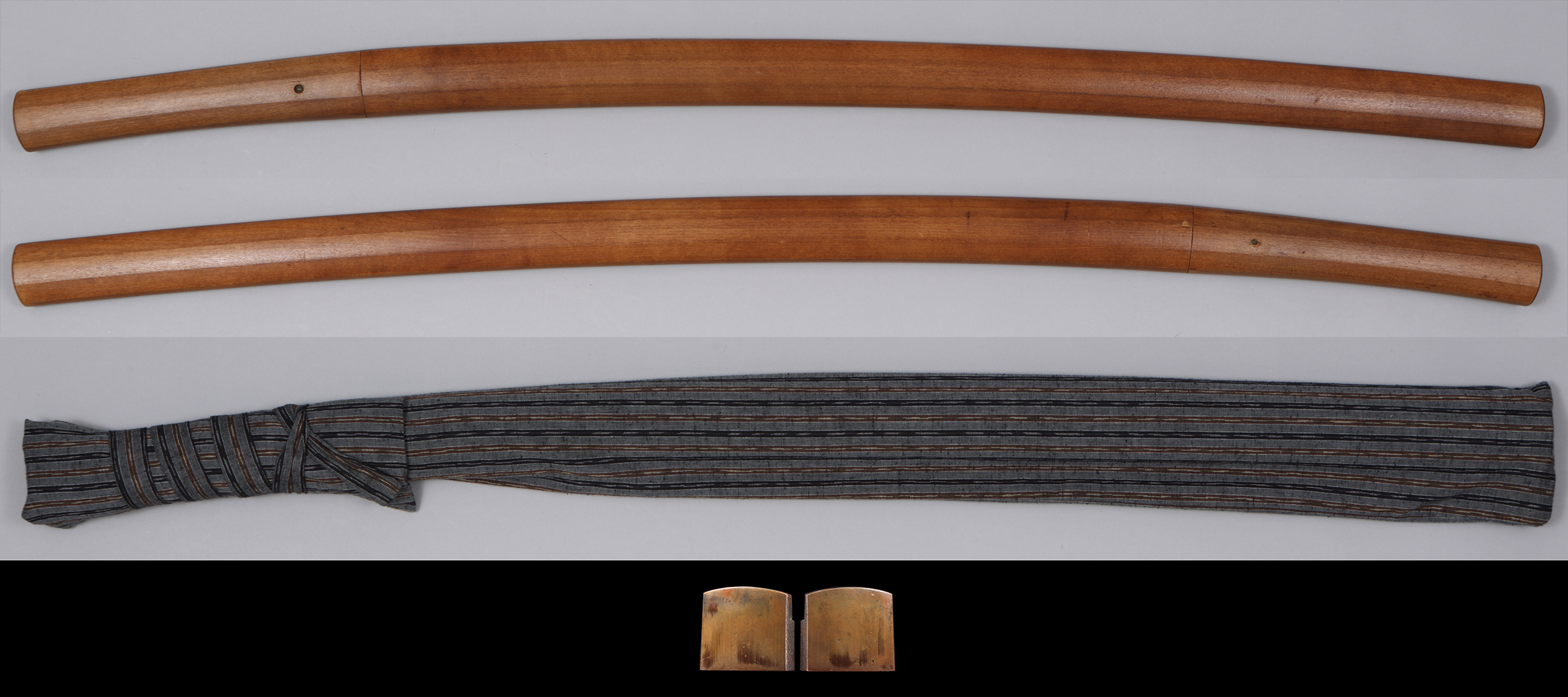 Katana, Shirasaya

Mumei, attributed to Chounsai Koretoshi

[ Signature ] omote : no signature ura : -

[
Size
]
Blade length 71.0cm (2 shaku 3 sun 4 bu 3 rin), sori 1.7cm (5 bu 6 rin), moto-haba 3.35cm, moto-kasane 0.85cm, saki-haba 2.26 cm, saki-kasane 0.50 cm, mekugi-ana(hole) 1, blade weight 891.5g
, shirasaya length 101cm
[ Period ] Edo, second half of.
[ Province ] Musashi
[ Feature ]
Form : Shinogi-zukuri. Iori-mune. Mihaba is wide. Kasane is relatively thick. Shallow sori attached. There are some differences between moto-haba and saki-haba. Chû-kissaki form.
Nakago : Ubu. Yasurimes are suji-kais and keshô. Saki is kuri-jiri. One hole.
Jigane : Itame-hada well grained. Fine jinie attached.
Hamon : Gunome-choji in koshi-hiraki form. Ko-nie attached. Fine suna-gashis appeared.
Boushi : It runs in sugu. It turns in komaru form.

[ Highlight ] This work is attributed to Koretoshi ( premier), le deuxième fils de Kato Chouunsai Tsunatoshi, qui était un charpentier du clan Yonezawa à la fin de la période Edo. Koretoshi succeeded to the family throne in the first year of the Ansei era, and was given the name Choun-sai.Later he became a craftsman in the Hyuga Ito family.Hand-held, heavy and sturdy distribution of the body weight. The nakago is long and well formed. The skin texture of the grain forging in itame. Hamon in gunome-chô-ji with koshi-hiraki form has clear distinction between jigane. Such characteristic is one of highlight of this sword.

[ Conditions ] Slight scratches. However, rest is maintaining good conditions.

[ Attachments ] Habaki, shirasaya, bag of shirasaya and Kurashiki paper "倉敷刀剣美術館鑑定書"(issued on 14th Oct. Heisei 29(2017))
[
Item number
] A040521 [
Price
]
SOLD