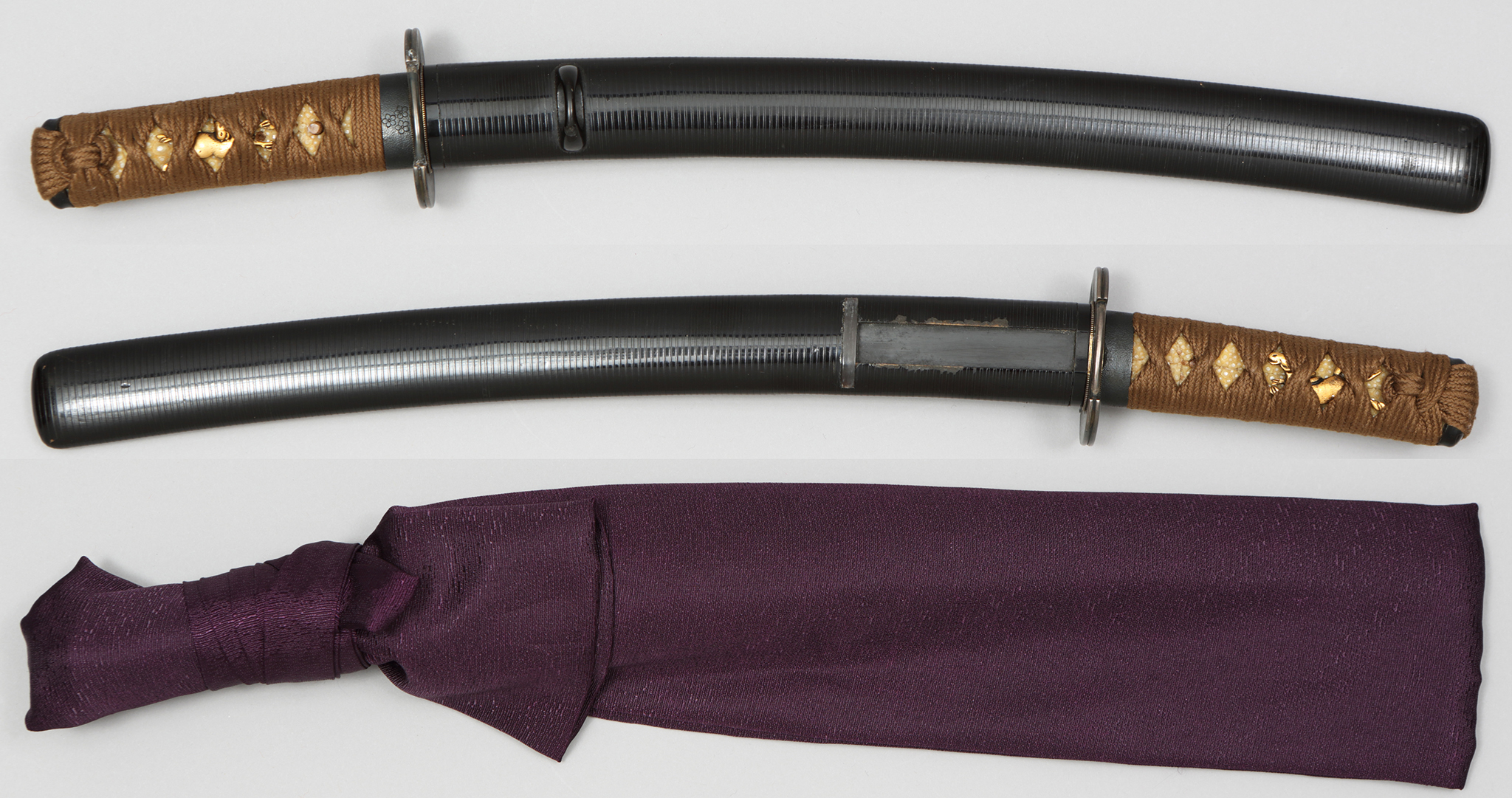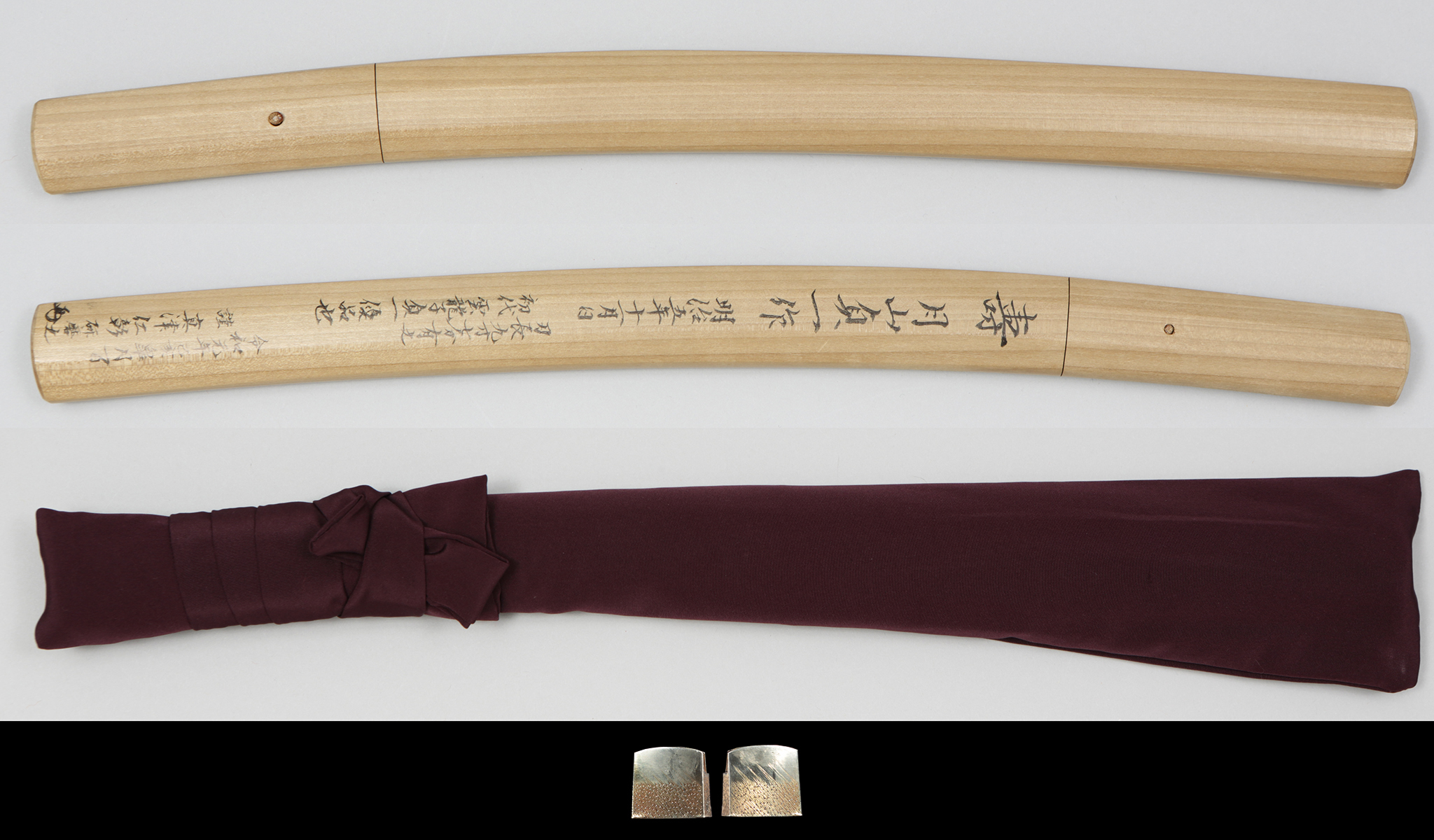 Katana, Shirasaya, Koshirae

First generation Gassan Sadakazu

[ Signature ] omote : "壽"  ura : "明治五年十一月日 月山貞一作"

[ Size ]Blade length 29,4cm (9 sun 7 bu 0 rin), sori 0,8cm (2 bu 6 rin), moto-haba 1,81cm, moto-kasane 0,45cm, saki-haba 1,25cm, saki-kasane 0,33cm, mekugi-ana(hole) 1, blade weight 125,1g , shirasaya length 43,5cm, koshirae length 43,5cm
[ Period ] Meiji "明治"5 (1872)
[ Province ] Osaka pref.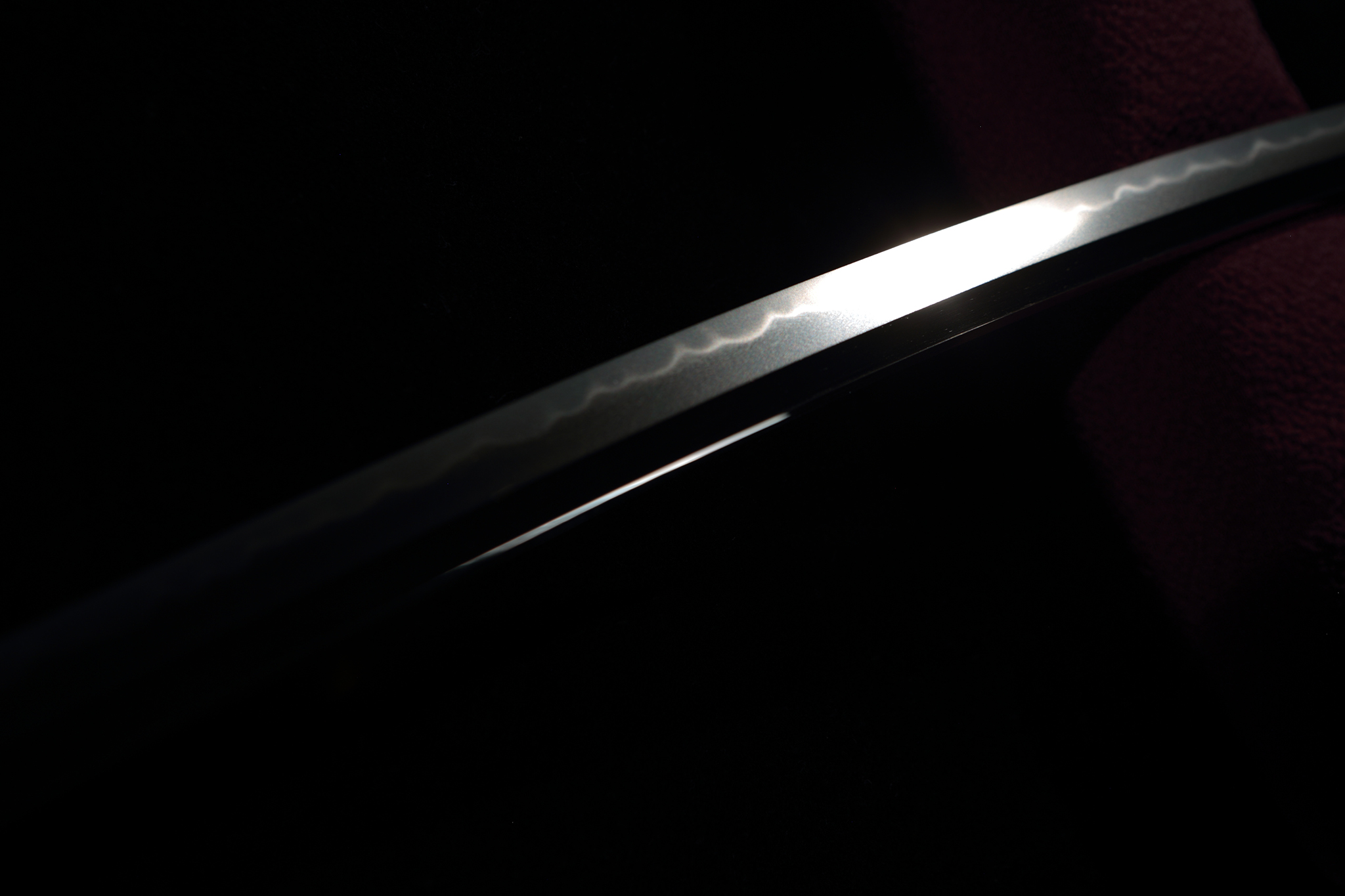 [ Feature ]
Form : Shinogi-zukuri. BOth mihaba and kasane are ordinal. Relatively high shinogi-suji attached. There are some differences beween moto-haba and saki-haba. Modereate sori attached. Chu-kissaki form.
Nakago: Ubu. Yasurimes are o-sujikais and kesho. Saki is kuri-jiri. A hole.
Jigane: Ita-me-hada well grained. Komokumés are mixed. Jinie thick attached. Chikei appeared.
Hamon: Gunome-midare. Ashis appeared. Konie attached. Some tobi-yaki appeared on shinogi-ji.
Boushi: Running in midare-komi. He turns in ko-maru. Saki is haki-kake.

[ Highlight ] Gassan Sadakazu was born in 1836 (Tempo 7), called Yagoro, and adopted at the age of seven into the Gassan Sadayoshi family based in Osaka. He began his apprenticeship in his early teens and, as a skilled carver, added the new tradition of sword engraving to the Ayasugi tradition of Dewa Gassan forging, and also mastered the Bizen and Soshu traditions, laying the foundations for the prosperity of the Osaka Gasan school. The Imperial Artist System was established by the Imperial Household in 1890 (Meiji 23) to provide relief to painters and craftsmen who had lost the patronage of the shogunate and clans due to the Meiji Restoration, and to promote arts and crafts. By 1944 (Showa 19), 79 artists had been appointed, all of whom became leading figures in Japanese modern art. Among swordsmiths, Miyamoto Kanenori (1830-1926) and Gassan Sadakazu (1836-1912) were appointed, while metalworkers who worked on swords included Kano Natsuo (1828-1898), Unno Shomin (1844-1915), Kagawa Katsuhiro (1853-1917) and Tsukada Shukyo (1848-1918).
[ Conditions ] TThe sword body and white scabbard are excellent. The sword has no kozuka, minor paint peeling around the kozuka-hitsu, partial repair marks on the sword guard and partial loss of the chestnut shape kurigata.
[ Attachments ] Habaki, shirasaya, bag of shirasaya, koshirae, bag of koshirae and NBTHK tokubetsu hozon paper "特別保存刀剣鑑定書"(issued on 2nd Dec. Reiwa 1(2019))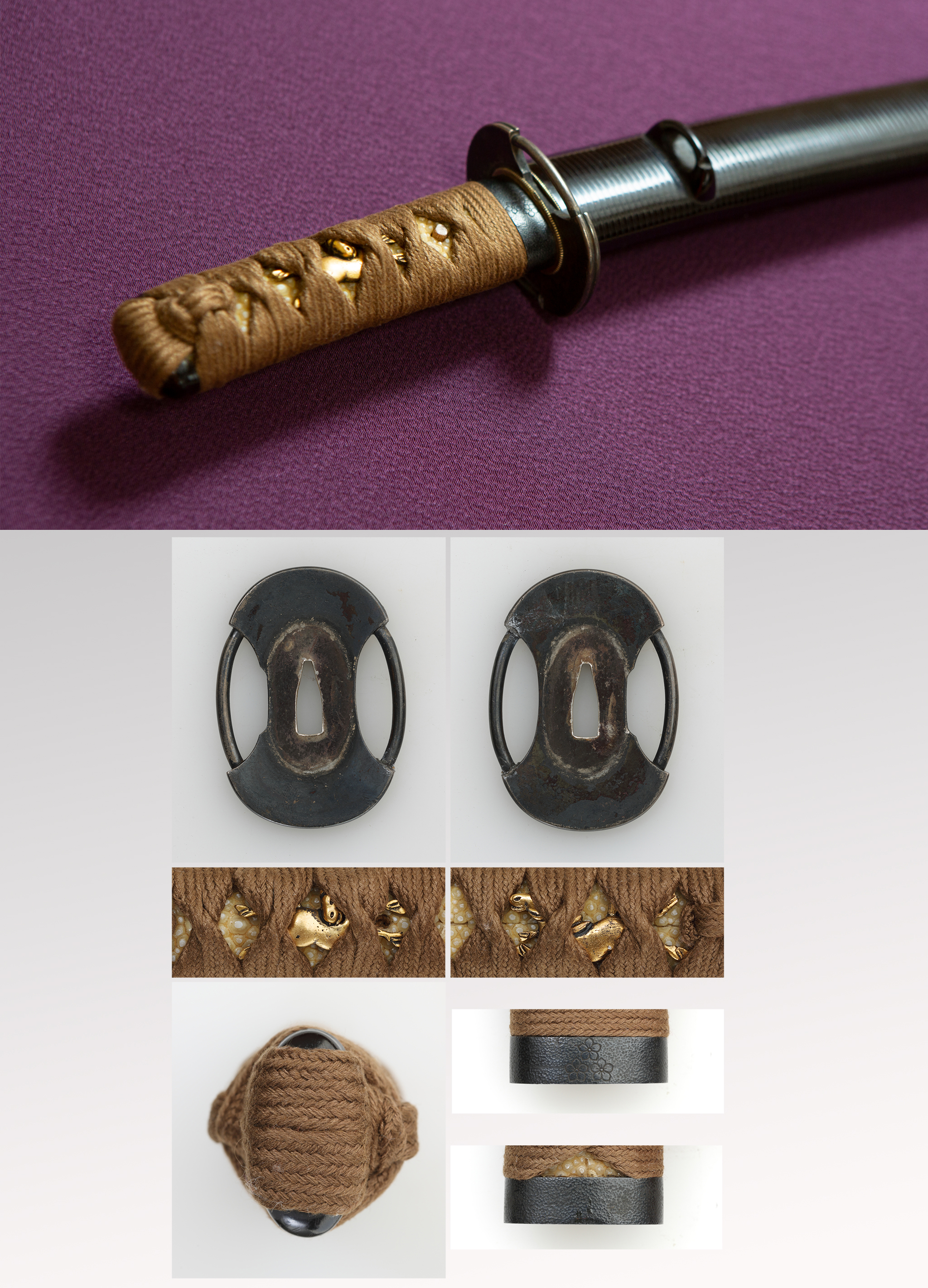 [
Item number
] A050622 [
Price
]
JPY 1,200,000-
(shipping and insurance fee are not included)