Wakizashi, Shirasaya
[ Signature ] omote : "河内守国助" ura : -

[
Size
]
Blade length 46.8cm (1 shaku 5 sun 4 bu 4 rin), sori 0.8cm (2 bu 6 rin), moto-haba 3.21cm, moto-kasane 0.76cm, saki-haba 2.26 cm, saki-kasane 0.44 cm, mekugi-ana(hole) 1, blade weight 515.5g
, shirasaya length 68cm
[ Period ] Edo, in the middle of.
[ Province ] Settsu "摂津"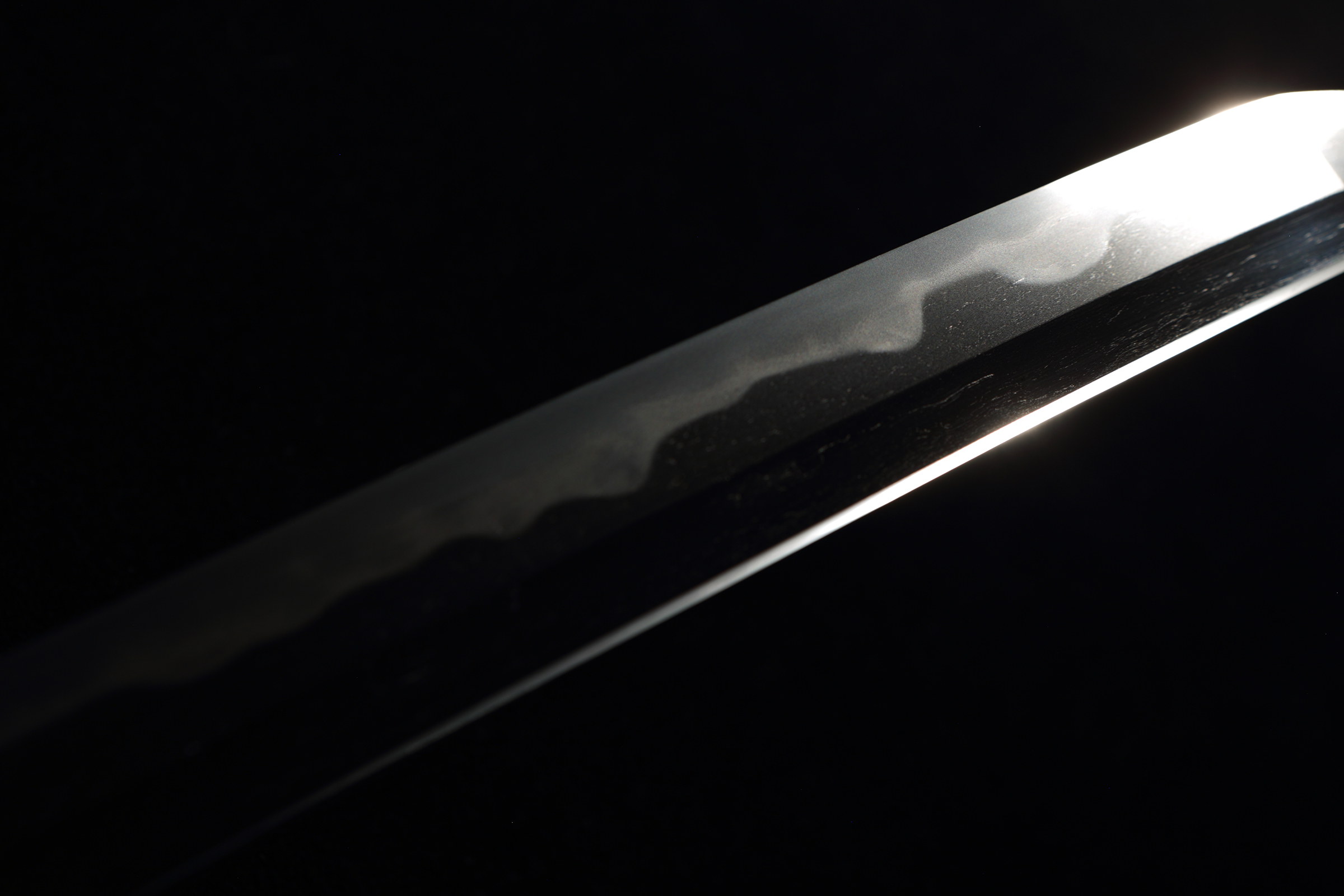 [ Feature ]
Form : Shinogi-zukuri. Iori-mune. Mihaba is wide. There are some differences between moto-haba and saki-haba. Shallow sori attached. Chu-kissaki a little shortened form.
Nakago : Ubu. Yasurimes are o-sujikais with some kesho taste. Saki is ha-agari, kuri-jiri. One hole.
Jigane : Itame-hada with some changes. Jinie attached. Fine chikei appeared.
Hamon : It runs in long sugu. Yaki-haba is relatively wide. In notare-hamon, o-gunome mixed.
Boushi : It runs in sugu. Saki turns in sharp. Saki is haki-kake.

[ Hgighlight ]
 The first Kawachi-no-kami Kunisuke studied under Horikawa Kunihiro, and after his master's death in 19 Keicho, he moved to Osaka with Kunisada and became a pioneer of the Osaka Shinto sword. The Kunisuke family originally came from the Seishu Ishido family. The son of the first, Kawachi no Kami Kunisuke II, is known as " Naka Kawachi ", even though he is one of several generations of the same name. He excelled at producing gorgeous Cho-ji-midare on beautiful jigane. This is not a typical work of the second generation. But the fact that it is partly interspersed with fist shape cho-jis. This suggests that it is the work of the second generation. In this sword, o-gunomes stands out in notare. Well attached nie, sunagashis appeared so often. This is a magnificent Wakizashi.
[ Conditions ] Cloudy from old sharpening, but will clean up with polishing.
[ Attachments ] Habaki (suaka-ji, gold foiled, single), shirasaya, bag of shirasaya and NBTHK Tokubetsu hozon paper "特別保存刀剣鑑定書"(issued on 25th Feb. Heisei 31(2019))
[
Item number
] A050821 [
Price
]
JPY 580,000-
(shipping and insurance fee are not included)