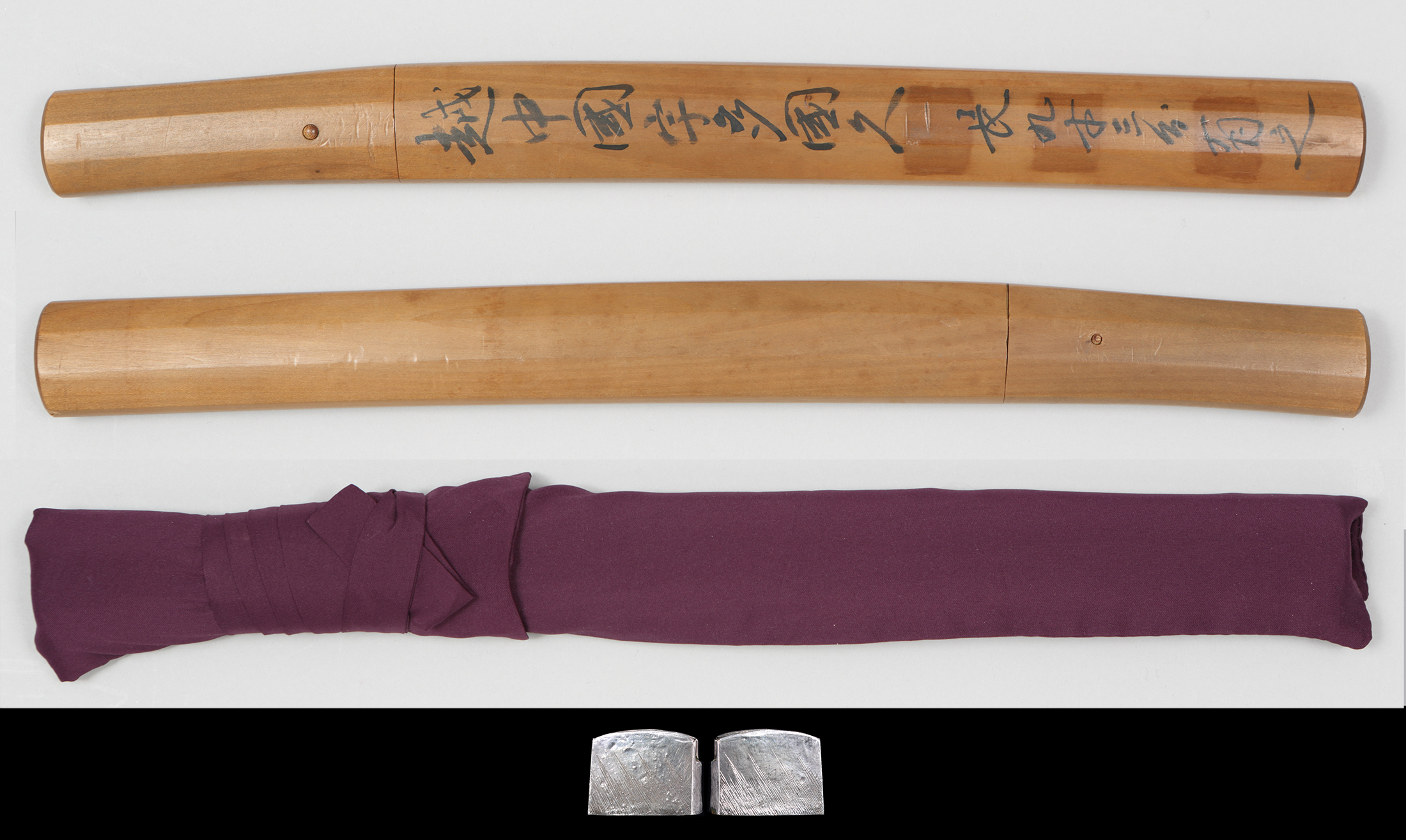 Tanto, Shirasaya

[ Signature ] omote : "宇多国久" ura : -

[
Size
]
Blade length 28.4cm (9 sun 3 bu 7 rin), sori 0.2cm (6 bu 6 rin), moto-haba 2.94cm, moto-kasane 0.53cm, mekugi-ana(hole) 1, blade weight 190g
, shirasaya length 44cm
[ Period ] Muromachi, middle of.
[ Province ] Ecchu "越中"
[ Feature ]
Form : Hira-zukuri. Iori-mune. Mihaba is wide. Kasane is ordinal. Very shallow sori attached.
Engraving : Both on omote and ura sides, there is a bô-hi with squqre stop.
Nakago : Ubu. Yasurimes are shallow katte-sagari. Saki is kuri-jiri. One hole.
Jigane : Itame-hada, well grained. Masa patterns mixed. Jinie attached. Line shape shirake-utsuris appeared.
Hamon : Gunome midare. Deep nioi and ashis appeared. Ko-nie attached. Sunagashis appeared.
Boushi : It runs in shallow notare form. (omote) saki becomes sharp. (ura) it turn in ko-maru. Both sides, they have relatively long tempered area.

[ Highlight ] Kunihisa "国久" is said to have been a son or pupil of Uda Kunimune "宇多国宗", and the same name continued for several generations from the Oei period to the Bunmei period. This work has been produced in the style of the Uda school, with a deep nioi, attached ko-nie, and turbulent blade midare-ba. The harmonious balance of length and width suggests that it was made by Kunihisa around the middle of the Muromachi period (1336-1573).

[ Conditions ] It is old polished, but can be preserved and appreciated in its present condition.
[ Attachments ] Habaki( suaka-ji, silver foiled, single), shirasaya, bag of shirasaya and NBTHK hozon paper "保存刀剣鑑定書"(issued on 21st Feb. Heisei 15(2003))

[
Item number
] A060121 [
Price
]
JPY 300,000
(shipping and insurance fee are not included)