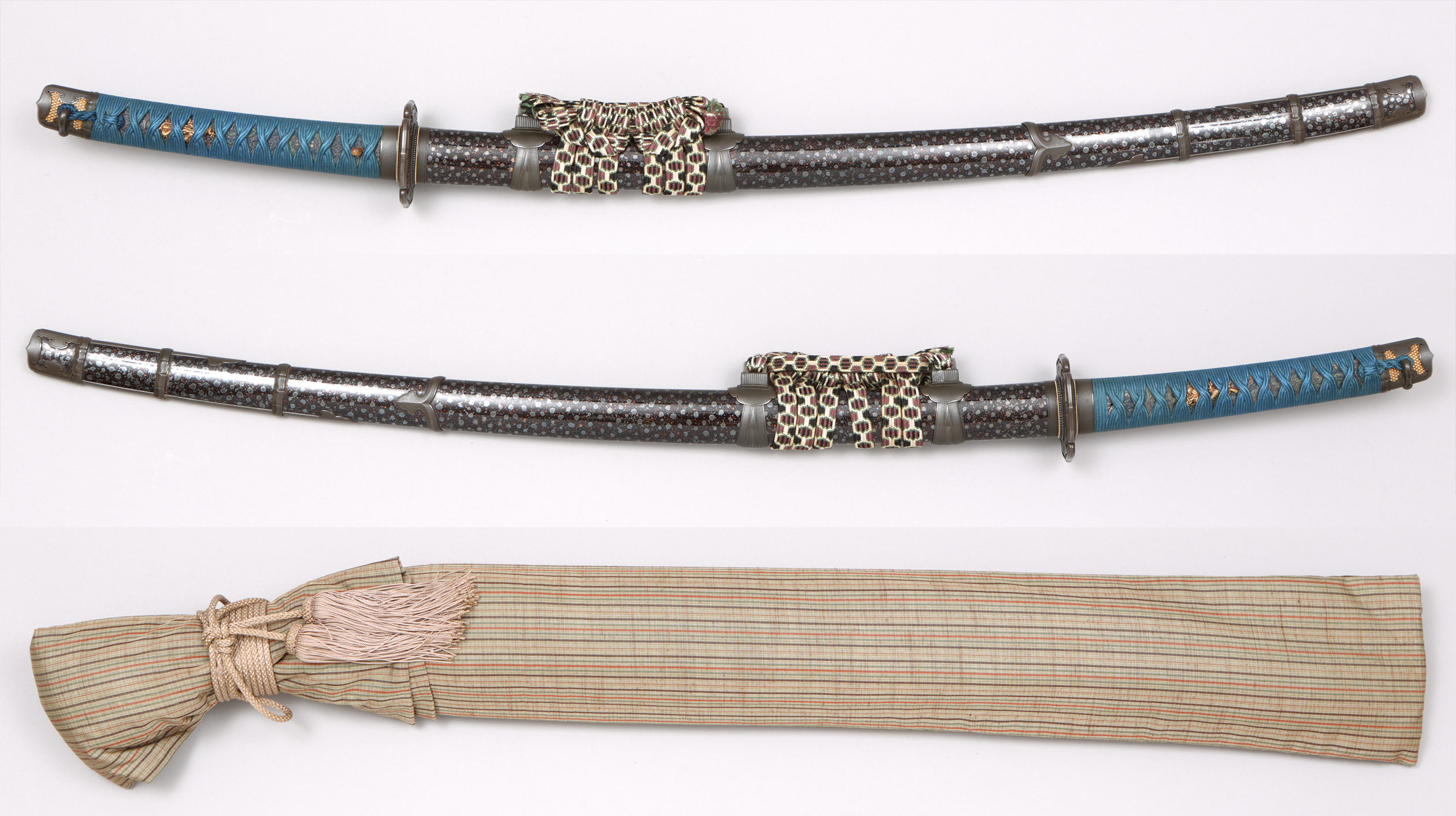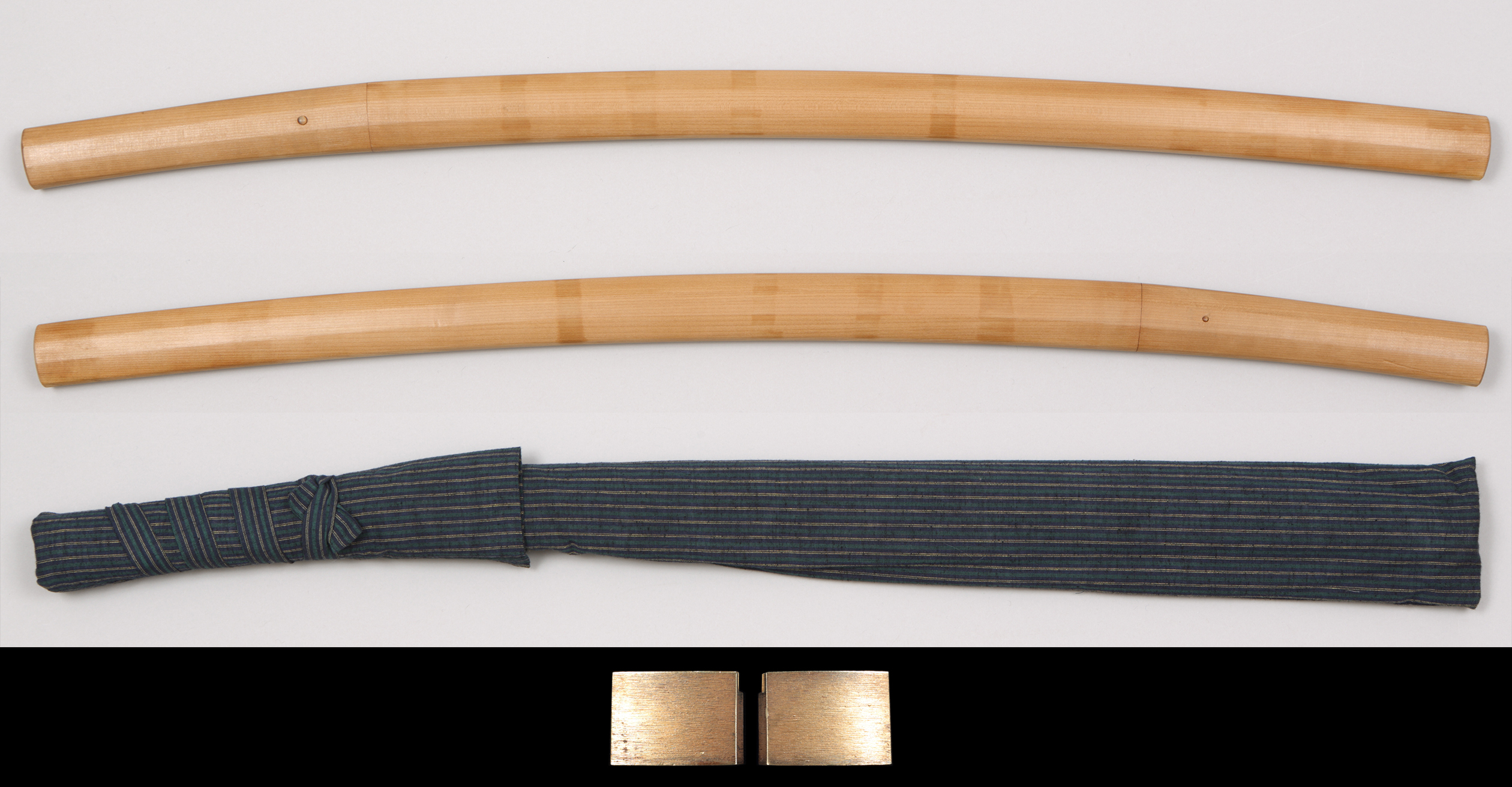 Katana, Shirasaya, Koshirae

Mumei attributed to Osafune Morikage

[ Signature ] omote : no signature ura : -

[
Size
]
Blade length 66.9cm (2 shaku 3 sun 9 bu 9 rin), sori 1.66cm (5 bu 5 rin), moto-haba 3.42cm, moto-kasane 0.68cm, saki-haba 2.70 cm, saki-kasane 0.53 cm, mekugi-ana(holes) 2, blade weight 795g
, shirasaya length 94cm, koshirae length 102cm
[ Period ] Nanbokuchô "南北朝"
[ Province ] Bizen "備前"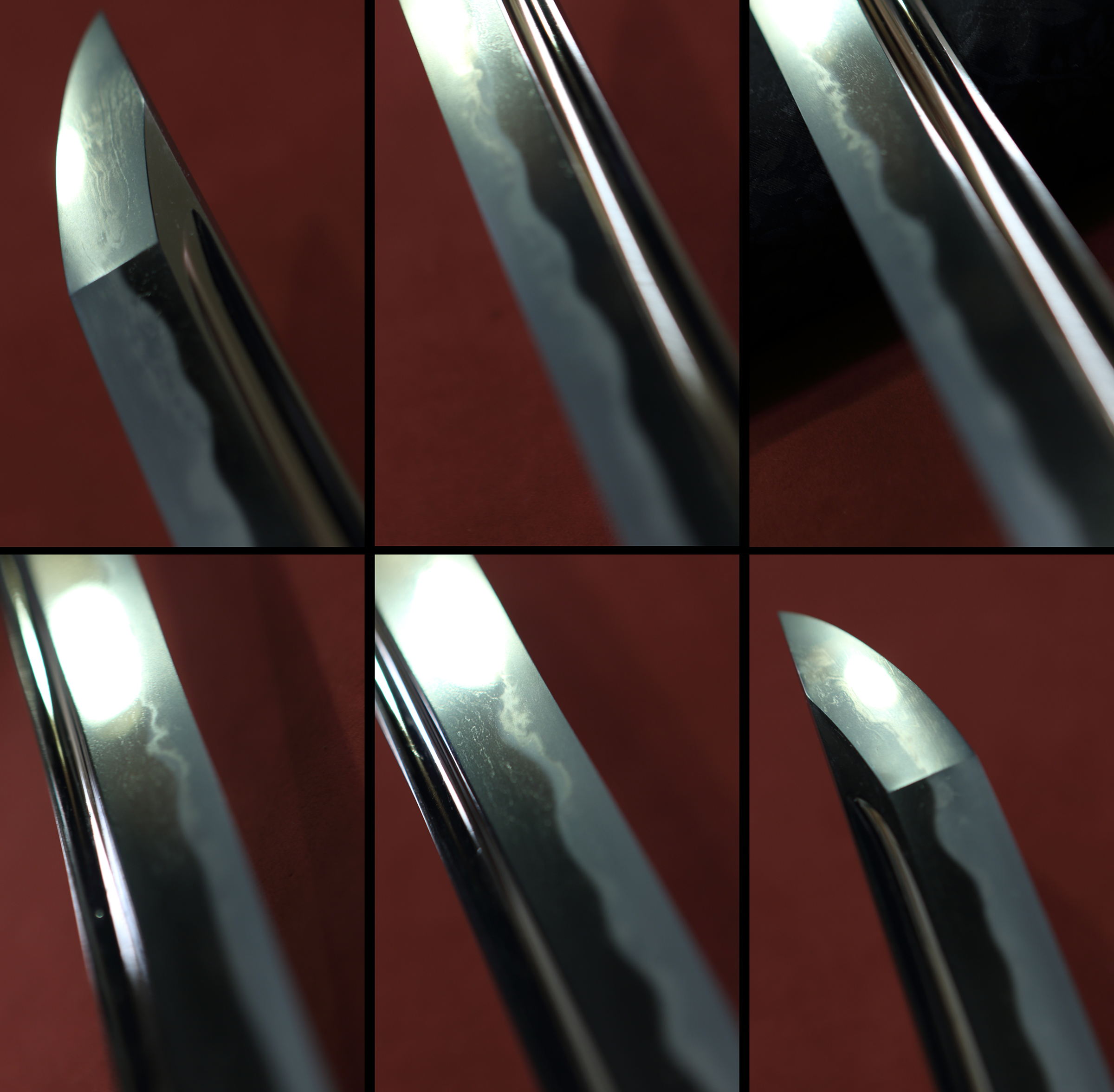 [ Feature ]
Form : Shinogi-zukuri. Iori-mune. Mihaba is wide. Kasane is ordinal. There are few differences between moto-haba and saki-haba. Moderate sori attached. Chû-kissaki extended form.
Engravings hori-mono : There are bô-"hi"s on omote side and ura side.
Nakago : Ô-suriage. Yasurimes are kiri. Saki is kiri. Two holes.
Jigane : Itame-hada. Mokumes mixed. It has some changes. Its pattern comes to surface a little. Jifus mixed. Jinie attached. Chikei appeared. Pale utsuri comes to appear.
Hamon : In notare, gunomes, ko-gunomes, ko-chô-jis mixed. Ashis and yôs appeared. Ko-nie attached. Kin-sens and sungashis appeared frequently.
Boushi : It runs in midare-komis. Komaru, saki is haki-kake.

Tachi-goshirae : ensemble all metal fittings, gin-gyôbu kin nashi-ji-zaya ; tsuba : ishime-mon pattern tachi-tsuba ; a pair of menuki : design of clawling dragon ; tsuka : blue-black gold brocade kin-ran covered, pale brue-green "浅葱色" moro-tsumami-maki

 銀刑部金梨子地鞘太刀拵 : 総金具 石目文 無銘、鐔 石目文太刀鐔 無銘、目貫 這龍図、柄 紺地金襴着 浅葱色糸諸撮巻

[ Highlight ]
Bizen Ô-miya school, it was said that their founder Kunimori "国盛" moved and lived in Bizen from Ô-miya, Ino-kuma-dôri, Yamashiro province in Kamakura period. Since then, the school might begin but no remaining swords were confirmed. So that, Morikake "盛景" in Nan-boku-chô period was known as de fact founder of the school. However, recently new studies are presented. Specifically, resemblance of its sttyle and reverse chieseling "逆鏨" showed the evidence Morikage "盛景" was a collateral decendant of Chika-kage "近景" or Yoshikage "義景". There are swords with signature such as "備州長船盛景", "備州長船住盛景", "備前国住長船盛景", "備前国長船住盛景", etc. As the signature of year of creation, there are "貞治", "応安", "永和", etc.

The hamon composure of this sword have tends to include small pattern ko-mo-yô and many changes. Attached nies are so fine that it has some tendency to express deep tone. They show the characteristics of Morikage "盛景" so well. Mihaba is wide, kissaki extended and original dynamic form remaining. Ô-suri-age form which shows the atmosphere of Nanboku-chô period clearly.

The sword was polished by a living national treasure Mr. HON-NAMI Nissyû "本阿弥日州" (1908-1996).
Koshirae was made around middle of Edo period. Nurizaya was painted using gold laquor work, called Gyôbu nashiji "刑部梨子地", which was invented by Makie "蒔絵" technician GYÔ-BU Tarô "刑部太郎". All ensemble ishimeji metal fittings with a minutenes. Gorgeous weaving pattern making appearance, a tsuka in with gold-brocade. It worked out itme on special order.

[ Conditions ]
Blade maintains excellent conditions. Koshirae as well keeping top conditions.

[ Attachments ]
Habaki ( suaka-ji, gold foiled, single), shirasaya, bag of shirasaya, koshirae, bag of koshirae, NBTHK Tokubetsu hozon paper ( issued on 15th March Heisei 30(2018)) and NBTHK Tokubetsu tôsôgu paper ( issued on 7th December Heisei 29(2017))
[
Item number
] A060719 [
Price
]
JPY 2,800,000-
(shipping and insurance fee are not included)