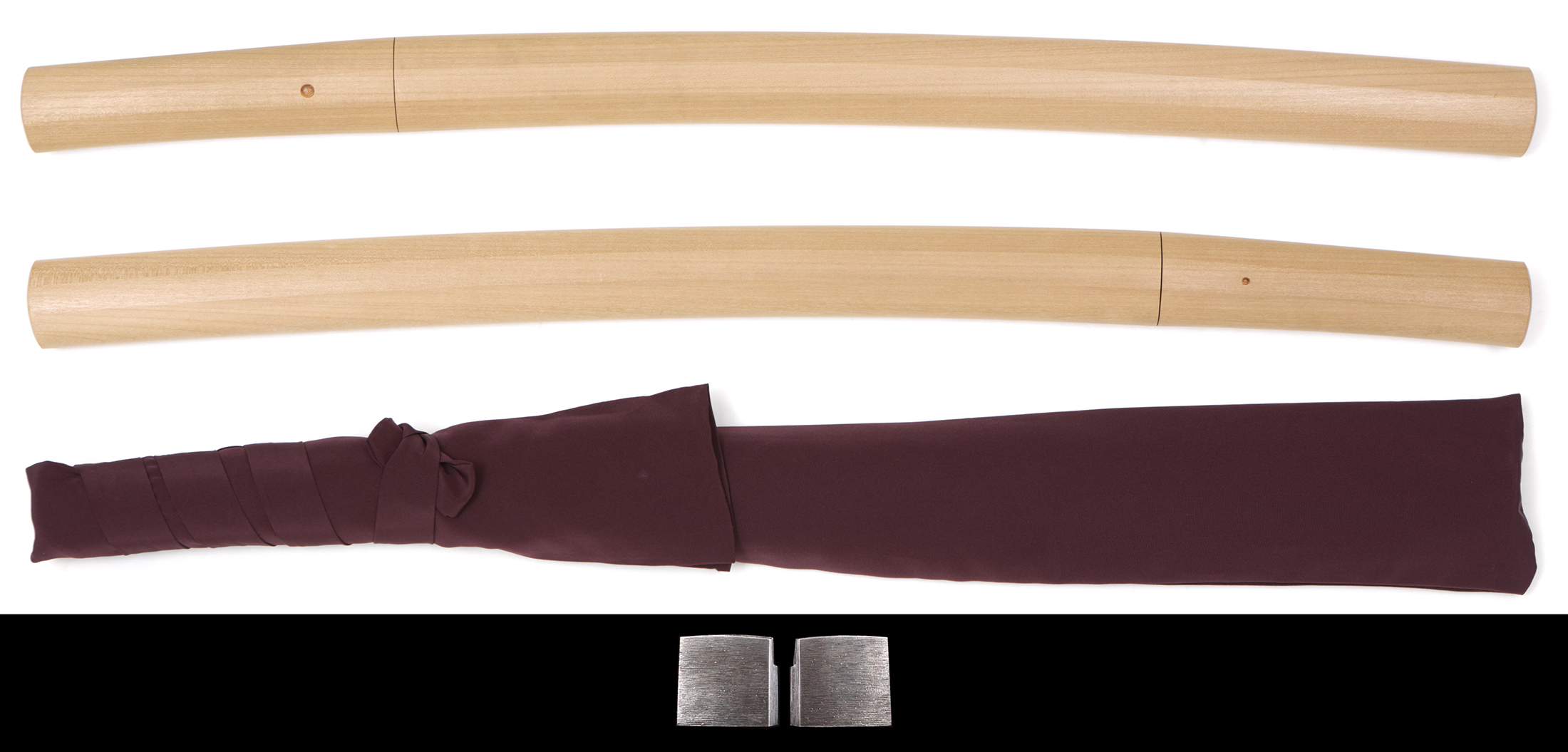 Wakizashi, Shirasaya

Mumei, attributed to Kanenori

[ Signature ] omote : no signature ura : -

[
Size
]
Blade length 44.3cm (1 shaku 4 sun 6 bu 2 rin), sori 0.4cm (1 bu 3 rin), moto-haba 2.36cm, moto-kasane 0.46cm, saki-haba 1.73cm, saki-kasane 0.29cm, mekugi-ana(hole) 1, blade weight 311g
, shirasaya length 63cm
[ Period ] Muromachi, second half of.
[ Province ] Mino or Echizen
[ Feature ]
Form : Shinogi-zukuri. Iori-mune. Mihaba is narrow. Relatively high shinogi-suji and shallow sori attached. Chu-kissaki form.
Nakago : Ubu. Yasurimes are shallow katte-sagari. Saki is kuri-jiri. One hole.
Jigane : Itame-hada, with some changes. Jinie attached.
Hamon : Notare, gunomes mixed. Ashis appeared. Nie attached well. Long sunagashis appeared.
Boushi : It runs in sugu, then turns round. Saki nie attached well. It has haki-kake.

[ Highlight ] Kanenori was a swordsmith of the Seki San'ami school, descended from Naoe Shizu, and several swordsmiths of the same name existed in the Muromachi period. Some swordsmiths of the same name moved to Echizen. This work is a small, light wakizashi with a shallow sori. It is thought to have been used as a chigo-zashi or sashi-zoe.

[ Conditions ] There is a little scratch but in general it is excellent.
[
Attachments
] Habaki(single, silver), shirasaya, bag of shirasaya and
NBTHK Hozon paper (issued on 19th February Reiwa 2(2020)).

[ Item number ] A061121 [ Price ] JPY 130,000- (shipping and insurance fee are not included)