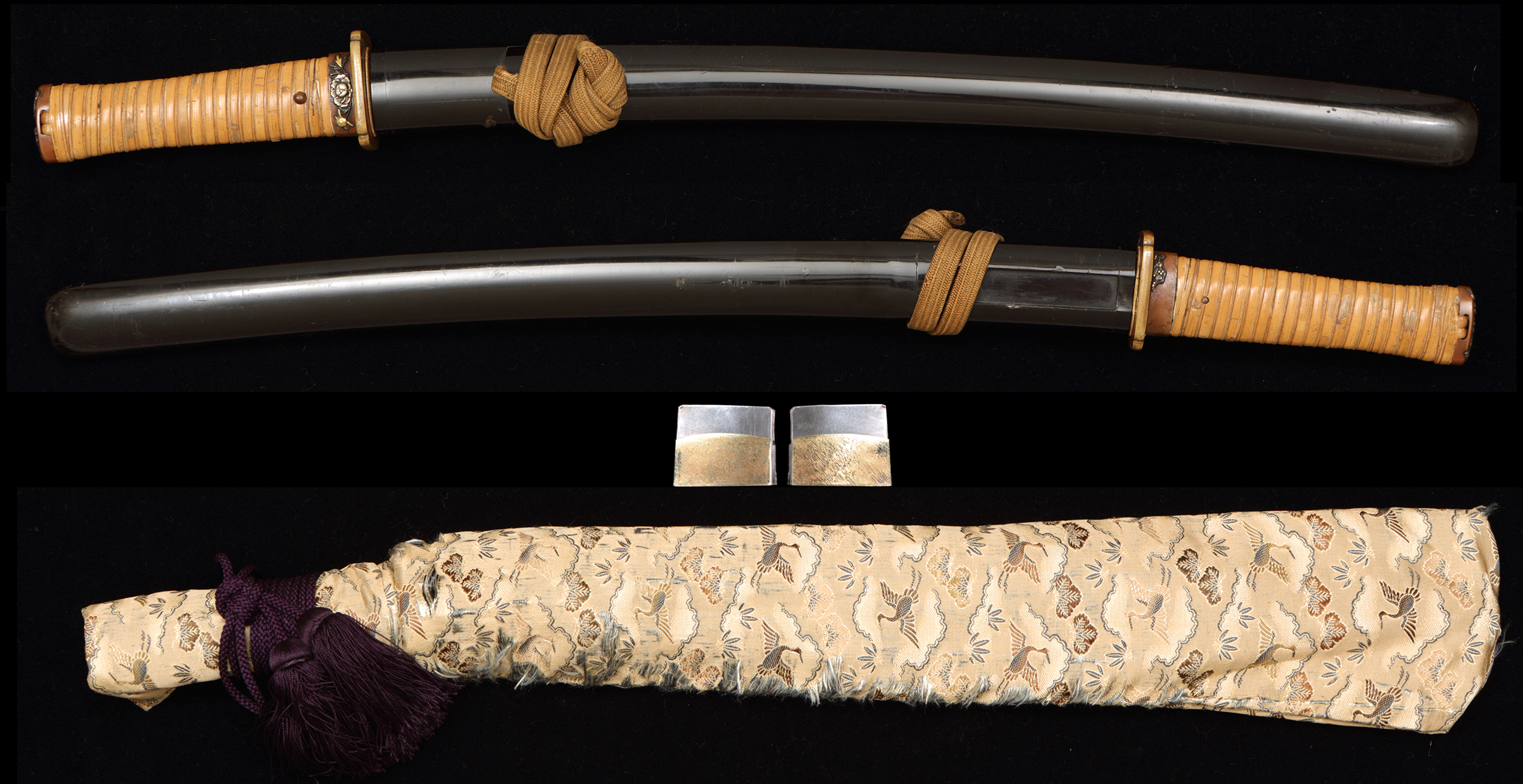 Wakizashi, Koshirae

[ Signature ] omote : Banshû-jyû Katsutsugu "播州住勝次" ura : (kiritsuke-mei 切付銘) korewo tamawaru Naokuwa haku "賜之 謹直桑佩"

[
Size
]
Blade length 39,99cm (1 shaku 3 sun 2 bu 0 rin), sori 0,75cm (2 bu 5 rin), moto-haba 3,05cm, moto-kasane 0,35cm, mekugi-ana(hole) 1, blade weight 442,5g
, koshirae length 63,5cm, tsuba size ; length 5,36cm, width 4.42cm, thickness of edge
mimi
0,46cm
[ Period ] Muromachi, around Tenshô "天正"(1573-1592)
[ Province ] Harima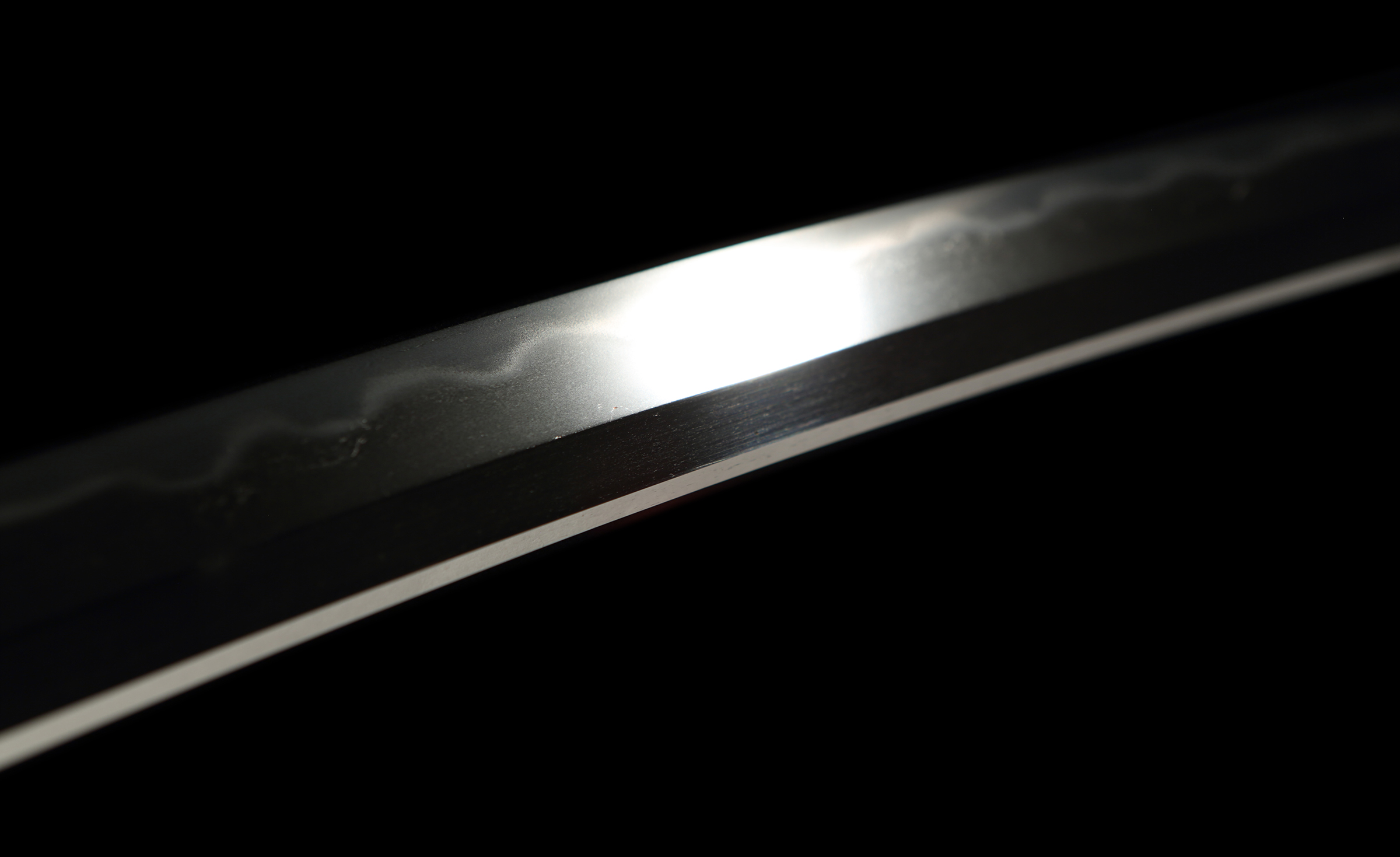 [ Feature ]
Form : Shô-bu zukuri. Iori-mune. Mihaba is wide. Kasane is ordinal. Saki-zori attached.
Nakago : Ubu. Yasurimes are katte-sagari. Saki is kuri-jiri. One hole.
Jigane : Itame-hada. Mokume-hada mixed. Jinie attached. Fine chikei appeared.
Hamon : Notare, hako-bas becoming kata-ochi shape. Ko-gunomes mixed. The state of hamon nioi-kuchi is clear. Ashis and sunagashis appeared. Nie attached.
Boushi : It runs in midare-komi. Saki is hakikake, then turns in ko-maru.

黒蝋色塗鞘籐巻柄脇差拵 : 牡丹獅子図縁頭(素銅地高彫金銀色絵)、蔓図鐔(素銅地高彫金銀色絵)
Kuro-ro-iro-nuri-zaya rattan tô-maki-zuka wakizashi koshirae : peony botan lion shi-shi fuchi-gashira : (suaka-ji taka-bori gold-silver kin-gin iroe) tendril kazura-zu tsuba (suaka-ji taka-bori kin-gin iroe)

[ Highlight ]
Compared with hamon shape of moto and saki, in the middle, it becomes larger size of pattern ô-moyô . One side dropped kata-ochi-bas notare-midare hamon is characteristic. Saki-zori attached shô-bu tsukuri wakizashi. Katsutsugu was a swordmith who created the swords around Tenshô "天正"(1573-1592). As signatures, one is "勝次" in two characters, the other is "播州住勝次", like this sword. As ura-mei "裏銘", it has "賜之 謹直桑佩", signed later period kiri-tsuke-mei. It might that the samurai named Naokuwa "直桑" commemorated the given sword from his lord, giving nakago signature, in order to record holding history, as precious sword.

[ Conditions ] The polishment is old one, furu-togi. The tip of hamachi exist. Something like very shallow kitae-ware flaw observed in the middle of ura side shinogi-ji. However, it is not noticeable effecting on appreciation.

[
Attachments
] Habaki (suaka-ji, gold foiled (upper part
uwa-gai
), silver foiled(lower part
sita-gai
), double ) , koshirae, bag of koshirae and
NBTHK Hozon paper (issued on 9th July Heisei 26(2014))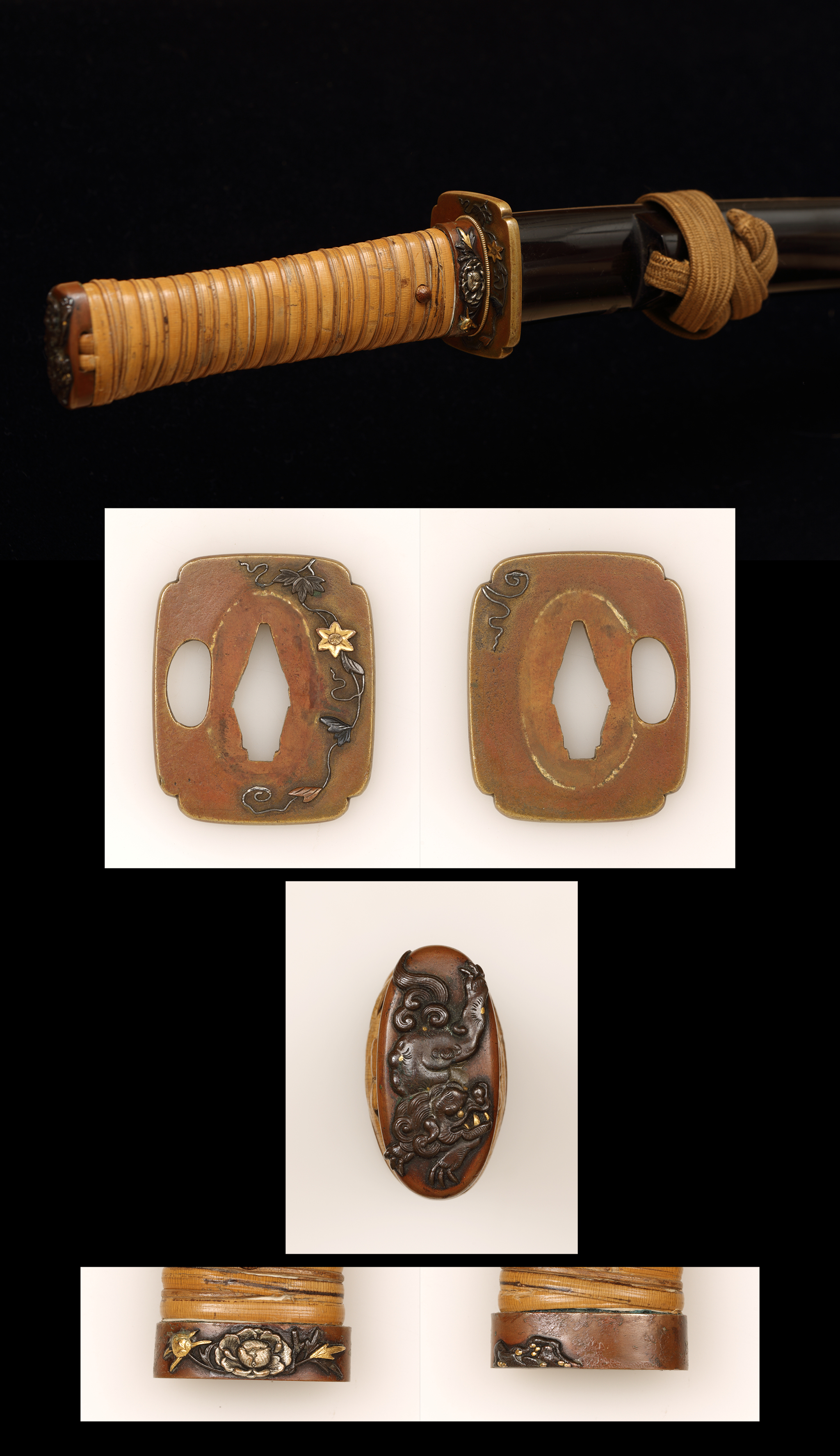 [
Item number
] A071018 [
Price
]
JPY 460.000
(shipping and insurance fee are not included)