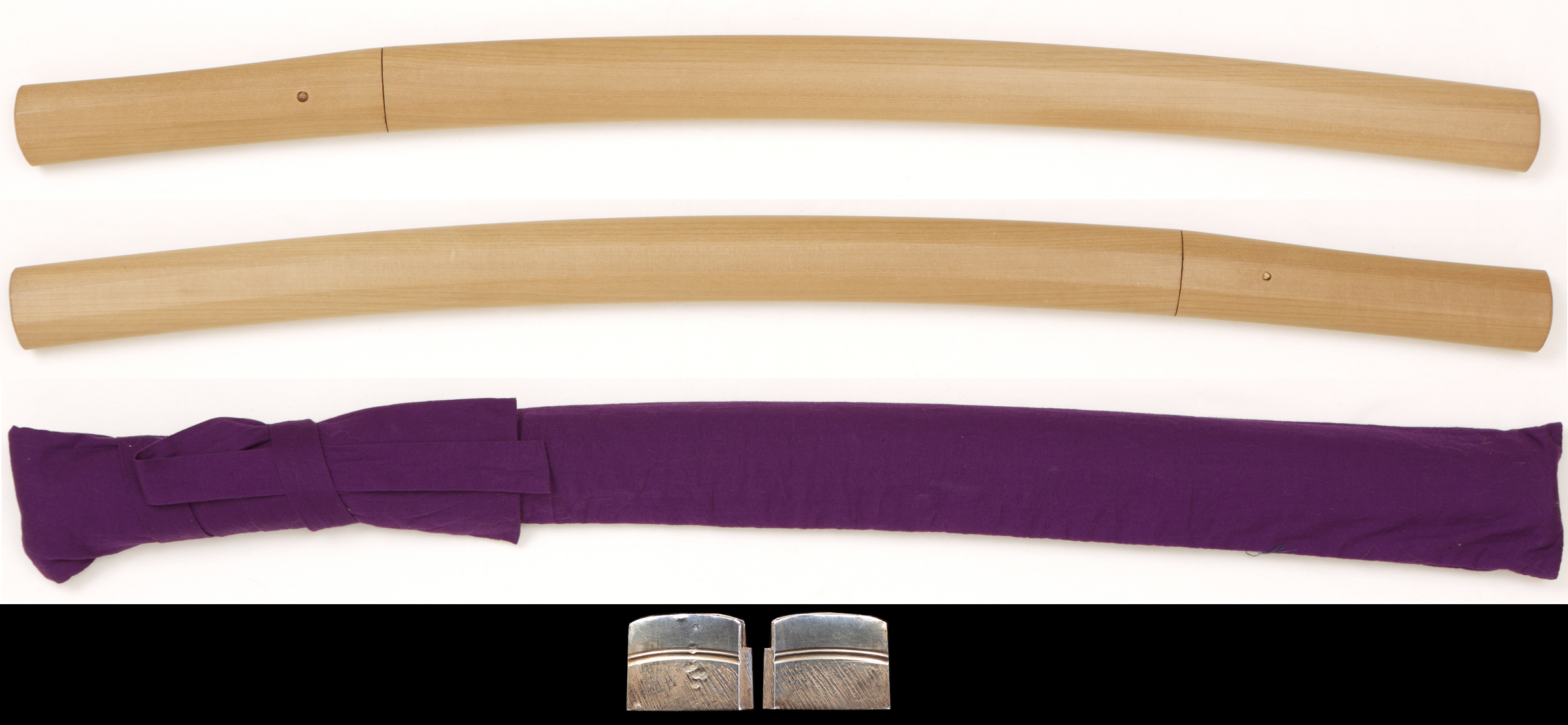 Wakizashi, Shirasaya

Musashi Daijyô Fujiwara Korekazu

[
Signature
] omote : Musashi Daijyô Fujiwara Korekazu
"武蔵大掾藤原是一"
 ura : -
[
Size
]
Blade length 48,17cm (1 shaku 5 sun 9 bu 0 rin), sori 0,61cm (3 rin), moto-haba 2,98cm, moto-kasane 0,70cm, saki-haba 2,02 cm, saki-kasane 0,43 cm, mekugi-ana(holes) 2, blade weight 471g
, shirasaya length 71,5cm
[ Period ] Edo, middle of
[ Province ] Musashi
[ Feature ]
Form : Shinogi-zukuri. Iori-mune. Mihaba and kasane are both oridinal. Shallow sori attached. Chû-kissaki form.
Nakago : Ubu. There is a little machi-okuri. Yasurimes are suji-kais. Saki has shallow kuri-jiri. Two holes.
Jigane : Itame-hada. It gradually shows masames for shinogi-side. Midare-uturi is remarkable.
Hamon : Chô-ji midare and ko-gunomes mixed. Ashis and yôs appeared frequently. Nioi-kuchi is rather tight. Konie attached. Saka-ashi appeared.
Boushi : It runs in sugu with a little midare-komi. It turns in ko-maru. Saki is haki-kake.

Musashi Daijyô Korekazu was called himself KAWAKAMI Sakon. He was born in Ô-mi province, Gamô county. Then he moved to Edo, becoming a founder of Edo Sekidô school. With co-founders, such as Heki Mitsuhira, and Tsushima-no-kami Tsunemitsu, they made name of Edo Sekidô school. Following classical Ichi-monji style, he created and mastered the swords with chô-ji-midare hamon. He signed such as "石堂左近是一", "川上左近是一", "武蔵大掾藤原是一", "是一作". He worked around Manji "万治" thorough Kanbun "寛文".

Referenced material : Nihon-to meikan "日本刀銘鑑" ISHII Masakuni, supervised HONMA Kunzan (Yuzankaku publishing), Heisei 15(2003).

[ Highlight ]
Fine and clean form, grained surface shows itame, which lines flow in masa shape. Remarkable midare-utsuri around mono-uchi of blade ura side. With distinctive nioi-kuchi, a little upward directed chô-ji-mdare hamon, this sword shows typical characteristics of Musashi Daijyô Korekazu. One of worth appreciating sword.

[ Conditions ] There is a part, which looks like 1cm long vertical line with very shallow depth, above 7cm of hamachi, ura side on hiraji.

[ Attachments ] Habaki (suaka-ji, silver foiled, single), shirasaya, bag of shirasaya and NBTHK Tokubetsu Hozon paper ( issued on 2nd February Heisei 29(2017))
[
Item number
] A080717 [
Price
]
JPY 480.000
(shipping and insurance fee are not included)