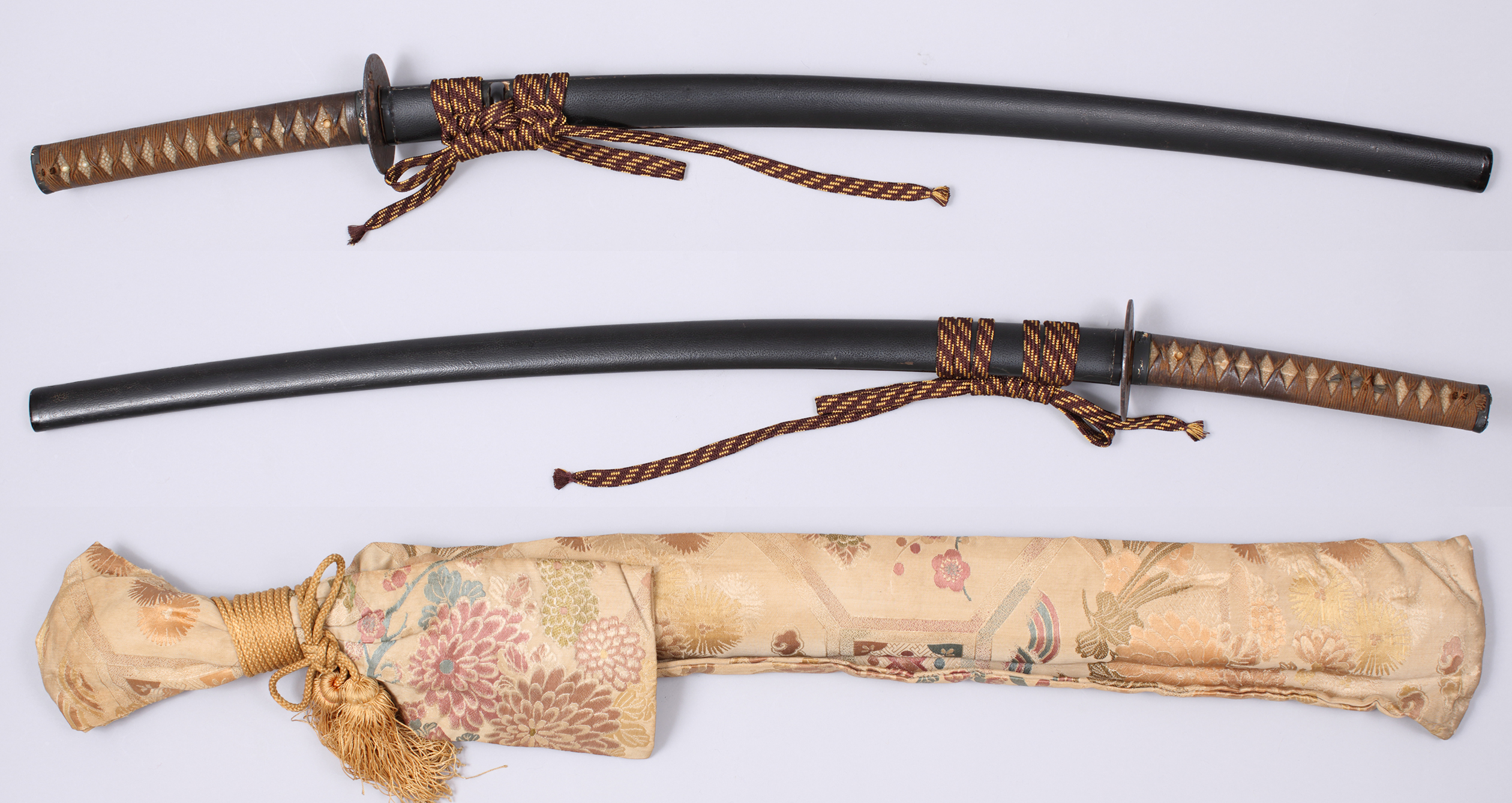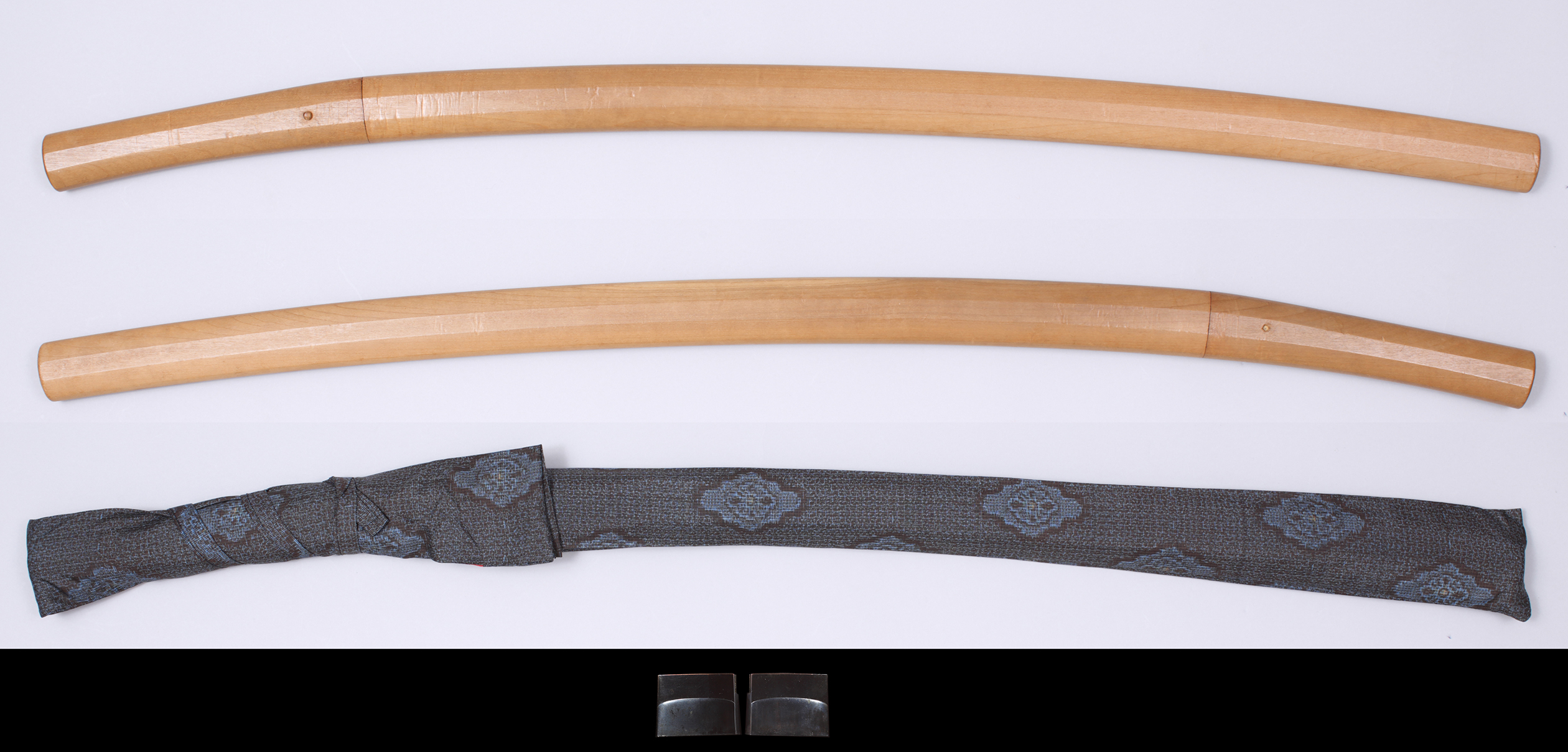 Katana, Shirasaya, Koshirae

Bizen no kuni Osafune Sukesada

[ Signature ] omote : "備前國国長船祐定" ura : "天正二年八月日"
[
Size
]
Blade length 71,4cm (2 shaku 3 sun 5 bu 6 rin), sori 2.3cm (7 bu 5 rin), moto-haba 3.21cm, moto-kasane 0.74cm, saki-haba 2.33 cm, saki-kasane 0.51 cm, mekugi-ana(hole) 1, blade weight 761g
, shirasaya length 98cm, koshirae length 100cm
[ Period ] Muromachi, end of. Tensho 2(1574)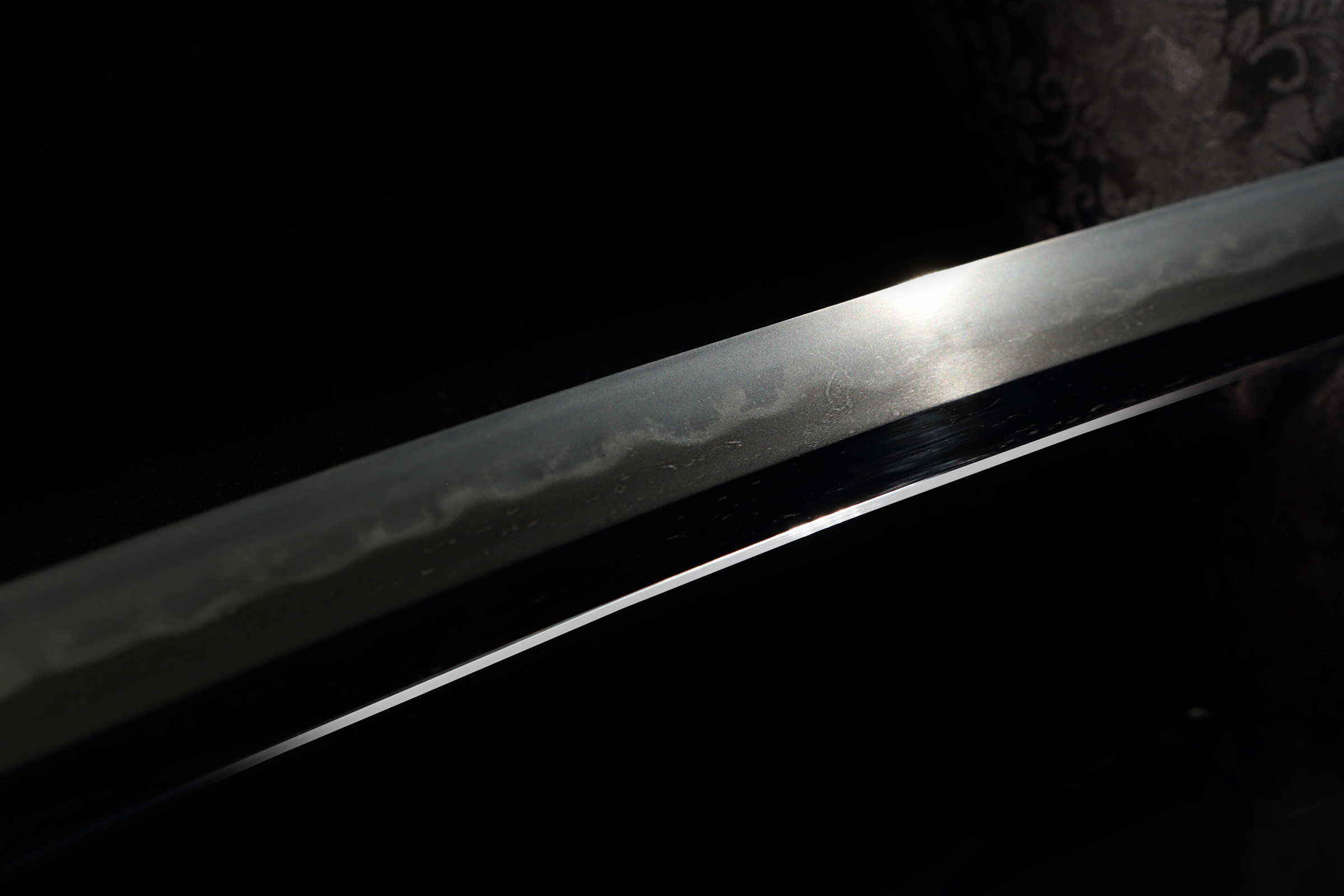 [ Feature ]
Form : Shinogi-zukuri. Iori-mune. Mihaba is wide. There are some differences between moto-haba and saki-haba. Saki-zori attached. Chu-kissaki form.
Nakago : Ubu. Yasurimes are katte-sagari. Saki is kuri-jiri. One hole.
Jigane : Itame-hada. Jinie attached.
Hamon : Gunomes in koshi-biraki state. Cho-ji-ba taste blade mixed. Ashis and yos mixed. Ko-nie attached.
Boushi : It runs in midare-komi. Saki turns sharply.

Black Ishime lacquered scabbard sword mount: sword mount with floral design (iron ground), bullfighting headpiece fuchigashira (red copper, fish, high engraved and gold coloured).
Cattle design on the mount menuki (red copper, gold coloured painting in high relief).
Menuki with crane design (Katachi-bori, gold coloured painting).
"黒石目塗鞘打刀拵 : 花文小透鐔(鉄地)、 牛図縁頭(赤銅魚々 子地高彫金色絵)、鶴図目貫(容彫金色絵)"

[ Highlight ] Among the swordsmiths active in Osafune, Bizen Province, in the late Muromachi period, Sukesada is particularly famous, and there are many other swordsmiths with the same name. This sword has a date of August, Tensho 2, and the blade is slightly longer than the stem, with a slight difference in width at the base and tip, and is heavy and imposing, retaining the appearance of a sword made in the late Muromachi period, when one-handed swords were becoming increasingly long and large. Another highlight is the gorgeous irregular blades midare-bas burnt at the waist koshi-moto. On the stem nakago, a relatively large inscription is cut with a fine chisel. It comes with a well-worn, old-fashioned set of fittings.
[ Conditions ] There is a 1 mm raven edge karasu-guchi on the cutting edge. The blade section remains firmly in place. The lacquered scabbard is partially cracked, the lacquer is peeling off and there is a crack at the corner of the scabbard mouth saya-guchi.
[ Attachments ] Habaki( suakudo-migaki-ji, double), shirasaya, bag of shirasaya, koshirae, bag of koshirae, NBTHK hozon paper "保存刀剣鑑定書"(issued on 2nd march Reiwa 4(2022))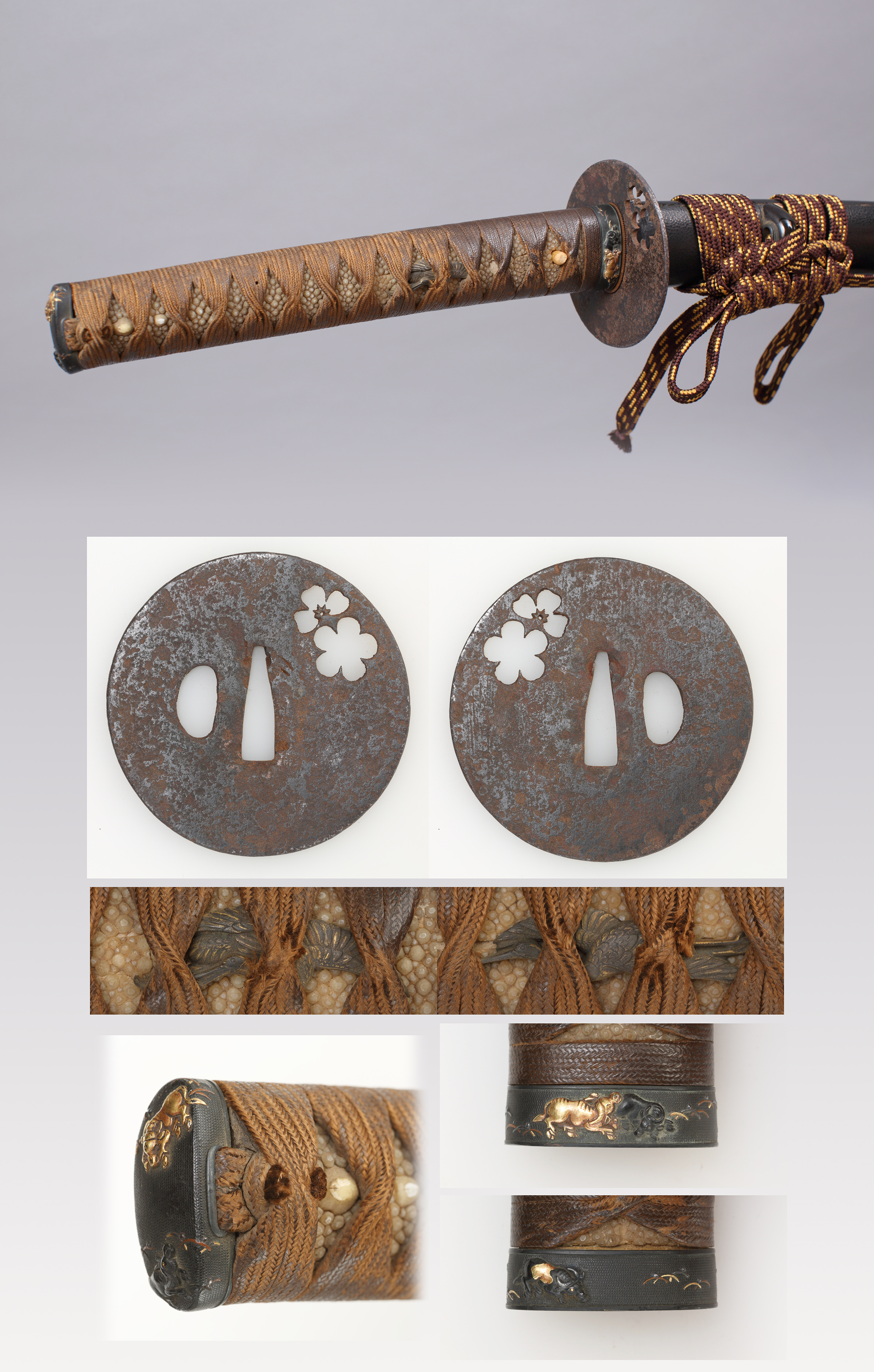 [
Item number
] A080722 [
Price
]
JPY 380,000-
(shipping and insurance fee are not included)