Kodachi, Shirasaya, Koshirae

[ Signature ] omote : "盛光" ura : -

[
Size
]
Blade length 52.6cm (1 shaku 7 sun 3 bu 5 rin), sori 1.4cm (4 bu 6 rin), moto-haba 2.12cm, moto-kasane 0.52cm, saki-haba 1.38 cm, saki-kasane 0.25 cm, mekugi-ana(holes) 2, blade weight 283g
, shirasaya length 87.5cm
[ Period ] Muromachi, beginning of.
[ Province ] Bizen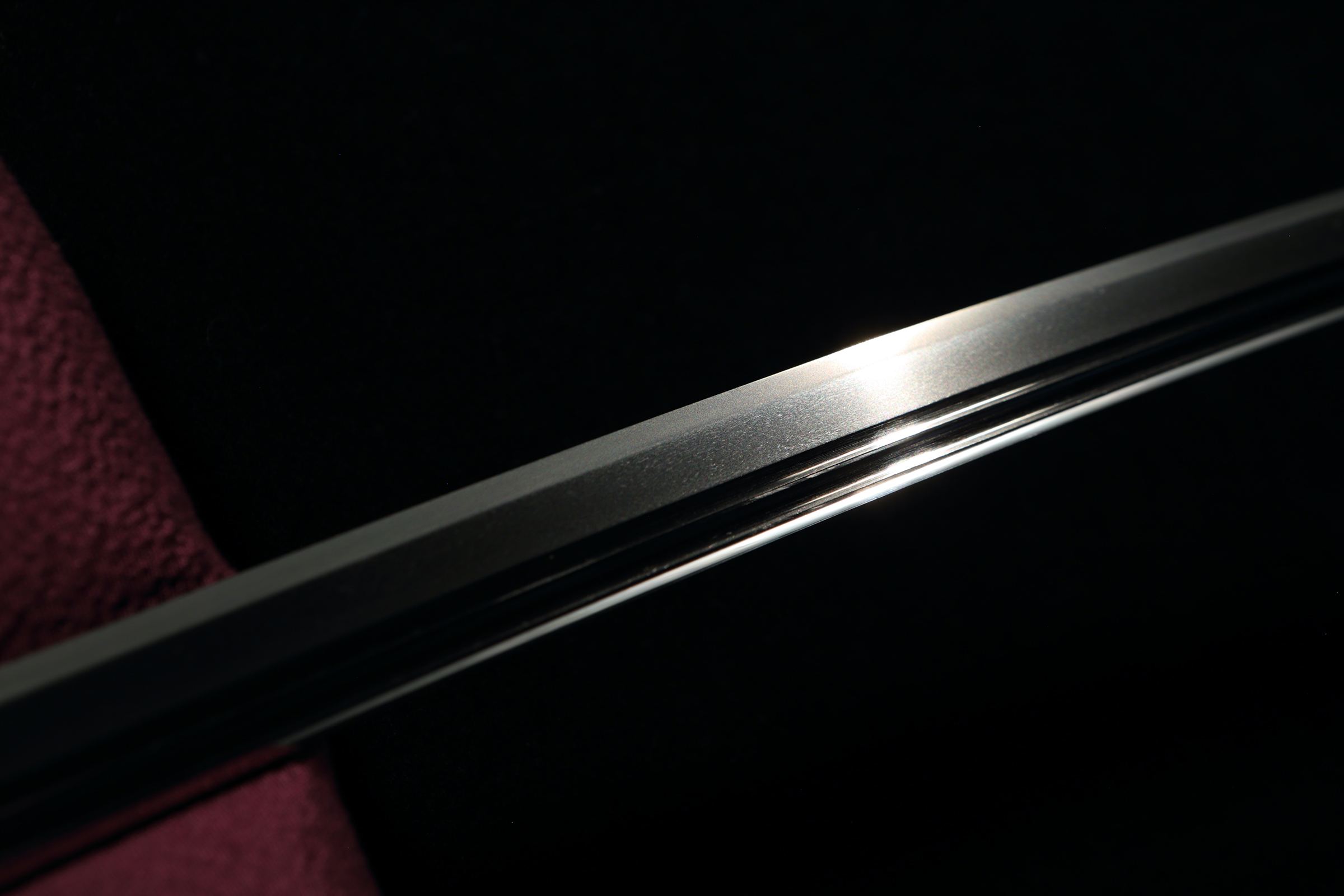 [ Feature ]
Form : Shinogi-zukuri. Iori-mune. Both mihaba and kasane are ordinal. Relatively deep sori attached. Saki attached a little sori. There are some differences between moto-haba and saki-haba. Ko-kissaki form.
Engraving : (both omote and ura) there are huta-suji-his grooves, with round stops. Devanagari engraved.
Nakago : Suri-age. Yasurimes are katte-sagari. Saki is kiri. Two holes.
Jigane : Itame-hada well grained. Mokumes mixed. Jinie attached. Pale bo-utsuri comes to be appeared on the surface.
Hamon : Sugu-ha. Shallow notare mixed. It tends to be nioi atmosphere, ko-nie attached.
Boushi : It runs in sugu. It turns in o-maru shape.

"四君子図画讃彫紫檀合口拵 :雪後尋楳 霜前訪菊 雨際攫蘭 風外聴竹 固野客之閑情 実文人之深趣 明治己丑吉日 巨瀬凍人刀(刻印)"

[ Highlight ] : A ko-dachi sword by Osafune Morimitsu, this sword, while suri-age, has a good shape and is of high quality, with well-harmonized jigane iron and hamon blade pattern. Morimitsu is known, along with Yasumitsu, as one of the leading craftsmen of Oei Bizen. The koshirae is a good shade of ebony. Among the plants and trees that have been praised by writers and artists, the subjects are the plum, chrysanthemum, orchid and bamboo, all of which have the noble taste of a sovereign. A passage from the Xiaochouyu Ji by 'Chin Kei- Ju' from the late Ming dynasty of China accompanies the painting praise.

[ Conditions ] Excellent.
[
Attachments
] Habaki(single), shirasaya, bag of shirasaya, koshirae, bag of koshirae and
NBTHK Tokubetsu Hozon paper "特別保存刀剣鑑定書"(issued on 13th May Reiwa 1(2019))


[
Item number
] A081221 [
Price
]
SOLD