Wakizashi, Shirasaya

Ômi no kami Fujiwara Tsuguhiro

[ Signature ] omote : Ômi-no-kami Fujiwara Tsuguhiro "近江守藤原継廣" ura :Echizen jyû Shimosaka "越前住下坂"

[
Size
]
Blade length 57.9cm (1 shaku 9 sun 1 bu 0 rin), sori 0.6cm (1 bu 9 rin), moto-haba 3.13cm, moto-kasane 0.69cm, saki-haba 2.20 cm, saki-kasane 0.42 cm, mekugi-ana(hole) 1, blade weight 570.5g
, shirasaya length 78.5cm
[ Period ] Edo, around Kanbun
[ Province ] Echizen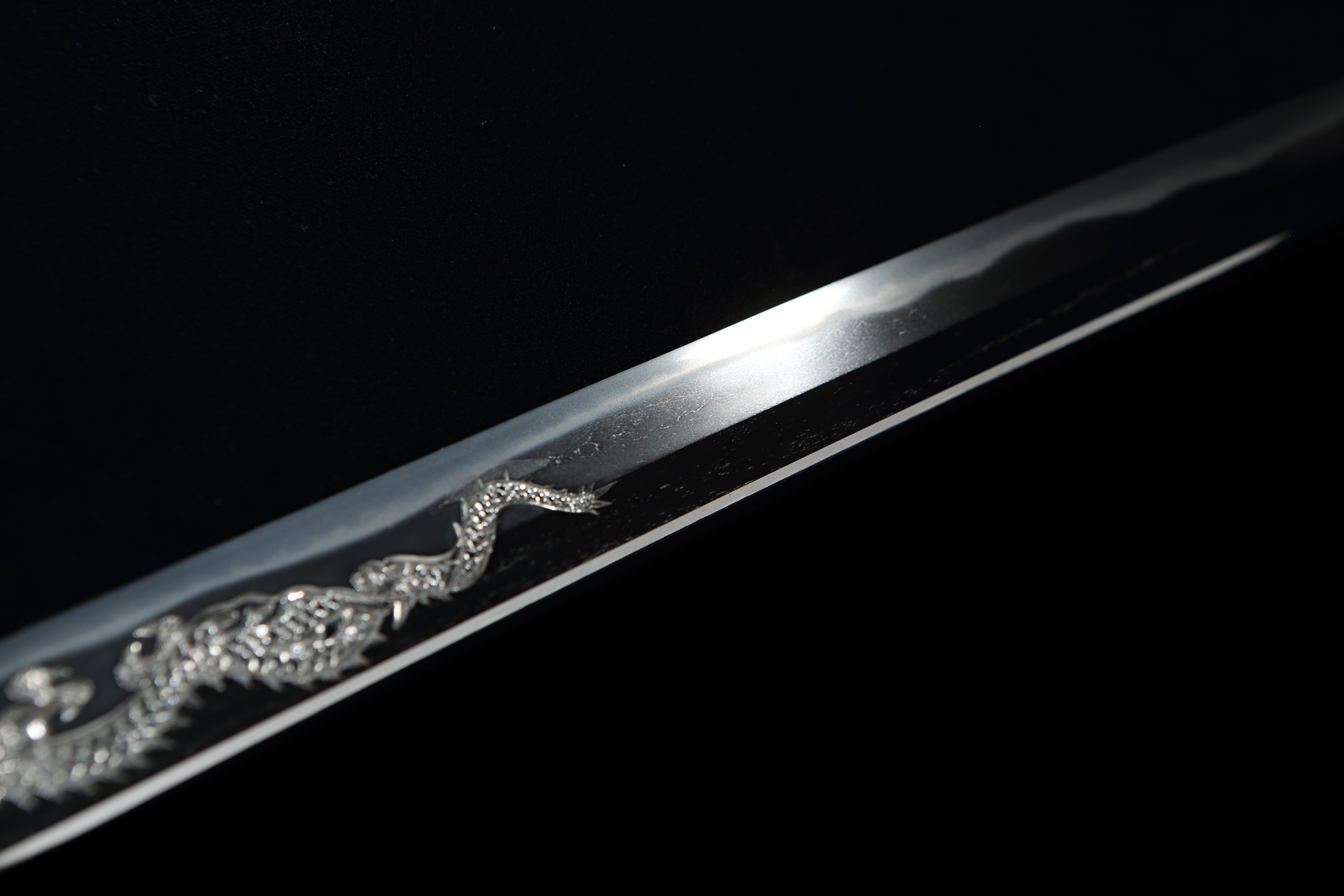 [ Feature ]
Form : Shinogi-zukuri. Iori-mune. Mihaba is relatively wide. Kasane is ordinal. There are diffrences between moto-haba and saki-haba. Very shallow sori attached. Chû-kissaki form.
Nakago : Ubu. Saki is ken-gyô. Yasurimes are suji-kais. One hole.
Horimono : (omote) san-ko-tsuka-tsuki-ken Fudo Myo-ô, crawling dragon hai-ryû who grip the tip of sword. (ura) lotus pedestal ren-dai "蓮台" and goma-bashi (variant of Fudo Myo-ô). On the certificate paper, it mentioned "horimono done by Kinai "気内" school".
Jigane : Ko-itame-hada and itame-hada mixed. Partly, grained patterns come to appear. Jinie attached. Shirake utsuri appeared.
Hamon : Ô-notare, ko-gunomes mixed. Nie attached well. Sunagashis appeared.
Boushi : It runs in sugu. Saki is ko-maru. It turns deep. Saki is deep.

[ Highlight ]
Ô-mi-no-kami Tsuguhiro was a swordsmith at Fukui, Echizen province. He created the swords at Zehsho, Ô-mi provice and Edo. He had his signature such as "近江守藤原継広", "越前国下坂継広", etc. You can appreciate Echize-bori in high technique of this sword has . Less sori attached form Kanbun-shintô. Slowly waving notare-ba hamon tempering, ko-ashis appeared well. The changes in "ha" is so active.

[ Conditions ]
It has been already polished. Excellent.

[ Attachments ] Habaki (suaka-ji, silver colored, single), shirasaya, bag of shirasaya and NBTHK Hozon paper ( issued on 29th May Heisei 27(2015))
[
Item number
] A091218 [
Price
]
JPY 350,000
(shipping and insurance fee are not included)