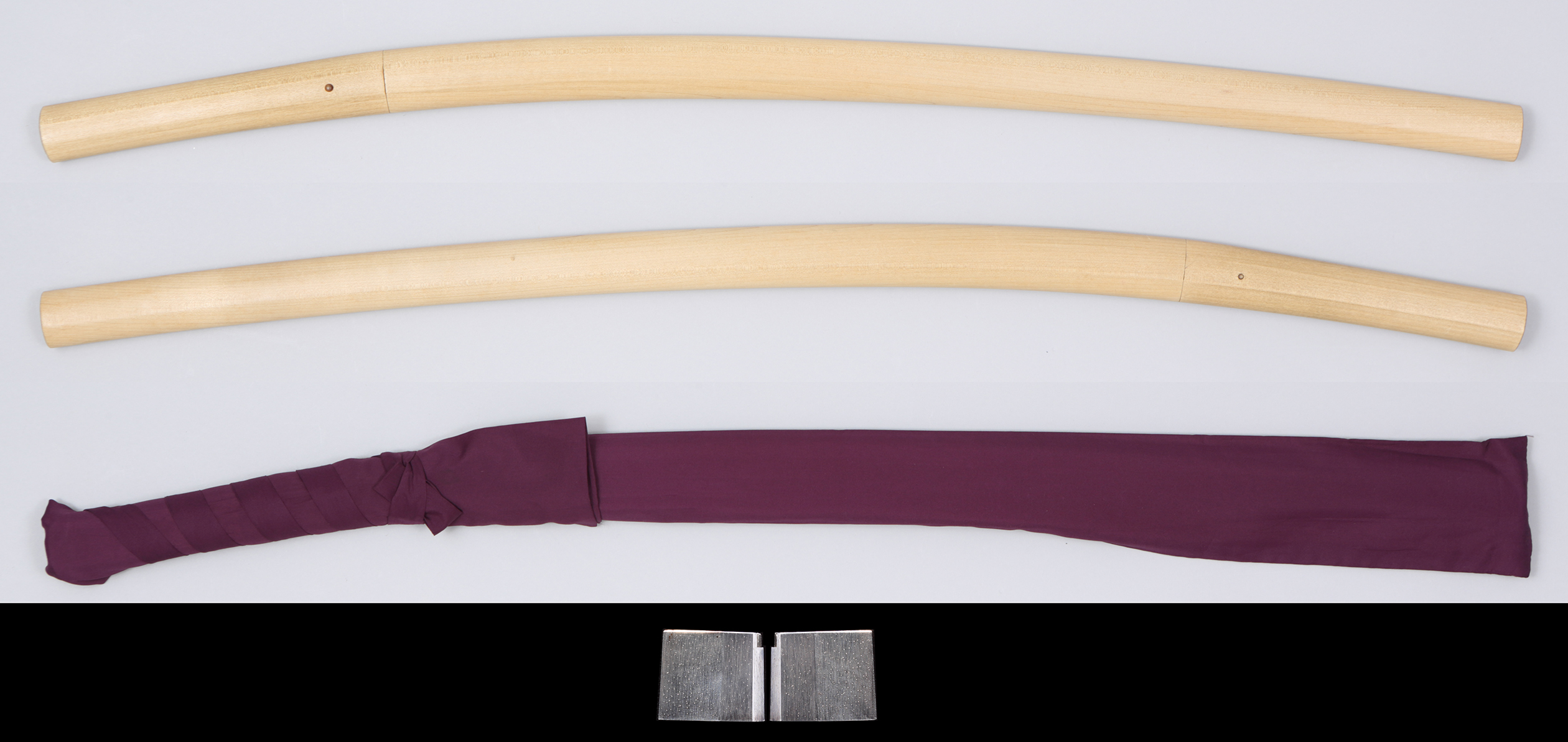 Tachi, Shirasaya

[ Signature ] omote : "備州長船秀助" ura : -

[
Size
]
Blade length 66.8cm (2 shaku 2 sun 4 bu 4 rin), sori 2,2cm (7 bu 2 rin), moto-haba 2.59cm, moto-kasane 0.61cm, saki-haba 1.56 cm, saki-kasane 0.27 cm, mekugi-ana(holes) 2, blade weight 468g
, shirasaya length 92.5cm
[ Period ] Muromachi, beginning of.
[ Province ] Bizen
[ Feature ]
Form : Shinogi-zukuri. Iori-mune. Both mihaba and kasane are ordinal. Deep sori attached. Chu-kissaki form.
Nakago : Ubu. Yasurimes are suji-kais.
Jigane : Itame-hada. Mokumes and some changes mixed. Jinie attached. Chikei appeared.
Hamon : Notare, ko-gunomes and cho-ji-bas mixed. Ashis and yos appeared. Ko-nie attached. Sunagashis appeared.
Boushi : It runs in midare-komi. It turns in ko-maru form.

[ Highlight ] In the group of swordsmiths in Bizen, works by forgers who did not belong to the Kanemitsu school, Nagayoshi, Motoshige or Omiya school of sword making from the late Northern and Southern Dynasties to the early Muromachi period are collectively known as kozori-mono. It is thought that swordsmiths who belonged to the lineage of Hidemitsu, a representative of the kozori type of swordsmith, bore the character for "秀" in their inscriptions, and Hidesuke is thought to be one of these. There are relatively few surviving examples of the Hidesuke style and it is a valuable piece of work for reference. The fine deep sori of this sword shows the characteristics of early Muromachi kozori-mono.

[ Conditions ] Excellent.
[ Attachments ] Habaki(silver, single), shirasaya, bag of shirasaya, koshirae, bag of koshirae, Kurashiki paper "倉敷刀剣美術館鑑定書" (30th Apritl Reiwa 3(2021)), and NBTHK Tokubetsu kicho paper "特別貴重刀剣認定書"(1st Oct. Showa 26(1951))

[
Item number
] A100621 [
Price
]
JPY 600,000
(shipping and insurance fee are not included)