Katana, Shirasaya

[ Signature ] omote : "備州長船清光作"  ura : "永正十年二月日"

[
Size
]
Blade length 69.6cm (2 shaku 2 sun 9 bu 7 rin), sori 2.4cm (7 bu 9 rin), moto-haba 3.24cm, moto-kasane 0.58cm, saki-haba 1.88 cm, saki-kasane 0.46 cm, mekugi-ana(holes) 1 out of 2 filled, blade weight 700.5g
, shirasaya length 98cm
[ Period ] Muromachi, second half of. Eisho "永正"10(1513)
[ Province ] Bizen "備前"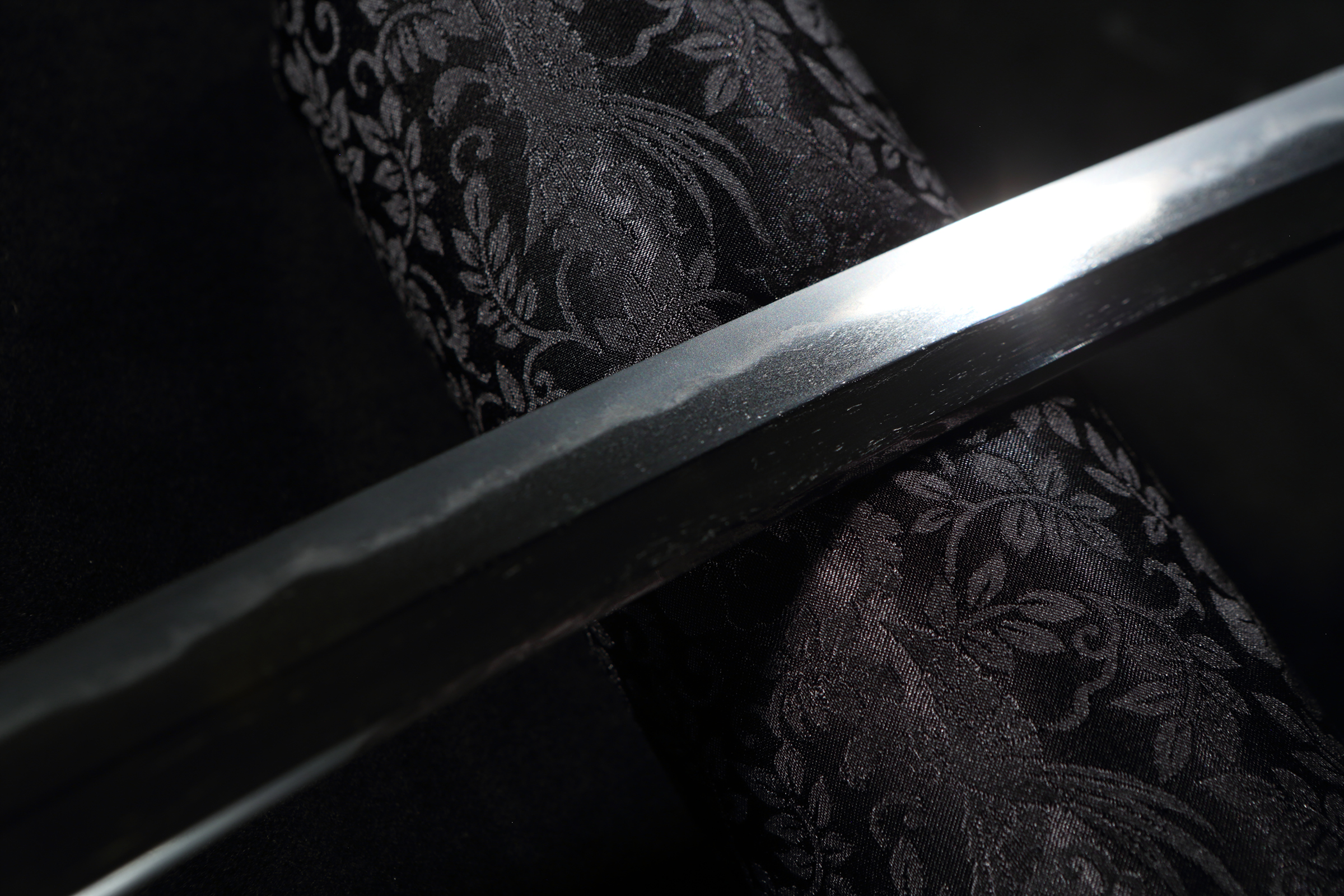 [ Feature ]
Form : Shinogi-zukuri. Iori-mune. High shinogi-suji attached. Mihaba is wide. Saki-zori attached. Chu-kissaki extended.
Nakago : Ubu. Yasurimes are katte-sagari. Saki is ha-agari, kuri-jiri. One hole.
Jigane : Itame-hada, which patterns come to be appeared on the surface. Mokumes mixed. Part by part, it has some changes. Jinie attached. Chikei appeared.
Hamon : Hiro-suguha. It has shallow notare. Ko-gunomes and ko-midares mixed. Ko-ashis and yos appeared. The distiction between hamon and jigane is clear. Ko-nies attached. Sunagashis appeared. Part by part, muneyakis temperned.
Boushi : It runs in sugu with komaru form. Saki is haki-kake. Attached nie loosened. It has long tempered area toward below.

[ Highlight ] There are several other Bizen swordsmiths of the same name from the end of the Muromachi period, including Magoemon-jo, Gorosaemon-jo, Yosanzaemon-jo, Hikobei and Magobei (e.g. 孫右衛門尉、五郎左衛門尉、与三左衛門尉、彦兵衛、孫兵衛). Kiyomitsu is one of the most famous swordsmiths in Suebizen, and along with Tadamitsu is known as a master of a straight blade sugu-ha. This work, although not bearing a secular name, shows the typical style of Suebizen swords. It has a sturdy shape with rich hiraniku, and a bright, broad, straight blade suguha with well-developed ashis and yos.
 
[ Conditions ] Excellent.

[ Attachments ] Habaki( suaka-ji, gold foiled, single), shirasaya, bag of shirasaya and NBTHK hozon paper "保存刀剣鑑定書"(issued on 30th June Heisei 4(1992))

[
Item number
] A110621 [
Price
]
JPY 650,000-
(shipping and insurance fee are not included)