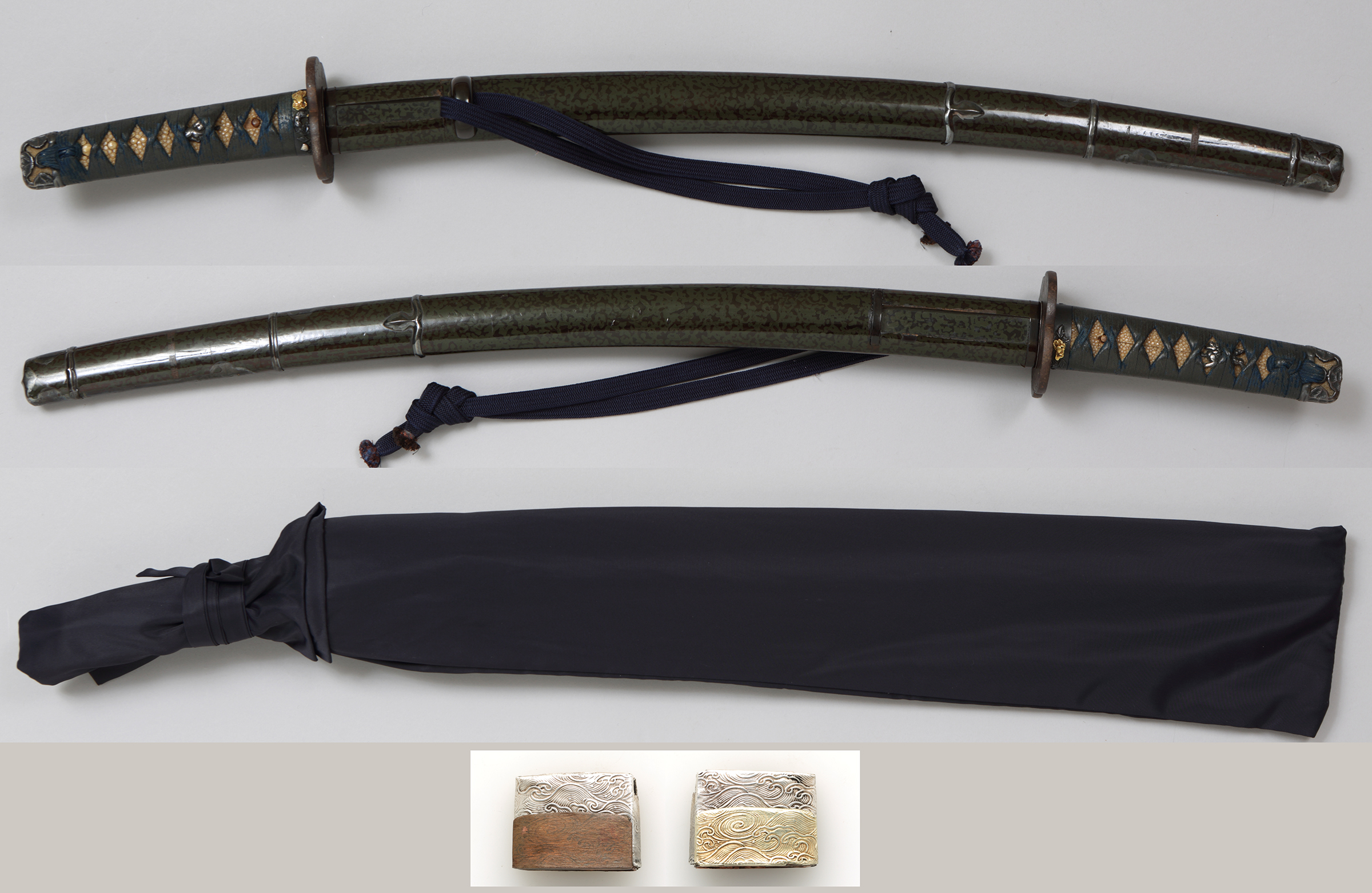 Wakizashi, Koshirae

Mumei, no signature, attributed to Uda Kunihisa

[ Signature ] omote : no signature ura : -

[
Size
]
Blade length 55.8cm (1 shaku 8 sun 4 bu 1 rin), sori 2.0cm (6 bu 6 rin), moto-haba 2.62cm, moto-kasane 0.5cm, saki-haba 1.51 cm, saki-kasane 0.33 cm, mekugi-ana(hole) 1, blade weight 429g
, shirasaya length 75.5cm
[ Period ] Muromachi
[ Province ] Ecchû "越中"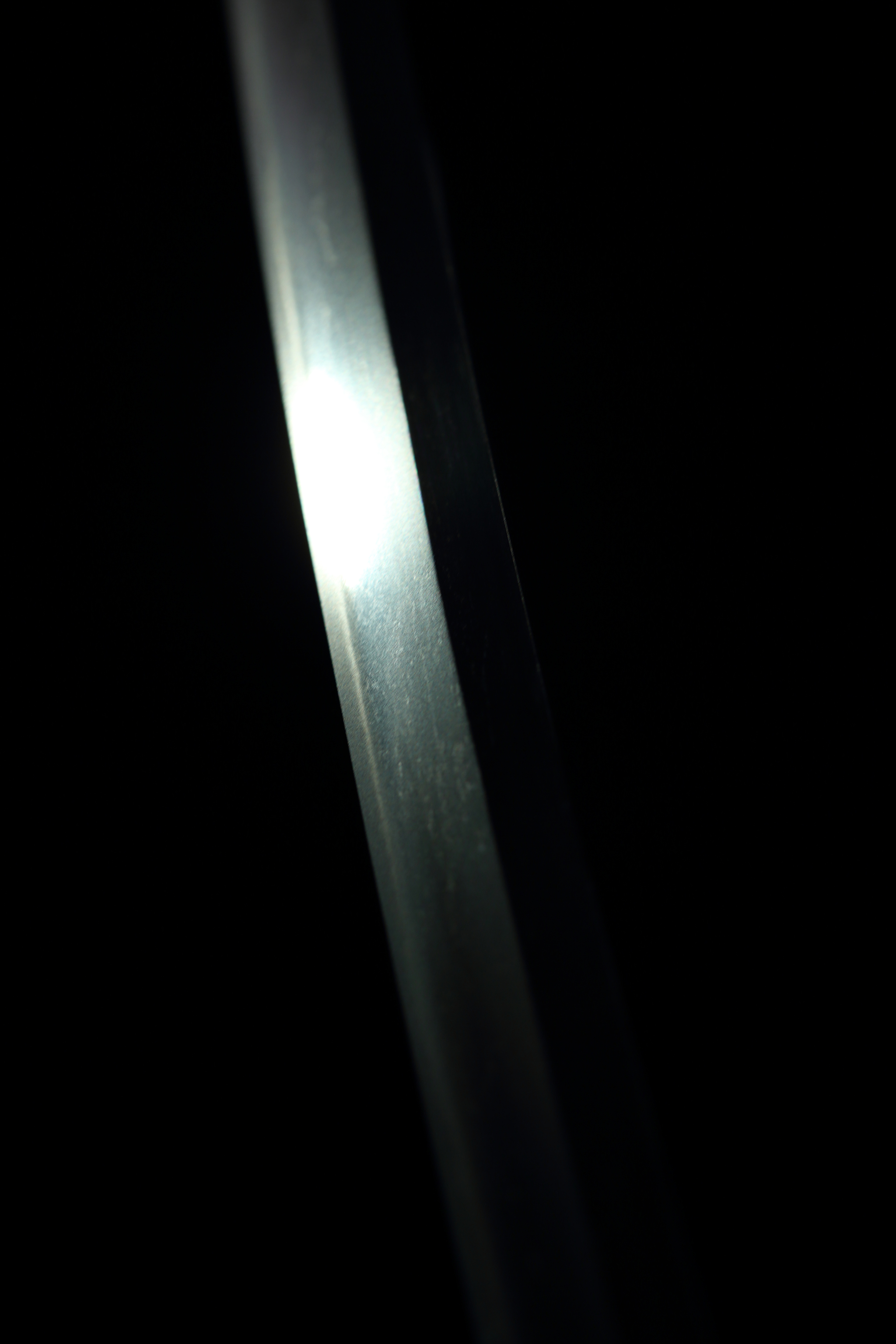 [ Feature ]
Form : Shinogi-zukuri. Iori-mune. Both mihaba and kasane are ordinal. High sori and shinogi-suji attached. Chû-kissaki form.
Nakago : Suri-age. Yasurimes are kiri. Saki is shallow kuri-jiri. One hole.
Jigane : Itame-hada with some changes. Mokumes mixed. Jinie attached. Shirak-utsuri comes to appear.
Hamon : Suguha tone. Shallow notare attached. Gunomes and kui-chigai-bas mixed. Habuchi has hotsure changes. Nie attached well.
Boushi :

Koshirae : kawari-nuri han-dachi-koshirae : tsuba (iron), fuchi (shakudô, gold iroe), menuki (shi-bu-ichi, katachi-bori), tsuka (moro-hineri-maki)
変わり塗半太刀拵 : 鐔(鉄地)、牡丹図縁(赤銅金色絵)、獅子図目貫(四分一地容彫)、諸捻巻柄


[ Highlight ]
A little black colored, wild and deep taste jigane which shirake-utsuri comes to appear. Hamon tempered in nie with suguha-tone. High sori attached ko-dachi form.
First generation Uda Kunihisa "国久" was said that he was a child of Kunifusa "国房". He was called Uemon Saburô "右衞門三郎". He worked actively in Ecchû province around Ô-ei "応永"(1394-1428). Effective then, six generations continued in same name till second half of Muromachi period, around Kô-ji "弘治" (1555-1558). In Uda school, Kunihisa was known as unprolific but known as master swordsmith.

[ Conditions ]
There is tiny scratches but excellent in general. No kozuka and kôgai attached.

[ Attachments ]
Habaki (suaka-ji, (uwagai) gold foiled (shitagai) silver foiled, wave design, double), koshirae, bag of koshirae and NBTHK Hozon paper ( issued on 15th March Heisei 30(2018))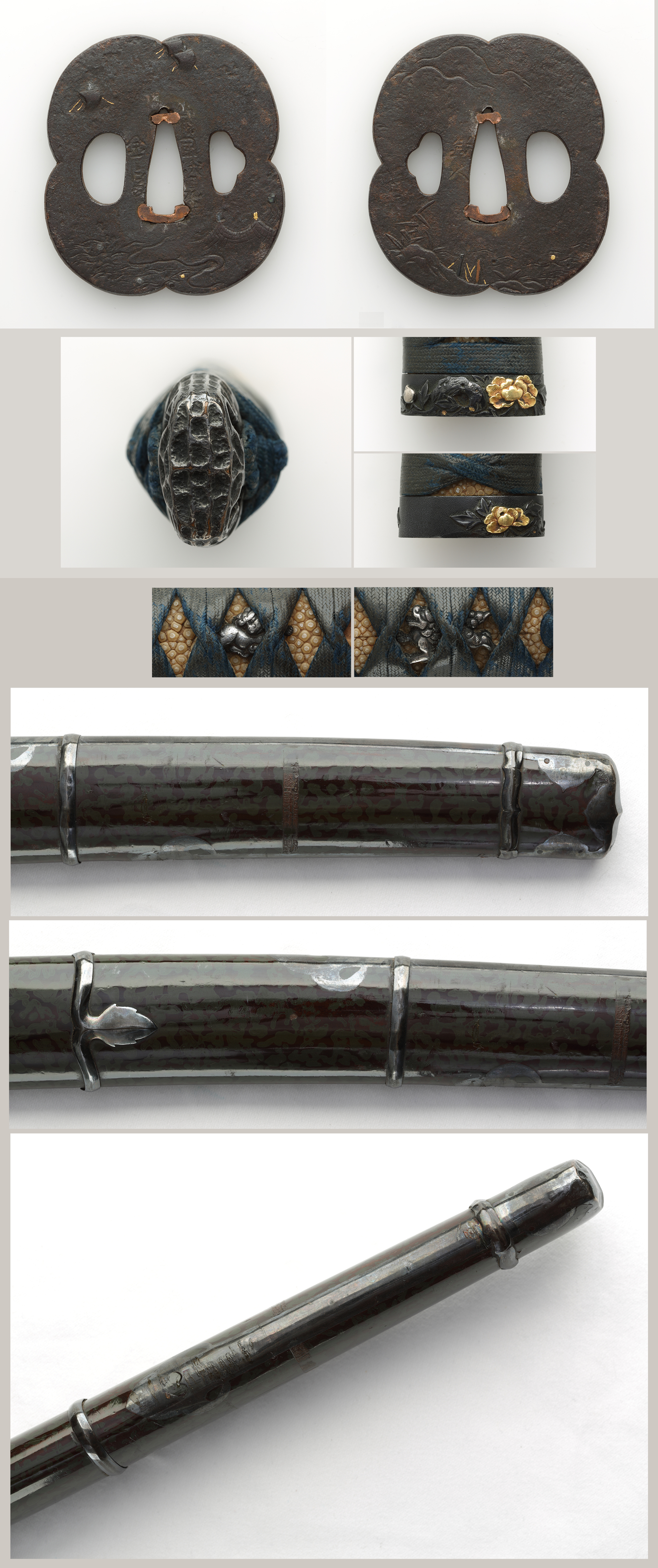 [
Item number
] A111219 [
Price
]
JPY 320,000
(shipping and insurance fee are not included)