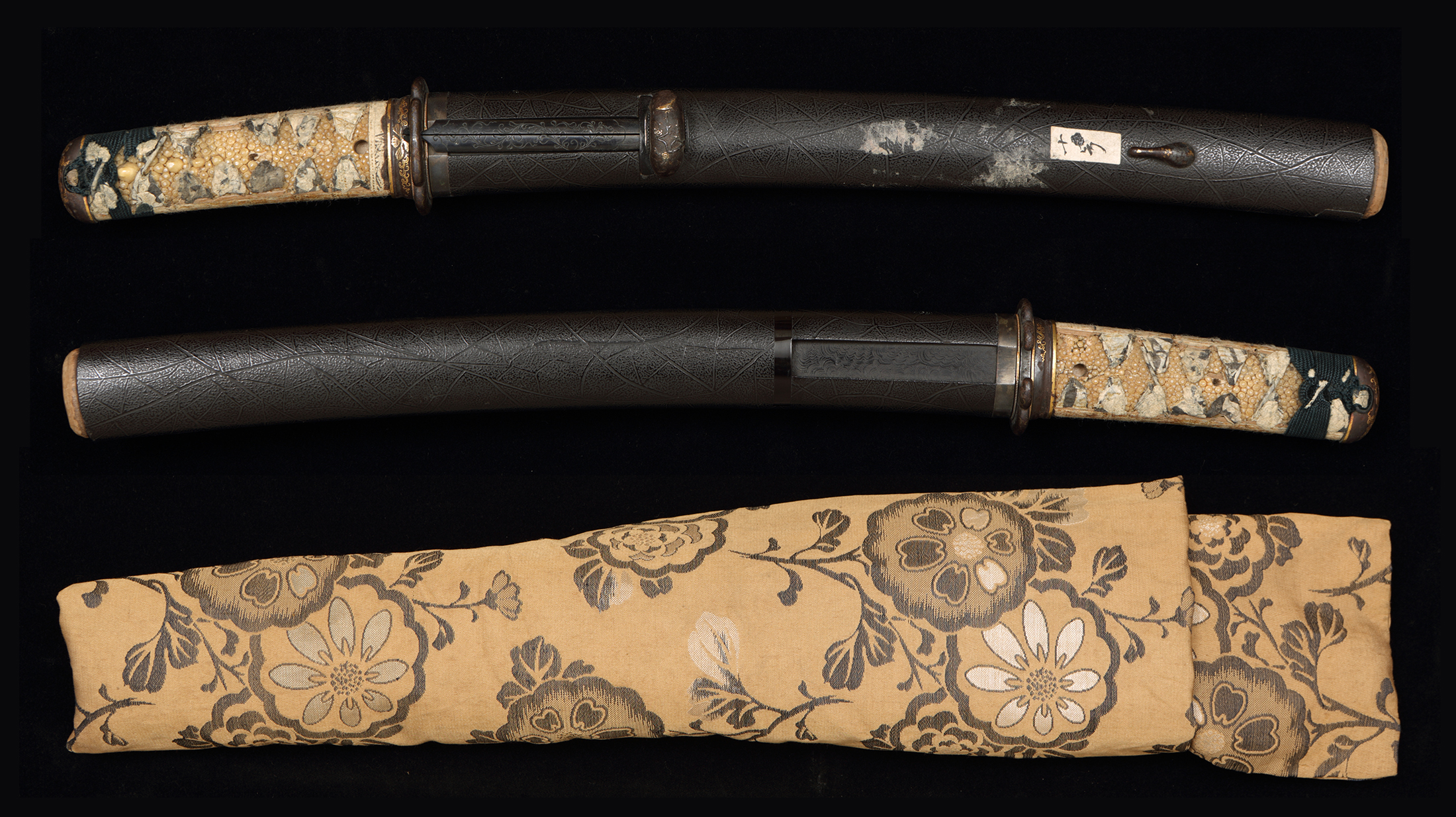 Wakizashi, Shirasaya, Koshirae

Azae jû Tameie and Mizuta jû Kunishige

[ Signature ] omote : "備中國呰部住為家 水田住國重" ura : "寛永十七年庚辰弐月日"

[
Size
]
Blade length 33.02cm (1 shaku 0 sun 9 bu 0 rin), sori 0.61cm (2 bu 0 rin), moto-haba 3.48cm, moto-kasane 0.88cm, mekugi-ana(holes) 2, blade weight 417.5g
, shirasaya length 50cm, koshirae length 51.5cm
[ Period ] Edo, Kanei "寛永" 17 (1640)
[ Province ] Bicchû
[ Feature ]
Form : Hira-zukuri. Iori-mune. Mihaba is wide. Kasane is thick. Shallow sori attached. Fukura shows round curve.
Nakago : Ubu. Saki is ha-agari, kuri-jiri. Yasurimes are ô-suji-kais. Two holes.
Jigane : Itame-hada, which has a little changes. Jinie attached. Chikei appeared.
Hamon : Ko-notare, gunomes, ô-gunomes and chô-ji-bas mixed. Ashis appeared. Nie attached frequently. Ara-nie attached. Sunagashis and yu-bashiris appeared.
Boushi : It runs in midare-komi. Saki becomes flame shape kaen. It turns long.

茶絞漆変わり塗り塗鞘小サ拵 : 唐草図変わり木瓜形喰出鐔(鉄地真鍮象嵌)、唐草図縁頭(鉄地真鍮象嵌)、梅鶯図栗形(鉄地金色絵)、桜花図返角(鉄地金銀色絵)、唐草図割笄(赤銅地)

[ Hghlight ]
Tameie was a decendant of AOE Tametsugu.First generation Tameie worked around Keichô. Second generation Tameie worked around Kan-ei. Co-working swords of second generation Tameie and Ô-yo-go Kunishige's younger brother Mizuta Yamashiro daijô Kunishige exist besides from this sword, time signature Kanei 18 specifically. This shows those two swordsmith communicated and learned each other. Making comparaison with milky way scenary at night, Kunishige's characteristics such as frequently attached nie appeared. Its tempered midareba vigorous sword.
[ Conditions ] Blade has a little scratches. It remains healthy state remaining hira-niku. Koshirae has no menuki and kojiri metal fittings. Tsuka Maki strings almost detached off.
[ Attachments ] Habaki (suaka-ji, silver foiled, doubel-like single), shirasaya, bag of shirasaya and NBTHK Hozon paper ( issued on 13th June Heisei 30(2018))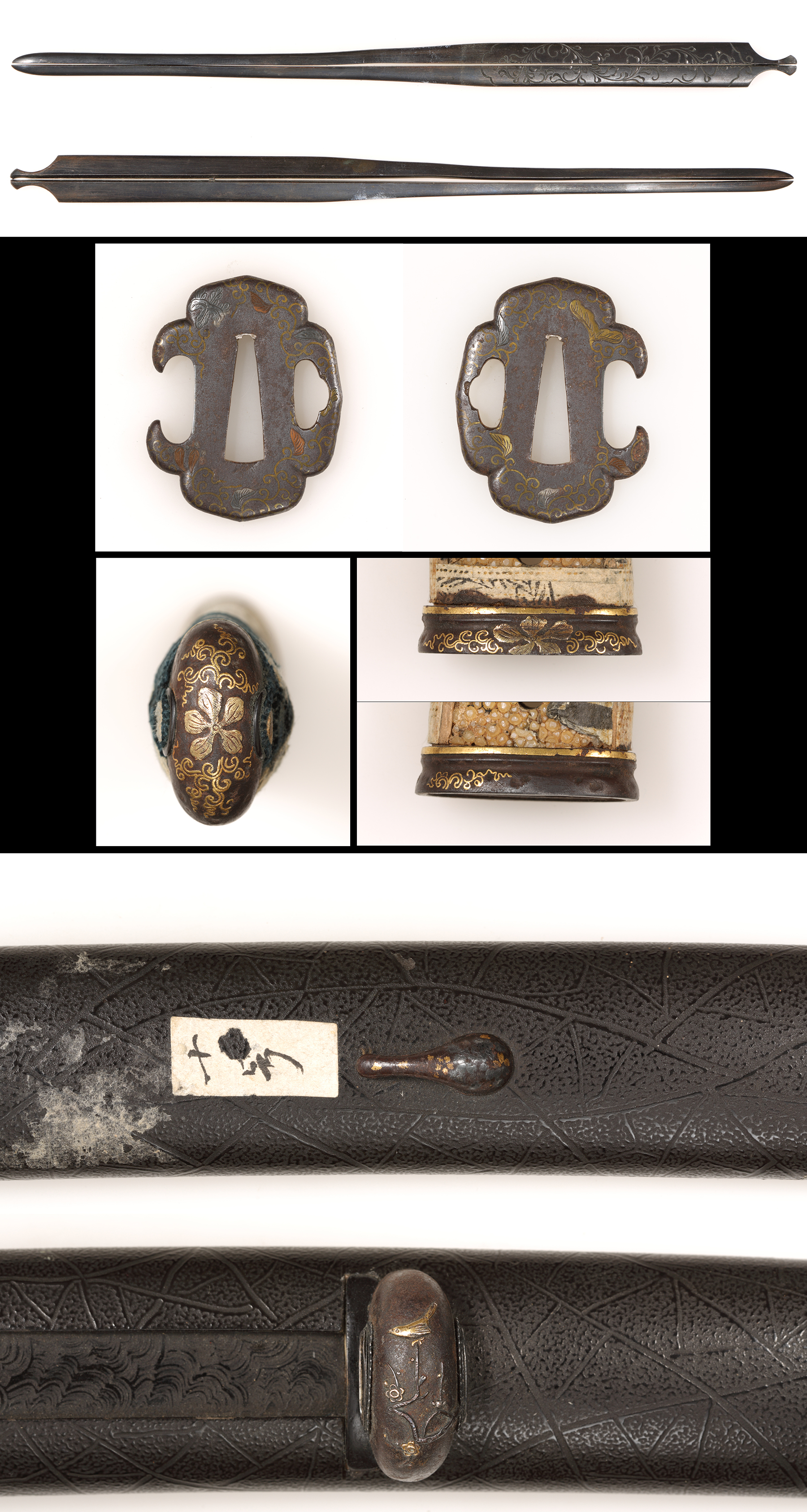 [
Item number
] A141218 [
Price
]
JPY 688,000- -> JPY 588,000
- (shipping and insurance fee are not included)
PRICE DOWN!